Disclaimer: Names of people in this article have been changed to protect their identities on request.
Domestic Violence! The moment we hear these two words, the first picture that comes to our minds is a woman, sitting in fetal position, crying her heart out. Battered, bruised, hurt, disoriented. Destroyed! While the picture is indeed by and large true, there is in fact another contradictory reality that we have ignored for a very long time.
Picture this: A physically handicapped man sitting in a chair, being beaten and abused with the choicest of expletives and all this while the family's domestic help and the man's nurse watched. This is not the plot of a movie but the actual life of Eddie Kidd a very famous stuntman who worked with blockbusters such as the James Bond series. Eddie was rendered immobile after a freak accident and his wife Samantha, a stripper whom he fell in love with, used to regularly beat him and even called him a "F*****g Spastic," when she was in one of her drunken rages.
Lack of Acceptance of its Existence and Societal Bias
1. Denial of the Problem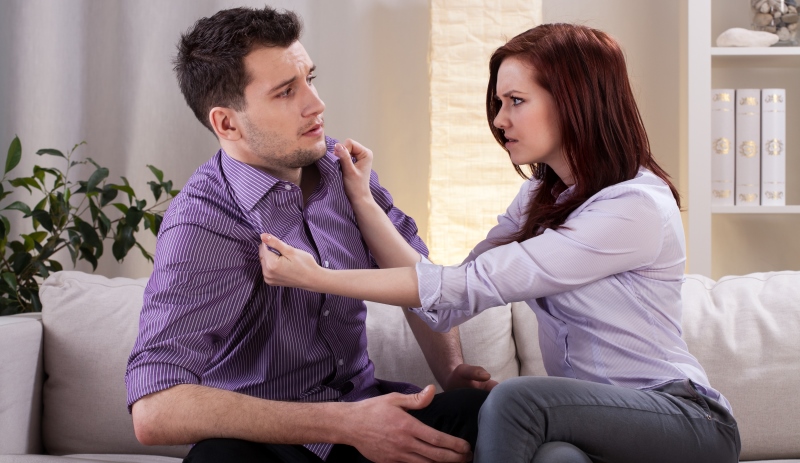 Image source: Shutterstock
Men suffer domestic violence too! But did you know that the last study of domestic abuse towards men was carried out almost a decade ago? The statistics available in the public domain are from the year 2005 only. Domestic abuse today is known to be a serious problem faced not only being women but also men. However, our society has not only completely refused to accept its existence, it even ridicules and mocks people who have the courage to stand up against the same. In fact, even the law in India does not recognize domestic violence against men to even be an offence, let alone the society.
2. The Role of Mass Media
On the other hand, while the media makes no qualms about sensationalizing cases of dowry-related harassment meted out to women and consequent domestic abuse (which I know is an equally serious problem in our country), there are hardly any cases of male domestic abuse and violence ever reported by them. In fact, there is even the fear of public humiliation which makes men to stay silent instead of even dreaming of reporting the offence. And to make matters worse, if someone does muster the courage to register a case of domestic violence, the man or husband in India will have to attend every single hearing which is undertaken in courts every 10 days. If he fails to attend even one, the case will actually be overturned and he will be classified as the wrongdoer, and all this while the women can conveniently sit at home as it is not mandatory for them to attend hearings! Can things get any more stupid than this?
3. The Seriousness of the Issue
The general perception here is that men are known to be physically stronger than women and as such cannot be victims of domestic abuse. However, it has been seen in many cases that hired goons or even close associates are employed to beat up the man and at times, even his family members. Take the case of 34-year-old Sameer Chatterjee. He was brutally thrashed by his wife and brother-in-law on several occasions. When he approached the law, the police officers instead of registering his complaint, ridiculed him and sent him home with false assurances. The next day, to Sameer's utter shock, he found that a complaint was registered against him in the very same police station by his wife and in-laws! In the days that passed, the situation went from worse to nightmarish. It got so difficult that Sameer actually took his own life.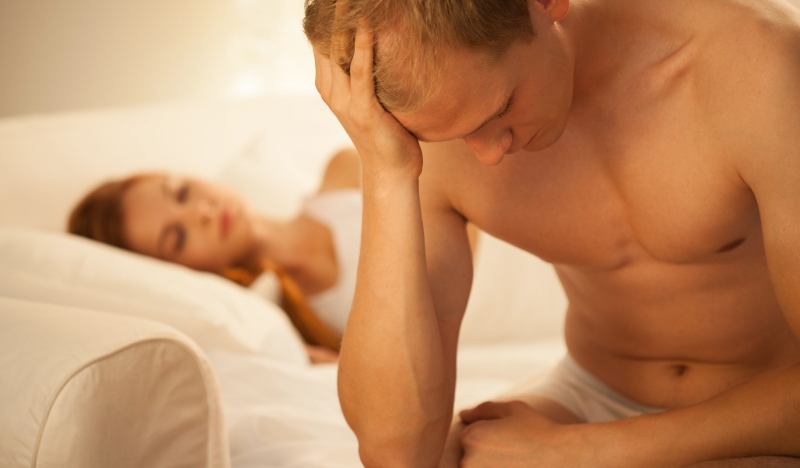 Image source: Shutterstock
Another important aspect is the personal humiliation and shame that we as Indians associate with victims of male domestic abuse. We resort to calling him a spineless coward, forget that he is another self-respecting individual who has the same heart and feelings that we do, and conveniently make a fool out of the person without thinking twice.  The society is far from empathetic to men who are victims of domestic violence, and ironically consider it to be unbecoming a man to complain or even tolerate such behavior.
Popular psychologists and family welfare groups say that they encounter an average of ten to fifteen cases of male victims of domestic abuse every month. And the one common demand raised by all of them is that the law of the land be gender neutral.
Why Men choose to keep Quiet
Men, like women, cite the same reasons for keeping quiet and silently enduring domestic abuse – fear and social shame. However, the cases here are known to be more difficult at times.
1. Social Shame
The main reason for men to keep quiet is the social shame that a man has to bear. The fact that it is his wife who is abusing him makes him an object of ridicule amongst his friends, peers and extended social circle.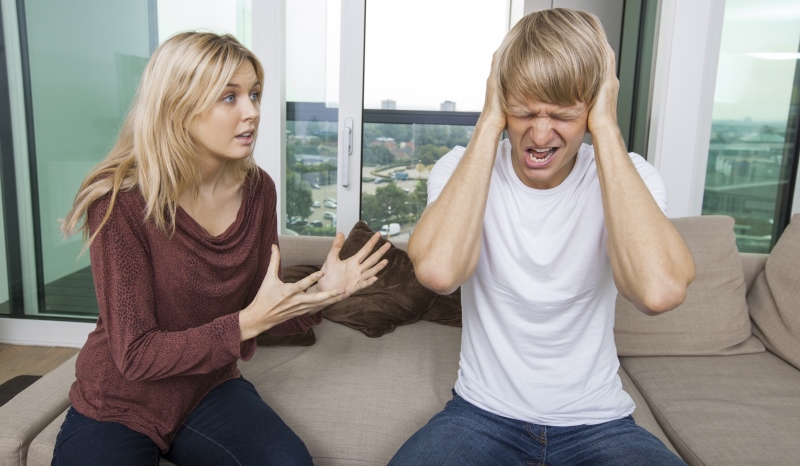 Image source: Shutterstock
2. Protecting the Children
This may come as a surprise, but even men fear for the children and the impact it will have on their lives if they choose to complain about domestic abuse. Moreover, in case of such complaints, for men to obtain custody of their children or even visiting rights is known to be a very big problem for men in today's scenario. And even if they do obtain custody, the even bigger challenge is to raise their children alone as single fathers.
3. Fear of the Judicial Process
One of the main fears that every person living in our country has is the fear of the tedious and at times, unnecessary, legal process. Sometimes, the aggrieved man has to also live with the fear that the case may be overturned. There are hundreds of cases which originally started off as domestic abuse complaints filed by men, but went on to become those of dowry-related harassment and marital abuse filed by their wives. The general perception and even the overall attitudes are mostly in favor of women in India today; this, even at the cost of justice on many occasions.
4. Parental and Family Pressure
Unlike the west, men in India are known to live with their families post marriage. And when differences arise between husband and wife, parents are known to step in. While this does take care of problems in certain situations, but there is no guarantee that it won't take a turn for the worse.
Image source: Shutterstock
Living in Denial: Just as in the case of women, even men today are known to live in a state of denial about their problems and this will only worsen the problem and prolong their predicament.
A man suffering domestic abuse is a real problem, but there is a lot that needs to be done to take care of the same. While I do not mean to say that all cases in the court of law are not looked upon properly, nor am I trying to say that all women are falsifying the problems faced, it certainly is time that we get up and take notice of this problem and work towards fair and just solutions towards it.
Featured image source: Shutterstock
Summary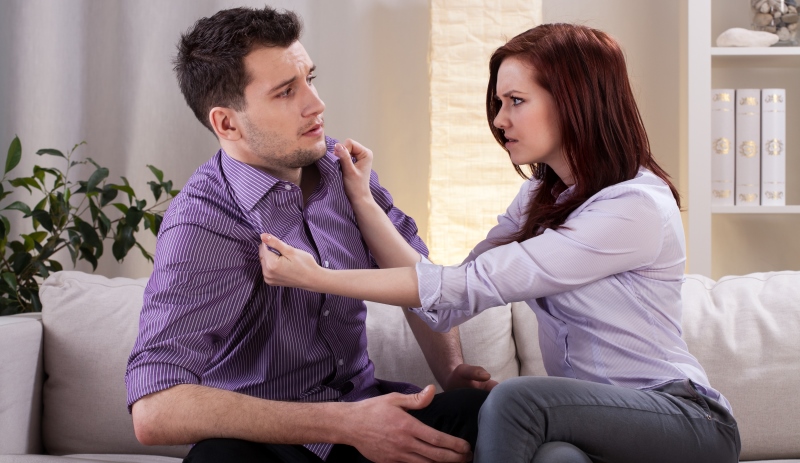 Article Name
Domestic violence - are women the only sufferers?
Author
Description
Domestic violence usually evokes a picture of a helpless female. But is the other side of the coin true? Do men suffer domestic violence too? Read on.