Gorgeous, sexy, lustful and ferocious; these are the words used to describe a vampire. These blood sucking, swoon-worthy creatures are to kill or die for, literally as well as figuratively.  The pages of literature have featured some of the most dazzling vampires of all time, making us women bet our whole lives on that one immortal kiss. These vampire books have not only caused us lots of lost nights of sleep but have also tormented us for days to come. They have seeded in us a longing for an immortal lover and a lingering false hope that our monster fantasies might come true someday.
Some of the most intriguing and fascinating vampire romance books that have had us biting our lips (pun unintended) are given below:
1. A Discovery of Witches (All souls trilogy) by Deborah Harkness
Image source: Google, copyright-free image under Creative Commons License
What happens when a century-old vampire and a spellbound witch are attracted to each other by a mysterious manuscript? Well, sparks fly and there is magick all around; dangerous, sinful, lustful magick. This book deals with witches, vampires, and demons with a history and a past that intertwines them together. If you have a taste for the supernatural, tempered by real life choices and adult dilemmas, then you are in for a treat of the best kind with this series.
2. Illuminate – A Gilded Wings Novel, Book One by Aimee Agresti
The first in a series, this book is a sinister tale about a group of high school soul snatchers, and comes packed with mystery, drama and romance, enough to prevent vampire book lovers from getting their hands off this one.  This is a story of a brainy but innocent girl named Haven Terra, who is awarded a prestigious internship at a posh Chicago hotel under the watchful eyes of a group of drop-dead gorgeous strangers. Strange things seem to happen, as she starts falling for dashing Lucian Grove, the second-in-command to Aurelia Brown, the owner of the hotel, and in her quest to know more about him, discovers that he is not the beautiful creature she had thought him to be.
3. The Vampire Tapestry by Suzy McKee Charnas
This is an unusual work of fiction which would interest the women who are not into the usual melodramatic romantic vampire fiction. This book belongs more in the science fiction genre than something that feeds on supernatural fantasies of people. The story follows a vampire named Dr. Edward Lewis Weyland as he preys upon humanity while simultaneously trying to uncover who and what he truly is. The doctor is not your conventional vampire, as he is an esteemed anthropology professor, and his condition is due to biological defects rather than supernatural reasons. He is a monster who is in a dilemma on whether he should form an uneasy empathy with his prey or to simply treat humans as prey with no emotional connect. This mysterious story is totally unlike any you would have read before.
4. Queen of Kings by Maria Dahvana Headley
This book is a thrilling, shiver-inducing reimagining of the story of one of the most famous seductresses in history, the queen of Egypt, Cleopatra, who ascended the seat of power through magic and something mysterious. It is a story that will make you transcend the barriers of time while getting you stuck in the web of intertwining truth and lies. Blending authentic historical fiction and the darkest of fantasy, Queen of Kings is a spectacular and spellbinding feat of imagination.
5. Beautiful Creatures by Kami Garcia and Margaret Stohl
Image source: Google, copyright-free image under Creative Commons License
It is a supernatural love story set in the beautiful south, that narrates the tale of two lovers that chance upon each other. Ethan, a young man longing to leave his small town, and Lena, a new girl with loads of mysteries surrounding her. Together, they uncover dark secrets about their respective families, their history and their town. It is an enticing, spine-tingling novel that portrays the passion, bonding and trust shared by its protagonists. One word? Unputdownable!
6. The Vampire Diaries by LJ Smith
Image source: Google, copyright-free image under Creative Commons License
This is a young adult vampire horror series that narrates the passionate tale of a young high school girl named Elena Gilbert who finds her heart torn between two vampire brothers, Stefan and Damon Salvatore.  This series effectively portrays the passion and dilemma faced by teens during their high school days, which ultimately results in sexual tension.
7. Blue Bloods by Melissa De La Cruz
Image source: Google, copyright-free image under Creative Commons License
Schuyler Van Alen is a sophomore at a prestigious private school. She is the quintessential girl next door, and prefers comfort to style. She is happy with her boyish, saggy clothes and discards the vintage clothing that is sported by most of her girlfriends. Things are normal, until one day she witnesses a visible mosaic of blue veins on her arm. After this discovery, strange things begin to happen to her. She starts craving for raw food and repeatedly has visions of ancient times, unknown to her. She goes on a quest to find the secret the blue bloods in her school are hiding, and if they are responsible for her condition. Will she succeed? Or is her life in danger? Pick up this enticing book to find out!
8. Evermore: The Immortals by Alyson Noel
Image source: Google, copyright-free image under Creative Commons License
Evermore is the first fantasy novel in the Immortal series. It is about Ever, the protagonist and the narrator of the story, who lost her entire family in a tragic accident and is still unable to cope with the loss. Having once been confident, popular and easy-going, she becomes a recluse, often branded a 'freak' by classmates, and can read thoughts and know parts of people's life by touch. She despises this; she wishes her powers gone and to go back to the normal life she had before. One fine day, a new boy joins her class. She tries to ignore him at first, but is unsuccessful – she gradually falls in love, and everything changes.
9. Some Girls Bite (Chicagoland Vampires) by Chloe Neill
Image source: Google, copyright-free image under Creative Commons License
28-year-old Merit, an English literature PhD student, is mortally wounded one night, and is turned a vampire against her will by Master Vampire Ethan Sullivan, in order to save her life. A reluctant newbie vampire, Merit is named Sentinal of Cadogan House, of which Ethan is Master. Although Merit hates Ethan for turning her against her will, she can't seem to stay away from the blond, sexy, and athletic Master. And the feeling is mutual. This love-hate relationship between the two comes to a head when Merit has to protect Ethan from an unknown and mysterious entity who is hell-bent on killing him. Oh, did I mention that Merit dresses in leather trousers and jackets, and is a kickass fighter who can wield a Katana, a Japanese tempered steel sword, like it's nobody's business?
10. Twilight by Stephenie Meyer
Image source: Google, copyright-free image under Creative Commons License
The first in the Twilight series, this book narrates the story of a seventeen-year-old Bella, who has just moved from sunny Phoenix to the grey and cloudy Forks, and lands herself in unknown danger when she falls passionately in love with a beautiful vampire named Edward Cullen. This book portrays young lust, love and dilemma that Bella faces as she transforms from the shy and diffident student to someone who is confident in her skin during the course of the series. The love triangle is completed by the werewolf-like Jacob, who is also in love with Bella.
Although these 10 novels / series make up the list, a special mention needs to be made of another young-adult series that also features a kickass heroine.
Vampire Academy series by Richelle Mead
Image source: Google, copyright-free image under Creative Commons License
This world is populated with two types of vampires – the good kind, known as Moroi, who can come out in the sunlight and wield magic of either earth, water, fire, or spirit, and the bad kind, known as Strigoi, who drain their victims and can't tolerate sunlight at all. Then there are Dhampirs, who owe their existence to Moroi and humans who hooked up. Dhampirs are the hybrid race of people who guard and protect the Moroi. The protagonist, Rose Hathaway, is a seventeen-year-old Dhampir, who is training to be a guardian, so that she can protect her friend and royal, Lissa Dragomir. Rose, who can kick anyone's ass, falls in love with her much older – 24-year-old – instructor, Dimitri Belikov. The story follows these three lead characters and their struggle through love, lust, forbidden romances, darkness of magic, and mental illness. This is one engaging series of books. It's spin-off series is called Bloodlines, and Adrian Ivashkov and Sydney Sage, minor characters here, are the protagonist there.
Featured image source: Shutterstock
Summary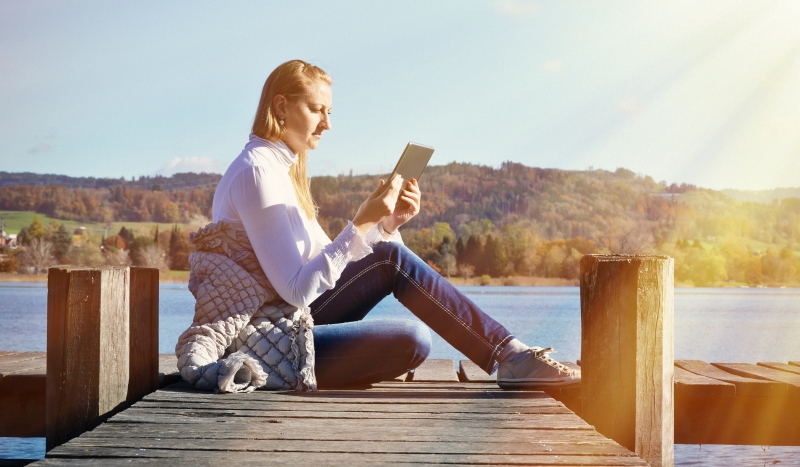 Article Name
10 must-read vampire romance books of all time
Author
Description
Vampires have always been fascinated readers, especially women. Here's a list of must-read vampire romance novels that you can't miss.