As Venus connects Jupiter today, expect an air of positivity on the love front. Though your romantic fantasies may not be real, your heart will compel you to believe in the reverie, and engage in them.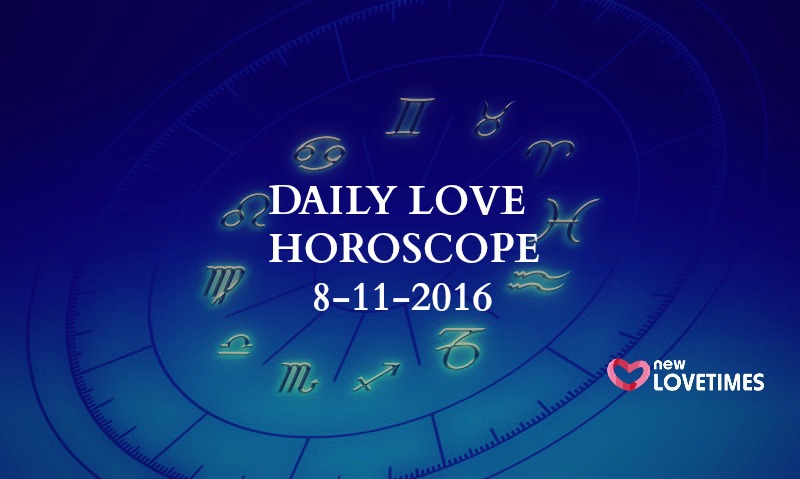 When it comes to your heart, we know things before you, honey, and we are sharing the same with you! Here's the daily love horoscope for all sun signs, so that you can make the most of it!
---
Suggested read: Your monthly love horoscope for November
---
Aries horoscope
Love and relationships: It is all about being flamboyant today, and wooing the person you have a crush on.
Health: You will feel very restless today, and might have to rely on music therapy to calm your senses.
Work: All those buts and excuses will not stand a chance today. If you want something at work, you will make sure you get it.
Money: Finances might be pretty much status quo like it was last week, unless you start making some dramatic changes.
Favorable color: Crimson
Taurus horoscope
Love and relationships: Channelize your enticing power of seduction. We believe you have already fallen prey to someone's love, but today it is you who will draw attention of your lover or would-be.
Health: Illnesses of the throat might trouble you today. Consult a doctor before things get out of hand.
Work: You want to get recognized at work, and to that end, have been working like crazy. Remember, satisfaction always comes from within.
Money: You significant other will be very supportive, financially, and that is where you will grow your confidence from.
Favorable color: Lavender
Gemini horoscope
Love and relationships: You will have to take up the initiative when it comes to forging new bonds. Don't worry, you will come across as a pleasant yet bold and ambitious person, which is always considered attractive!
Health: Did you know, back and shoulder aches can be relieved to a great extent by just breathing deep and relaxing? How about giving that a shot?
Work:   Some people at work are trying to infringe upon your private space. It is time for you to show them the boundary line.
Money: Venus is all prepared to take over your financial zone, which means you can start investing in your new financial ideas without worrying even a bit.
Favorable color: Rose
Cancer horoscope
Love and relationships: Love is all about growing up for you; it is about maturing and becoming your better self. Take advantage of this evolution that your thinking has gone through. Let the light shine through you.
Health: Have you been partying a lot, lately? May be your liver is not very happy with your lifestyle! Keep yourself extremely hydrated… with water!
Work: You may have to attend a workshop at work, which will ruin your previous plans with your S.O. or friends.
Money: Try to spend a little more on social gatherings since that will act more as investment, helping you make connections with people in power.
Favorable color: Cerulean
Leo horoscope
Love and relationships:  You will not settle for something that is just romantic and utopian. You are tired of superficial relationships. You want a bond which is solid and true; which will stand the test of time.
Health: Today a lift might result in cramps or tissue tear. Be careful while working out.
Work: Your house of career is energized right now, which means whatever you touch, at work, will turn into gold!
Money: Travelling may be on the cards, so be careful about unnecessary expenditure now.
Favorable color: Tangerine
---
Suggested read: Is your relationship not working? Here's why, based on your Zodiac
---
Virgo horoscope
Love and relationships: Try to embark on new endeavors with your partner's hand in yours. Take time to reflect and think, but remember to think big.
Health: You might have problems related to your bowels, today, says the daily love horoscope. Binge on fiber to get relief.
Work: Today, you will have to focus on long-term solutions, and for that your best approach would be to get to the heart of the matter.
Money: A lot of new interesting projects are opening doors of opportunity for you. Remember, the paycheck is just incidental.
Favorable color: Violet
Libra horoscope
Love and relationship: In your social life, you will make an impression on almost everyone. You will win hearts without putting in much effort. None of your intentions will go unnoticed. Make use of every chance to fulfil your romantic desires.
Health: News of a conception is highly likely. If you are not prepared for this, take precautions.
Work: Your ability to understand the work at hand will put you in a very powerful position today. Make sure you do justice to the faith your boss shows in you.
Money:  Your debt picture is a little scary right now. You need to assume more responsibility when it comes to handling your money.
Favorable color: Caramel
Scorpio horoscope
Love and relationships: You need to laud your imagination. Mercury and Sun, both will help you boost your ambition in love, and allow you to express yourself clearly, stating all your expectations.
Health: Problems related to the sexual organs are likely, today. Women might suffer from mensural cramps.
Work: Today try to take out some time, and relax yourself, no matter how busy you are.
Money: You may have to start saving up a little more as some rainy days are likely in the near future.
Favorable color: Blood red
Sagittarius horoscope
Love and relationships: To avoid turning your talks into fights, try to not manipulate. Bring balance into your personal life.
Health: A light massage is recommended today to ease you out of the neck pains and shoulder aches.
Work: Pressure at work is crazy! Just go with the flow, and focus on finishing work more smartly rather than complaining about the workload.
Money: You may think your financial progress has been slow. You need to trim down the expenses.
Favorable color: Earthy tones
Capricorn horoscope
Love and relationships: Today, you will have to take notice of your tendency to overreact and overthink. You will have to be on your toes when it comes to your love life.
Health: You are feeling like you are stuck in a rut, and that is causing all the negative feelings. Try to attract optimistic vibes by going for a walk or spending more time in nature.
Work: A transfer may be on the cards. Get yourself prepared.
Money: You have just begun to take control of your financial situation, and are determined to handle the monetary stresses, in a mature way.
Favorable color: Black
Aquarius horoscope
Love and relationships: Think of long-term partnership. Venus is surely going to be your ally. So there is nothing to worry about. Look at the future with your partner, fearlessly. Focus on your romance, and if you are single, on hunting your potential soul mate.
Health: You are burnt because of over work. Hit the spa and indulge yourself in some me-time, today.
Work: There is a lack of action, at your workplace, which is frustrating the hell out of you. Try and talk to your lead about new projects you would like to work on, if any.
Money: Saving will be your priority today, and you will start making investment plans for the long-term.
Favorable color: Auburn
---
Suggested read: Your motivation style in relationships, based on your Zodiac sign
---
Pisces horoscope                                        
Love and relationships: The sky ahead of you is clear, mostly. Jupiter will allow creative interactions and happy unions. Avoid just one pitfall, and that is, being unaware of what you want. Only a clear awareness will help you enjoy all the possibilities and have a great time, romantically.
Health: Your health chart looks impressive. Have you been working out lately? If yes, keep up the great work!
Work: Expect stress at work, today. If you are trying to work on something that is not your forte, seek help from colleagues.
Money: Before you embark on changing all your long term financial plans, today, try evaluating the pros and cons of the same, in detail.
Favorable color: Olive
That is all we have on your daily love horoscope for today. See you again tomorrow with all that the stars have in store for you. See ya!
Summary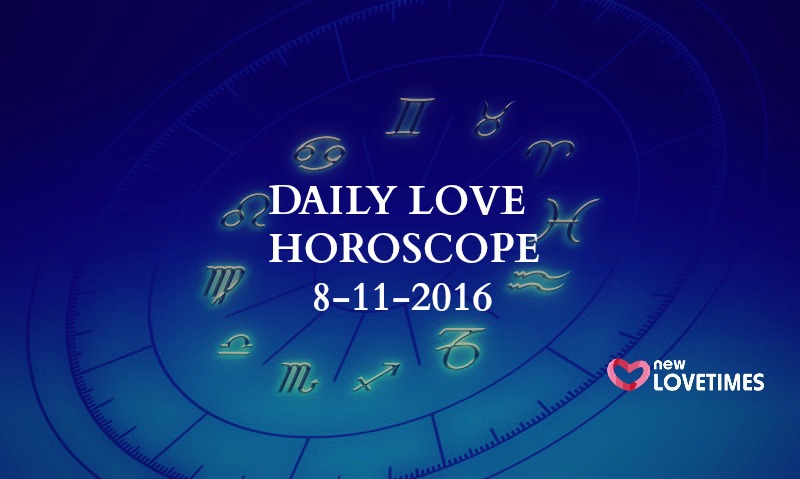 Article Name
Daily Love Horoscope For 8th November, 2016
Author
Description
Here's your daily love horoscope for today. Check it out to see what the stars, the planets & the universe have conspired for you!#AstroSpeak Daily Love Horoscope For 7th November, 2016