If you weren't sure that there's an app for practically anything in this world, then here's proof of that – an app called Happy Couple.
Calling itself a 'fun quiz-style game to discover what your partner really thinks,' Happy Couple wants you and your partner to get to get to know each other better through its digital quizzes. The app offers 1200 quizzes that intend to help couples get to know each other better.
Of course, when there are apps for hooking up (Tinder and its ilk) and finding long term relationships (Bumble, Happn, Coffee Meets Bagel, et al), it's only fair to have an app that helps couples build and grow their relationship, yeah?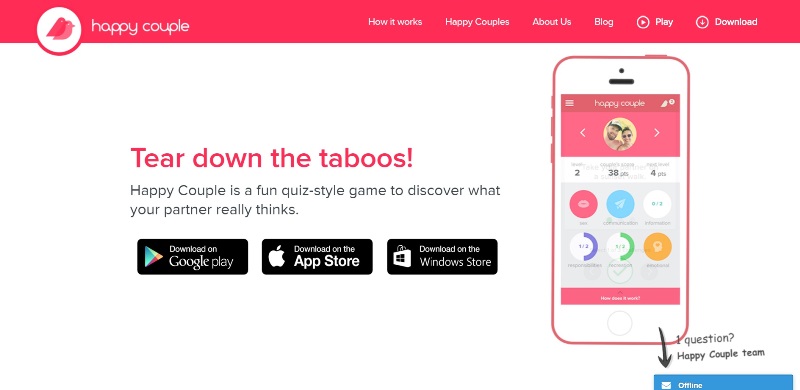 Image source: Happy Couple
Each time a user plays a quiz on Happy Couple, they answer the same question twice, for themselves as well as for their partner. The app has questions like, 'How does <insert partner's name> keep track of the tasks on his plate?' and 'What are <insert partner's name>'s feelings on monogamy?' Once you've answered the questions, you can match the answers with your partner's to see how well you know each other as a couple. To facilitate this, the app also has a chat line which the couple can make use of.
Apart from the quizzes, the app also contains 250 relationship tips that have been customized based on relationship type, age, kids, and other factors. Also, Happy Couple has 300 ideas for challenges that couples can do together, because a couple's greatest strength is in working together as a team.
Talking about why she came up with the app Happy Couple, co-founder Julien Robert, said,
"I wanted to find a way to hack the code for a sustainable relationship."
---
Suggested read: Manspreading makes one more attractive when dating
---
Basically, what Happy Couple app intends to do is make you and your partner play a bunch of quizzes, while it would've been easier to just ask them in person!
A relationship isn't a one-stop destination but an ongoing journey that needs constant attention and navigation so that the craft you and your partner are on, doesn't crash along the way. And to make sure that that doesn't happen, you need to put in the required effort (and sometimes even more than that), and make it your own.
Agreed, that this app might help couples to ask each other questions that they might not be comfortable talking in person. But it should NEVER replace face-to-face communication.
Would you try the Happy Couple app with your partner? Or would you rather talk to them in person and get to know them the old-fashioned way? Tell us in the comments below.
Featured image source: Happy Couple
Summary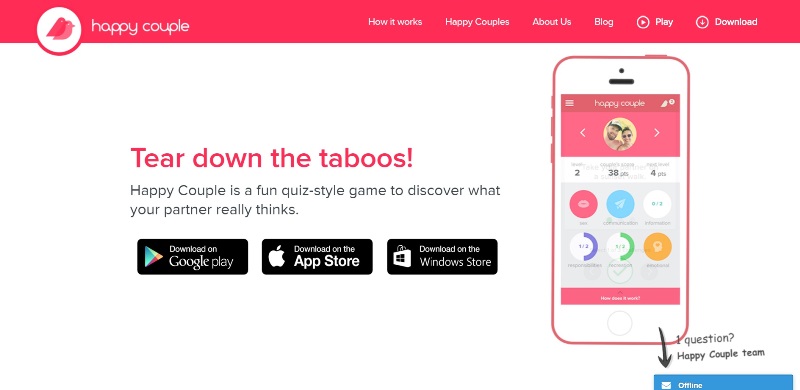 Article Name
Happy Couple App Wants To Help Couples Connect With Each Other Better
Author
Description
The new Happy Couple app wants to help couples strengthen their relationship by answering quizzes.