Today is the day of change. Surprise elements are likely to spiral out of control owing to the influence of the sun quincunx Uranus and the key to resolving this sudden disruption lies in acknowledging the need to make changes. While these disrupted plans and unexpected situations may create a feeling of restlessness, an approaching Mercury-Juno alignment in Sagittarius can stimulate a powerful desire to tackle discomforting decision-making and reason things out. While the moon continues to transit Taurus, there are chances of sneaking a few carpe diem moments during the day.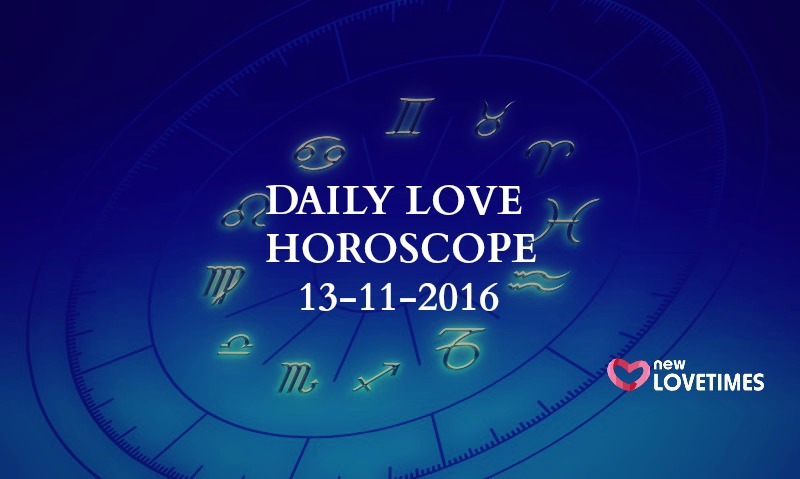 If you need to take charge and direct the direction of your life, you can take the help of our daily love horoscope:
---
Suggested read: Your monthly love horoscope for November
---
Aries horoscope
Love and relationships: Your relationships will prove most rewarding if you seek out ways to amp up intimacy and connection. The key to a successful relationship, as you will learn, is not to avoid vulnerability but pour your heart and soul into the bond.
Health: Your health is likely to suffer a setback, so be careful of what you put inside that mouth. Prevention, as they say, is better than cure and they are right!
Work: Mercury and Sun on top of your solar chart pave the path for coining excellent strategies to achieve your goals. However, you will have to realize that sharing your insight and knowledge will prove most rewarding if you give credence to others' ideas as well.
Money: You will be able to channel your financial mantra into the real world, with great results. Take advantage of your confidence to invest in long-term beneficial plans.
Favorable color: Silver
Taurus horoscope
Love and relationships: The moon is in your sign all day and you will be prioritizing your relationships, over all else. Your emotional needs figure strongly now and you shall seek out emotional stimulation to find acknowledgement for your feelings.
Health: There can be a temporary feeling of listlessness, as your mind isn't relaxed and you may want to find creative outlets to release the pent-up stress.
Work: You feel escapist when it comes to work today, as your heart isn't quite into it. Friendships, alliances and networking, though, take a front seat as you are open to sharing ideas and expressing yourself. However, what you dodge now you'll have to face later.
Money: A pressing financial matter may demand immediate attention, but it is advisable that you reason through the same or else you may land in a thick soup.
Favorable color: Red
Gemini horoscope
Love and relationships: You feel a heightened sense of sensitivity today, as the Taurus moon probes you to handle relationships with a more gentler, kinder attitude. You, purposefully, avoid confrontation as peace-making is on your mind but it is, mostly, a self-protective measure.
Health: Your health remains optimal as the Taurus moon smiles on you and you need not worry about staying fit. However, do not take this phase to sink into complacency.
Work: Your negotiation skills receive an all-time powerful boost and hence, it is a favorable time to get a handle on those alliances or partnerships you'd been consciously seeking out. Make adjustments on the responsibility front and you will be good.
Money: Money remains an area of concern but you know this is temporary and things shall start looking up, real soon.
Favorable color: Black
Cancer horoscope
Love and relationships: While a strong desire to harmonize with others is your second nature, you vacillate and roll on toward the opposite end today. You steer clear of people pleasing, if it comes in the path of staying true and responsible. If you do so quietly, your personal space may face little or no disruption but take things a tad bit too verbatim and the chaos may spread far and wide.
Health: Health seems a pretty precarious ground now, so tread carefully. What you put inside that mouth needs to be as carefully monitored as what you spit out.
Work: Good counsel about work is readily available, if only you are open to heed it. You take special pride in your work now but remain fiercely protective about your ideas. As such, you feel you'd rather take on things yourself than delegate work but watch out or you will take on far more than you can handle.
Money: Your fear of others messing things up extends to the financial realm and hence, you remain guarded about money matters. You are likely to keep your investment plans secretive.
Favorable color: Peach
---
Suggested read: How you show your jealousy in love, according to Zodiac
---
Leo horoscope
Love and relationships: You feel extremely possessive of your partner at the moment but talking things through can help ease your tendency to fret and also amp up the romance. In fact, you may begin to enjoy the communication so much that it will motivate you to try harder.
Health: Your neck and throat continue to remain susceptible regions, so be careful of body posture and the drinking binge.
Work: The moon remains in your career sector all day, so go ahead and recognize your need to best yourself in some significant manner and direct it to an excellent performance, so you can feel sated on a professional level.
Money: Your financial situation continues to remain fair and you are likely to think of new outlets to bolster your income.
Favorable color: Plum
Virgo horoscope
Love and relationships: The power play in your domestic sector has been rattling your nerves for a while and now is a good time to ease the tension by taking control vis-à-vis effective communication. Remember cooperation and communication work hand in hand for attaining an amenable resolution.
Health: You may feel nauseous and zapped of all energy in the latter half of the day, so try and maintain optimal energy levels by avoiding overexertion and maintaining your standard fitness routine.
Work: The moon is full in your charts and you may be bursting at the seams to present an idea or project you have long been working on. Ideation is key to flesh out more nuanced details and turn your vision into a reality. However, steer clear of jealousy at the workplace or the green-eyed monster may eat up your credit and credibility!
Money: Learn to differentiate between your needs and wants, or else you may end up draining more than your wallet bears- and that, dear Virgo, isn't a good place to be in!
Favorable color: Oxblood
Libra horoscope
Love and relationships: It is okay if you feel territorial and protective about who's yours' but do not worry yourself sick in the process. Remember to trust your partner and believe that he/she, no matter the flock of admirers, know where to draw the line. However, if your insecurity does get the best of you and you feel justified in your fears, it is an optimal time to cut out an unhealthy attachment.
Health: Focus on ways to convert your stagnant health issues into a thriving and fecund ground for recovery. Heal yourself, physically and emotionally and discover that it is alright to release a li'l control in the process. Heck, it can even feel empowering!
Work: You are excited about a new project and feel confident in your ability to turn it into a profitable assignment. Try to take an opportunity to learn and gain knowledge as a means to empowerment.
Money: Try to control cash flow instead of allowing it to direct you. Do not let your expenses outgrow your savings.
Favorable color: Turquoise
Scorpio horoscope
Love and relationships: There is an increased focus on relationships today and you shall be driven by a deep-seated desire to achieve balance in your personal sector. This would need as much effort from your end as from your partner- because a partnership IS a two-way street.
Health: The health gods are smiling at you and you need not worry much about staying 'fit and ready' for anything that comes your way.
Work: Focus on money as well as resources is going to come in handy while deciding on the profitability of a project. Get a handle on all practical matters and try to remain as objective as possible.
Money: It is a great time to learn how to manage your money and pick up on new, exciting avenues to stack up savings and invest in practical plans for long-term financial rewards.
Favorable color: Mustard
---
Suggested read: This is what people secretly want to change about you, based on your Zodiac sign
---
Sagittarius horoscope
Love and relationships: You feel like a bit of a loner today and may want to dodge conversation but your craving for solitude shan't lead you far and away. You will come back home to a loving milieu and remember that love is all that counts.
Health: While your work situation demands that you remain pretty absorbent of all stimuli, you will do well to remember not to put unnecessary pressure on yourself or it shall weigh you down.
Work: You are positioned well to learn something of immense value and significance. The knowledge shall empower you and you will be able to use it to forge a beneficial connection with others. It is important to remember that with great power comes great responsibility and act as becomes the dictum.
Money: You may suffer minor setbacks on the financial front but a few adjustments, edits and improvements in former plans should get you right back on track and perhaps, closer to your objective.
Favorable color: Fern green
Capricorn horoscope
Love and relationships: This is a good time to analyze the rhyme and rhythm of all odd behavior you have been noticing in the past. You might take time to reason through persistent problems that keep surfacing in your relationships and gain a stronger understanding as your work through them and take control. It may be a good idea, though, to take time off and enjoy your partner's company, for a bit.
Health: Good energy is on your side as you take charge on both personal and professional realms, to resolve problems and gain better understanding.
Work: While the moon in your romance and creativity sector predisposes leisurely pleasures to flood your life, your thought trails can prove pretty disobedient. While you may have a thought or two about impending projects, you may also find yourself trailing off to things that have long been hidden in your semiconscious. All in all, not the optimal state for work.
Money: The full moon and its transits prompt you to take charge of your financial situation and do as your instinct prompts.
Favorable color: Indigo
Aquarius horoscope
Love and relationships: With the moon in your solar fourth, domestic matters demand your attention. All revelations and epiphanies are about your emotional needs- so sit up and listen close. You have been ignoring them for a while and they won't be silenced today.
Health: Pay attention. A friend or well-wisher may give good counsel about your health matters and it would hold you in good stead to heed their advice.
Work: You cannot work in isolation today. It is time to up the ante on teamwork and partner with colleagues to achieve better results.
Money: If you have built a solid money foundation, this is the time of harvest. You are likely to reap benefits of your previous investments and feel grateful for your financial flair.
Favorable color: Mint
---
Suggested read: Is your relationship not working? Here's why, based on your Zodiac
---
Pisces horoscope   
Love and relationships: Do not divorce yourself from your partner's emotional needs. Your creative energies may prompt you to soak up solitude and consequently, alienate yourself from the emotional needs of your partner. Beware of the possibility- and take measures to keep the same in check.
Health: It is recommended that you ditch junk food and stick to seasonals, so as to bolster immunity.
Work: Work may need you t adopt an adaptable attitude and hence, flexibility with an openness to improve, amend, adapt and adjust may come in handy.
Money: It is best to think 'save' than splurge.
Favorable color: Raspberry
Sign up to our newsletter to receive your daily love horoscope in your inbox. It comes enveloped in loads of love!
Summary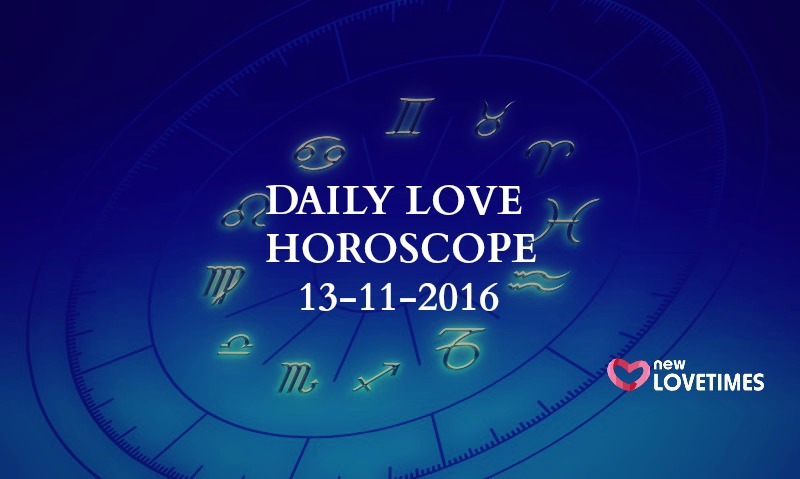 Article Name
Daily Love Horoscope For 13th November, 2016
Author
Description
Here's your daily love horoscope for today. Check it out to see what the stars, the planets & the universe have conspired for you!