A full moon in Taurus brings opposing energies together, exhorting us to find a balance. While the moon in Taurus prompts us to seek emotional fulfillment through simple pleasures of life, the Scorpio sun draws attention to the complexities and mysteries. The illumination of this juxtaposition and contradiction creates a passionate affair, pregnant with possibilities and learning experiences. Intimate relationship matters figure strongly and it is a period of romance and intensity.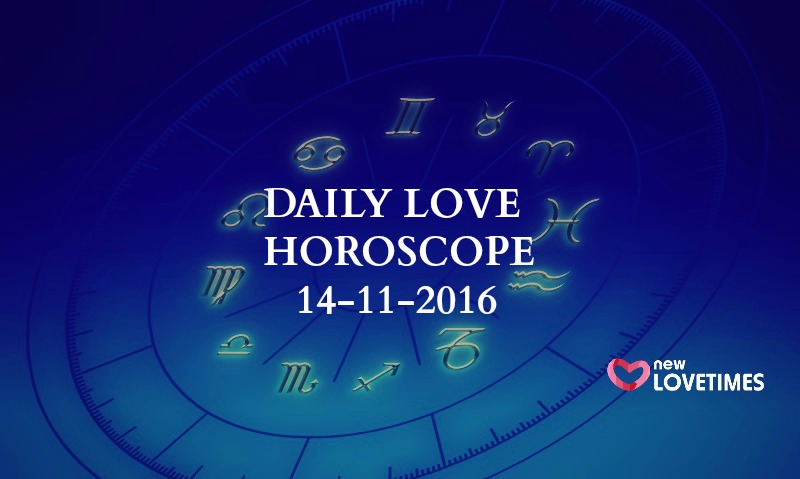 To make most of this ripe time, heed the advice of the stars, as outlined in our daily love horoscope:
---
Suggested read: This is how you will get over her, based on YOUR Zodiac sign
---
Aries horoscope
Love and relationships: This is the time of erratic mood swings, so be careful of what you utter. A misstep may sour relationships and create a tension you are unlikely to resolve. Instead of arriving at crossroads, paying attention to what your partner likes may hold you in good stead.
Health: Stick to a solid pace today, as any hyperactivity is going to see you shutting down for a nap real soon. Go for moderate activity levels and stay hydrated throughout.
Work: It is advisable to not trust everything you hear. Being level-headed and calm in the most trying circumstances at work is going to prove beneficial today.
Money: Money is tight today and you may want to rearrange your finances. Do some pragmatic financial planning and cut on your expenses to stack on some savings. You will be thankful for the wise decision later.
Favorable color: Burgundy
Taurus horoscope
Love and relationships: Keeping peace isn't on the cards, so quit the pacifier position and do not try to ease the tension that has been building on for a while. Your innate cue for compassion is admirable but a conflict is imminent and it needs your due attention.
Health: Make use of your body-mind conjunction to avail all opportunities for staying in shape and feeling positive all day long!
Work: Resist the urge to step in and try resolving other people's conflicts. It is only going to make matters worse- bury your nose in your own files and mind your own business. Let them work through their problems, you cannot help.
Money: This is the perfect time to increase your income and steady your financial situation. Do not spend beyond your means and find a way to increase the wads of green in the bank.
Favorable color: Black
Gemini horoscope
Love and relationships: Your inability to think straight can lead to an errant understanding of matters and hence, a lot of confusion. You can have multiple misunderstandings today, so beware!
Health: A difficulty to keep up with the workload and the pace at which the deadlines demand accomplishment may create immense stress. Save the tough thinking for another day and simply, focus on replenishing your energy reserves as work zaps it all!
Work: While your intellectual prowess remains on an all-time high, you may find it difficult to concentrate at work. This may leave you awash in frustration and your pending work may take a toll on your health.
Money: If you have been planning to buy property, now is as good a time as any. Trust your instinct and keep faith in your intuition's accurate prediction of market trends.
Favorable color: Mauve
Cancer horoscope
Love and relationships: Patience comes in slow and difficult today, but do not take it to mean you can fly off the handle. Be extra careful of how you handle matters of the heart, as any wrong step can worsen matters.
Health: Kill two birds with one stone by opting for a fitness program that regularizes your diet while dishing out high intensity full body workouts.
Work: You might feel a lot more angry at the moment but do not allow yourself to spew the anger at any colleague. There might be a third person in the picture, trying to take advantage of the situation.
Money: Avoid taking any brash decisions that may lead you down an irreversible path of regret. It is best to wait for the correct opportunity for a long-term investment.
Favorable color: White
Leo horoscope
Love and relationships: You may feel irritated by a close one today- so try not to take to a meltdown. Instead, use your desire for solo-time to take to creative expression as a means of escape and stick to it until you get to a happy place.
Health: Step outside of your regular routine and amp up the workouts you have been using until now. We have a whole list of challenging workouts you can take to, to push yourself out of your comfort zone and promise yourself a new, be-You-tiful YOU!
Work: Don't rein in your instinct today, as it leads you unto the right path. You are brimming with positive energy and shall make excellent use of harnessing it to bring alive innovative ideas and enforce practical plans to accomplish goals.
Money: Focus on saving more by keeping a tight rein on expenditure. Your tendency to splurge is going off-bounds and needs to be checked.
Favorable color: Yellow
---
Suggested read: This is what people secretly want to change about you, based on your Zodiac sign
---
Virgo horoscope
Love and relationships: Beware of those who take their personal problems out for broadcast. You won't help yourself by dealing with these people. Expand your circle of conversation and if possible, plug out the unhealthy attachments.
Health: You may want to draw out the foodie in you- but you need to maintain that fine balance between taste and nutrition.
Work: While it may seem natural for you to air your opinions, not everyone may agree. In the process of hashing out the disagreement and trying to attain a middle ground, you may learn a lot about your own expectations at work.
Money: You may discover an old fund that may come in handy in the time of need. However, dwelling on your financial woes for long isn't going to resolve the situation. Just let time work its deal.
Favorable color: Orange
Libra horoscope
Love and relationships: This isn't the time to be impulsive- so do not take a personal decision that impacts more people than your own self, and of a kind you may come to regret heavily later.
Health: Health can be tricky today- so take care not to overexert yourself and trigger a bout of sickness.
Work: You find comfort in regularity and hence, shall take immense pleasure in routine. You are likely to channel the feel-good vibe to constructive channels for growth and promotion.
Money: You are likely to be rewarded with financial gain for your persistence and hard work. But it is advisable to stick to time-tested investment options.
Favorable color: Pink
Scorpio horoscope
Love and relationships: This is the time when all your confusion is starting to clear up, so pay heed to what that honest conscience whispers in your ear, and steer clear of people who  crave constant attention.
Health: Do not second-guess your nutrition choices- as they are likely to push you to unnecessary stress and worrying, which, in turn, may have an adverse effect on your health.
Work: The stars are smiling down at you, and you may want to take the good luck and work its magic on every project at work. We say it shall work like a charm and usher in a time to revel in your accomplishments and savor success.
Money: Try to think of more avenues to rake in cash. It is a good time to increase your income sources, so you can plan your finances better.
Favorable color: Mustard
Sagittarius horoscope
Love and relationships: You are too tired of pushing your desire to have your needs fulfilled, when your partner doesn't even seem to be listening. So, take a step back and wait. It may just lead you to what is the best for you.
Health: Anger may create problems with your blood pressure but it is still advisable to spew the poison out, rather than hold it in.
Work: Your imagination reigns strong today but do not get carried away. Too much of idealism at work can wreck matters. If you feel disparaged, know that you invited the feeling in. Either make peace with it or come up with an idea that's innovative AND practical.
Money: You need to think about your long term financial security but that doesn't rule out an equal consideration of immediate money requirements.
Favorable color: Cyan
Capricorn horoscope
Love and relationships: Words are powerful. So, if you have been planning to work your way into someone's heart, mend matters of the heart or simply, pour out what you feel- go ahead and unleash the bard in you!
Health: Combining forces is always a wise way to further faster- so, think nutrition and workouts!
Work: Collaborative energy seems to fill the air around you- and hence, partnerships and alliances reign strong. You shall spread the good cheer and pass it along to other facets and people in your life!
Money: Try to adopt a flexible front on financial matters, as there might be a sudden disruption in plans.
Favorable color: Purple
Aquarius horoscope
Love and relationships: There's nothing wrong with putting yourself first- do not allow anybody to make you feel guilty about it! Sure, you could spend some time listening to their qualms but there's something empowering about being unapologetically you and being accepted for it- bring it on!
Health: If you made plans to eat out, let nutrition take precedence over gluttony. You cannot let your hard work go down the drain, on an 'eating out' evening.
Work: Be sure to help a colleague in need or make that sought after presentation your boss is having a tough time delegating. Your good-natured hard work will pay off.
Money: Money looks good and shall stream in from unexpected sources. Be sensible about where you use it.
Favorable color: Ash
---
Suggested read: How you show your jealousy in love, according to Zodiac
---
Pisces horoscope   
Love and relationships: Cut out the drama from your life and ask for the same degree of maturity that you display. It is high time you cut yourself some slack and focus on relationships that bring out the best in you, and where you can do the same for another.
Health: There are new, exciting elements available for adding to your workout regime. We say, try them all- albeit one by one. You will have a great time indulging the hybrid forms or sweating off the carbs in a dance studio!
Work: You may have a little difficulty in getting your act together at work, but a little perseverance and persistence can go a long way in pulling off an impeccable job- and you are no stranger to that truth, Pisces!
Money: You have been fretting on the financial front for a while now. However, this is a good time to strengthen your monetary foundation and think of long-term investment plans.
Favorable color: Brown
Sign up to our newsletter to receive your daily love horoscope in your inbox. It comes enveloped in loads of love!
Summary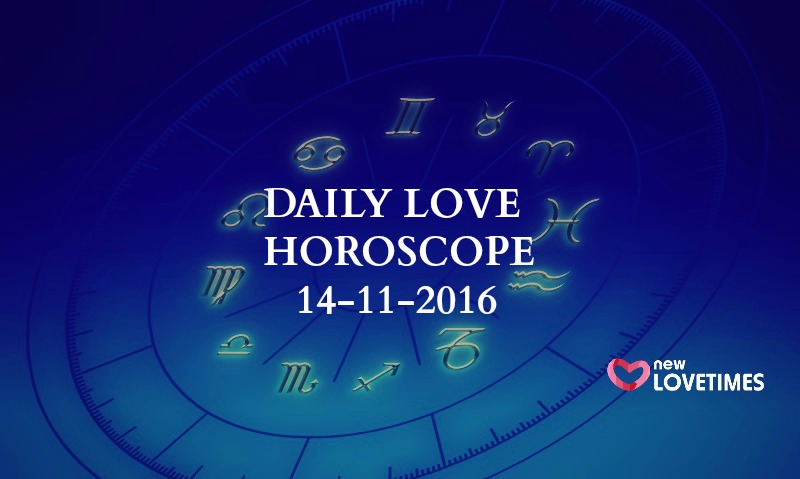 Article Name
Daily Love Horoscope For 14th November, 2016
Author
Description
Here's your daily love horoscope for today. Check it out to see what the stars, the planets & the universe have conspired for you!