Today is the day of conflicts. You need to hone the use of tact to be able to navigate through whatever conflicts arise at work or in the ambit of your home, or the consequences may prove to be disastrous. Keeping that tool that gets sharper with use (yes, we mean the tongue) in tight check is recommended. You cannot let tempers flare and angry words fly. There may be certain hidden opportunities tucked away in the heat and you'd have to keep your calm and dig deep to uncover them. You can find them with the right amount of patience and turn the situation around.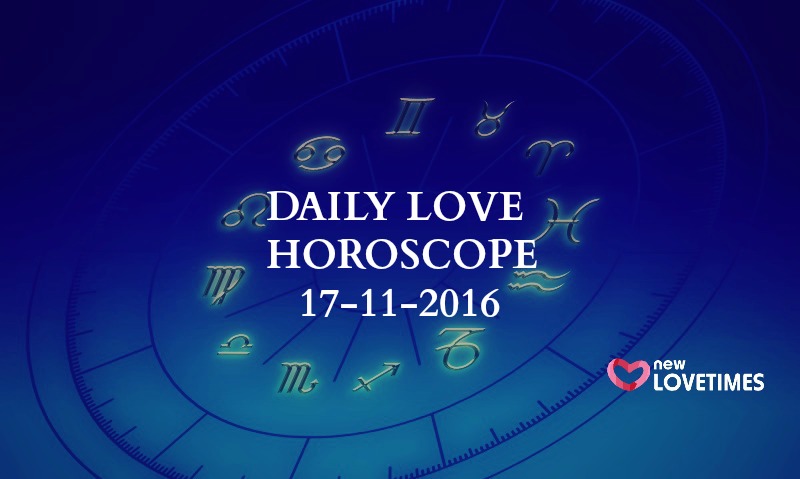 If you need help with the same, your daily love horoscope is here to help.
---
Suggested read: This is your perfect date, based on your Zodiac sign
---
Aries horoscope
Love and relationships: Love isn't an easy thing to do, so do not expect things to keep looking up all the time. The ebbs are many and it is your onus to turn the tide in your favor. You cannot escape the lows.
Health: You may want to revise your workout regimen as it is doing more harm than good.
Work: There will be a tremendous boost in your energy. But be careful not to overstrain yourself.
Money: Some calculated risks aren't off the charts- so go ahead, and take them. They are going to yield better returns than you think.
Favorable color: Sapphire
Taurus horoscope
Love and relationships: Venus is likely smiling at the moment, so think amour and let the Mercury override the nippy temperature outside. It is all about ravenous romps tonight!
Health: Getting back into shape by shedding those semi-knowingly invited carbs is prime focus now. So, go for that daunting workout regime but also prioritize healthy meals.
Work: An office romance is likely to come knocking on the door- but do not let it walk right in, if you are all for a fling. It may create major tension later. However, if commitment seems possible, we say- take Cupid's bow right to the heart.
Money: Try to adjust and not go against the flow, for that will only break you. You significant other will be very supportive, financially, and that is where you will grow your confidence from.
Favorable color: Turmeric
Gemini horoscope
Love and relationships: Your flirt mode is in full swing and you shall do more than twirl your hair, touch him on the arm or wink!
Health: Sharpen your consciousness and improve your mental and physical state of being with yoga.
Work: You are likely to be concerned about a policy change at the workplace and may want to take it up with the higher authorities. However, rein in that instinct unless you know the intricacies well.
Money: A lucky draw or jackpot may bring in an unexpected victory and you shall end up celebrating the success, grand-scale!
Favorable color: Bottle green
Cancer horoscope
Love and relationships: If you have been feeling off-sorts lately owing to a communication gap between you and your partner, now may be the time to iron out the creases of communiqué long ignored. However, do not just opt for putting your point of view ahead but sit up and listen. What's more, understand.
Health: Your being emanates a positive energy usually but something feels off today. Try and not go astray with food choices or exercise.
Work: You may learn of some colleague and his envy of you- but try and not ruffle any wrong feathers or speak to a friend at work of it. You never know when gossip spreads.
Money: Trim down your expenses to curb the slow progress of your finances and give it a much-needed boost.
Favorable color: Black
Leo horoscope
Love and relationships: If you are single and have been fancying someone for a while, now is a good time to make the first move. We know, Leo, that it isn't your style to approach first- but it shall pay off.
Health: You may be prone to injuries today, so be extra cautious of every step you take.
Work: Trouble seems to be brewing on the work front. Patience seems to be the only way to deal with the matter, so keep your reservoir full and handy!
Money: If you have been spending like there's no tomorrow, you may have to face the consequences today.
Favorable color: White
---
Suggested read: Here's what your soul mate will be like, based on your Zodiac
---
Virgo horoscope
Love and relationships: You feel extremely sociable now and can never stop to reiterate the power of networking. However, you need to watch every contact you make as a wrong acquaintance can prove to be harmful.
Health: You feel grounded and calm today and may want to throw back with your favorite tipple. Watch the number of glasses you down.
Work: Try to embrace the changes at work instead of cribbing about them. It may bolster your productivity as well as help you adapt.
Money: If you have been looking to rake in more cash, you may be surprised by an opportunity today.
Favorable color: Gold
Libra horoscope
Love and relationships: Your partner isn't impressed with your self-deprecating humor, as he/she can sense the sardonic and bitter tint therein. They know you are better than the sour feeling you have about yourself- and you need to appreciate their faith.
Health: The challenges on the work-front might result in stress and anxiety. Try to keep your blood pressure normal by doing a couple of breathing exercises.
Work: Business associates will be of great help today. Now all you need is the confidence to achieve the career goal you have for yourself.
Money: Unexpected expenditures are likely to crop up today, so stay prepared.
Favorable color: Caramel
Scorpio horoscope
Love and relationships: Check in your emotional baggage and do not collect it, ever. It is time to move on to a happier, freer future.
Health: Control your impulses to snack on junk food, every now and then. You need to drop those calories and not pile them on.
Work: If you are given a task that isn't your strong suit, do not hesitate to ask for help. It is important to get things done right, even if it isn't all by yourself.
Money: If your partner's bills have given you sleepless nights of late, you need to talk things through before you run out of patience and money!
Favorable color: Cyan
Sagittarius horoscope
Love and relationships: If you aren't clear about where you are at, now is the time to decide if you are just having a fling or are in it for the long haul. It isn't advisable to keep things murky for a long while- as it only complicates matters.
Health: Try to keep a check on your stress levels. It is a good idea to indulge in an old hobby.
Work: At work, refrain from airing opinions that may stir up controversy. Doing so is only going to invite trouble.
Money: You will be confident and determined to face all financial obstacles that you have been fearing for the last couple of days. Expect some good news at the end of the day.
Favorable color: Magenta
Capricorn horoscope
Love and relationships: You may bump into someone and chat them up, finding a bevy of common interests and a spark that may lead somewhere special!
Health: Any traveling plans on the cards are unlikely to bode well for your health.
Work: Going against the grain is going to pay off as long as you don't ruffle a few feathers, in the higher echelons.
Money: Your assets and your investments need some serious contemplation, today. So, pay due attention and do not indulge in hasty decision making.
Favorable color: White
Aquarius horoscope
Love and relationships: Things have been rough for a while now. But that's only because every dried out tear is followed by a welcome smile. Things are looking good in the near future, so brave the storm now.
Health: Make use of your positive and infectious energy today- you shall be surprised at the smiles you can spread out!
Work: Any attack on the professional front isn't a personal one. So do not lock swords and take it as an affront to your ego. It may be more lethal than you think.
Money: There may be some financial tension today. Try and seek avenues to handle it independently than ask for support from others.
Favorable color: Mauve
---
Suggested read: This is how you will get over him, based on YOUR Zodiac sign
---
Pisces horoscope   
Love and relationships: You will be opening up about yourself to your partner, and this will allow the two of you to understand each other better. It will also result in the closeness that you have been desiring all this while.
Health: You may be troubled with some health issues today. Though the problem may seem minor, do not neglect it. See a physician right away.
Work: An exciting and inspiring project may come your way and its success may pave the path for that long coveted promotion.
Money: Do not dole out your dough on things you don't need. Instead, use them judiciously to invest in desirable long-term plans with solid RoIs.
Favorable color: Crimson
Sign up to our newsletter to receive your daily love horoscope in your inbox. It comes enveloped in loads of love!
Summary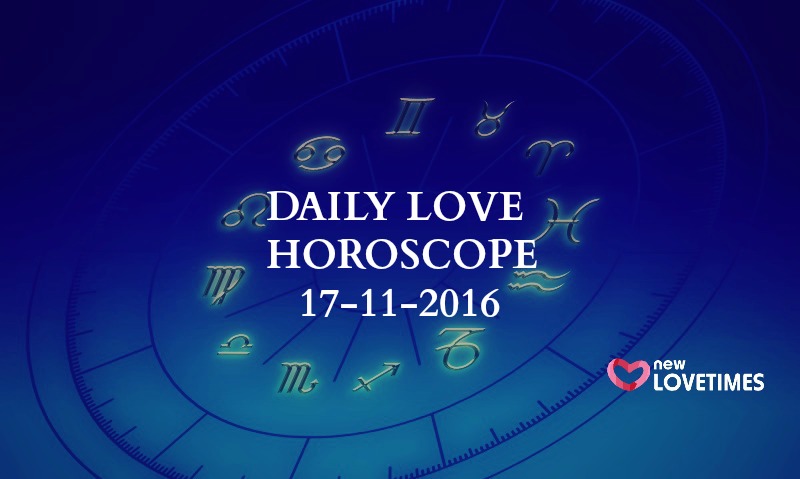 Article Name
Daily Love Horoscope For 17th November, 2016
Author
Description
Here's your daily love horoscope for today. Check it out to see what the stars, the planets & the universe have conspired for you!