The Gemini moon encourages positive communication and objective thinking while a Mercury-Uranus contradiction can lead to errant decision making. Insightful flashes might be interrupted with intermittent bouts of inattentiveness and there can be a tendency to fly off the handle, often. The mind is feeling particularly masterful and one can have a hard time getting it to obey. Tempers can flare and rebellious streaks can rage, while most creative ideas popping on the mentalscape need to be pruned and leveled. A Mars-Chiron semi-square also indicates a heightened sense of sensitivity and there might be problems expressing the way you feel.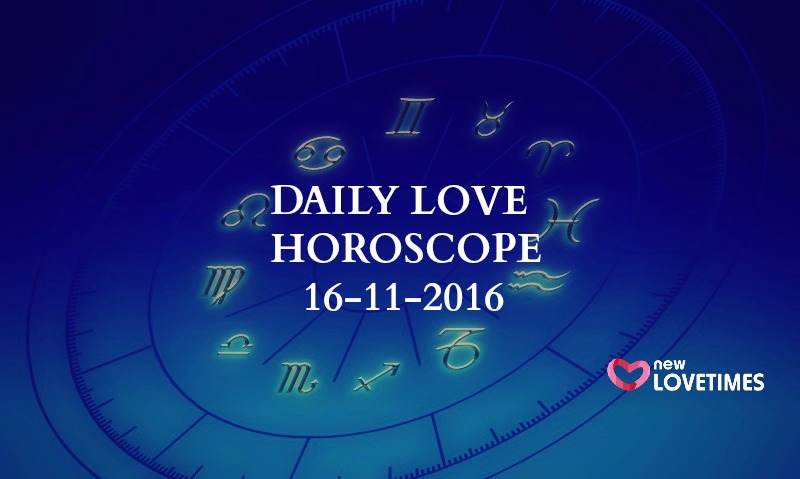 If you wish to dodge the problems highlighted by the stars but make the best of everything positive they are holding up, read your daily love horoscope, in detail:
---
Suggested read: This is how you will get over him, based on YOUR Zodiac sign
---
Aries horoscope
Love and relationships: You may find it especially difficult to pull off all things into one cohesive whole. You may feel tensed and past mistakes may also surface, complicating matters. It may be useful to find the time to sit and talk things through rather than allowing matters to sink into indifferent silence.
Health: It shall be wise to focus on nutritious food choices and stick to a doable workout plan than promise to stick to an impractical exercise routine and fall short.
Work: You are going against the grain right now and hence, any project may prove twice as challenging. There can be a lot of buzz surrounding a long-term project or a group endeavor- and you may do well to get your foot in through the door.
Money: Money seems optimal at present but be careful of being reckless with impulse buys.
Favorable color: Magenta
Taurus horoscope
Love and relationships: There's a part of you that wants to put the past behind and being mindful of this desire can help you release the pain and move on.
Health: There is good energy to take on anything you want to accomplish, just be mindful of not taking on more than you can chew.
Work: With a strong desire to break free of taboos, you will feel inclined to implement new ideas and visions into action. But be cautious of forcing change through a rebellious act, as it may backfire.
Money: Money shall flow in from an unexpected source and it may be a good time to think of investing in business or long-term goals.
Favorable color: Raspberry
Gemini horoscope
Love and relationships: With the moon in your sign all day, you wish to put your past behind and start anew. Take a spontaneous approach to the whole thing and trust in your instinct to veer you in the right direction.
Health: You may feel a li'l tensed, owing to the Mercury Uranus challenge. But avoid over thinking and overreaching and you shall be able to carry on smoothly.
Work: Look for new learning challenges and mix up projects in your work routine that integrate mental stimulation. You feel especially productive at the moment and it may be the time to channel it well.
Money: Put the cash you have saved to good use by investing in a solid long-term plan.
Favorable color: Honey
Cancer horoscope
Love and relationships: The moon moving into your sign in the latter half of the evening may push emotions that you have been ignoring in the past to the surface.
Health: Scattered thoughts can lead to undue stress, so steer clear of helter-skelter thinking and make room for clarity of thought and proper nutrition.
Work: Work requires an out-of-the-box approach, and getting chores out of the way and clearing up the paperwork can help unclog your mental landscape and make room for the more exciting and creative endeavors you crave.
Money: Today is an excellent time for analyzing patterns in finances and devise new, improved methods to increase income.
Favorable color: Sea green
Leo horoscope
Love and relationships: The moon's entry into your sign in the late evening can make you realize just how much you tend to overload on an emotional plane and the consequent need to slow down a little.
Health: A fresh platter of healthy food can prove especially comforting to relax and collect your thoughts.
Work: Breakthrough thinking shall make innovation come easy. However, you shall have trouble prioritizing tasks and focusing. Your mind is eager to learn but remember there's only so many things you can absorb at a time.
Money: Try not to allow your thoughts on the financial front set off on unrelated tangents or you may end up making a regrettable investment.
Favorable color: Violet
---
Suggested read: Here's what your soul mate will be like, based on your Zodiac
---
Virgo horoscope
Love and relationships: Life isn't as easy as we make it out to be. Sometimes, you need to sit down with it, have a discussion and make a what works, what doesn't work list to arrive at a workable solution. Holds for your relationships as well.
Health: You may want to slow things down for a bit- so skip the gym, take a cheat day for food indulgences and enjoy.
Work: Stale thinking and the rut routine need to go- so challenge yourself to new patterns and ideas, instead of going for familiar ones. Not recognizing the need for change may lead to stress and tension.
Money: A part of you knows that going non-traditional in investment matters can help you get over a hump. So, by all means o with your gut. It bodes well.
Favorable color: Silver
Libra horoscope
Love and relationships: Some frustrating trial and error pattern in relationships is likely to end if you just sit down and piece the puzzle together. Verbalizing your emotions as you go along may help arrive at a decision quicker.
Health: If you take on more than you can handle, you may fall sick. So, remember to only fill your platter with as much as you can wash down easy!
Work: Another day for generating fresh ideas, this is an opportune moment for new beginnings, creative sparks and innovative patterns. Challenge yourself to push your boundaries and you may stumble upon a success you never knew possible.
Money: You are likely to be responsible with money matters now and invest more energy in bolstering savings.
Favorable color: Aqua
Scorpio horoscope
Love and relationships: Over thinking isn't the right thing to do at the moment- so take timeout and refrain from pulling those unsettling emotions out of the box today.
Health: Over thinking may land you in trouble- but prioritizing matters that deserve your attention is likely to keep you in good spirits. Just keep the energy tank filled.
Work: This is the best time to ride the wave of future. Your mind is running overtime to cook new ideas for real innovation and you are best placed to arrive at workable plans and viable solutions.
Money: You may recognize the need for a fresh start on the financial front- so, try rethinking and reworking your existent approach.
Favorable color: Maroon
Sagittarius horoscope
Love and relationships: Expressing yourself may be the best way to grapple with conflicting emotions at the moment. Sometimes, just talking it through can go a long way in easing things.
Health: Your need for change is a crucial reason for the unsettling feeling and unrest you have been subject to. Try to release the tension through yoga.
Work: Your mind is pacing right now, and you need to consciously slow things down. You may tend to stir controversy if you force change and it may lead to an unpleasant situation.
Money: Sharing your financial plans with a well-informed advisor can help you see patterns that your overworked mind is too clouded to decipher on its own.
Favorable color: Chocolate
Capricorn horoscope
Love and relationships: You are feeling passionate right now and it is just the time to burn the flame loud and bright! Take things to the next level, and spice up things in the bedroom. The nippy winter air is calling for the mercury to soar!
Health: You may feel stressed today and therefore, may do well to avoid conflicts and other strenuous situations that may add to your woes.
Work: Work is smooth sail although you don't feel overtly invested. You know you've got your act together and for now, that's all that matters.
Money: The financial situation is stable and you need not worry about anything on the money front.
Favorable color: Rust
Aquarius horoscope
Love and relationships: You feel overly affectionate at the moment and shall shower your beloved with pleasant surprises. What's more- they shall have the same planned for you!
Health: Health seems optimal and the stars are smiling upon you- so go ahead, and enjoy your time in the sun!
Work: Work seems to be taking a hit and you aren't focused. Try and take a small break to piece things together in your head. It may help give you a clean slate to begin concentrating.
Money: Money is tight but you don't feel too anxious about it. And that's a good thing to do, for now. You will have to come back and pay attention, later.
Favorable color: Plum
---
Suggested read: This is your perfect date, based on your Zodiac sign
---
Pisces horoscope   
Love and relationships: You may feel a little estranged but the time isn't ripe to bring things out in the open yet. A single combat can prove dangerous for your relationship.
Health: Avoid conflicts as any undesirable levels of stress can prove disastrous for your health.
Work: You aren't overtly invested in at work but you seem to have got your act together, and that shall suffice for now.
Money: Try not to splurge at the moment as everything you dole out now, you shall have to build anew later.
Favorable color: Peach
Sign up to our newsletter to receive your daily love horoscope in your inbox. It comes enveloped in loads of love!
Summary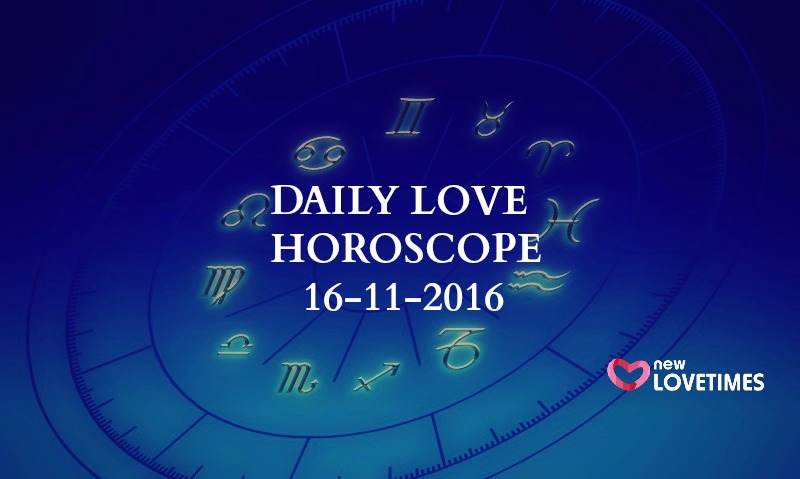 Article Name
Daily Love Horoscope For 16th November, 2016
Author
Description
Here's your daily love horoscope for today. Check it out to see what the stars, the planets & the universe have conspired for you!