Dating is a scary proposition, any day of the week, and twice on Sunday! And dating as an introvert? Oooh! Scary as heck! What with the expectation to indulge in small talk, talk about yourself, go out and meet new people, even battle crowds on occasion – ugh! Just writing them all down is making me feel queasy! Introverts generally avoid these activities, not because they're not good at it, because they'd rather not do it. There's a big difference between being shy and being an introvert.
Illustrator Maureen 'Marzi' Wilson is the talented woman behind the comic series, Introvert Doodles. The series captures all the troubles that introverts face when dating perfectly. The protagonist of the series is Marzi herself, in all her introvert glory. And just like any introvert, Marzi often guards her alone time, and is thrilled to find herself left to her own devices.
---
Suggested read: Meet Dhee, Bangladesh's first-ever lesbian comic heroine
---
Speaking to HuffPost, Wilson said,
"You'll notice that she's often single and happy about it, though she's occasionally on the prowl, and sometimes in a relationship. I've been in all those situations!"
Wilson's book Introvert Doodles is now available on Amazon and Barnes & Noble for pre-order.
In the meantime, check out some of Wilson's Doodles that captured our introverted hearts – hook, line, and sinker!
When a friend rues your single status, but you feel happy instead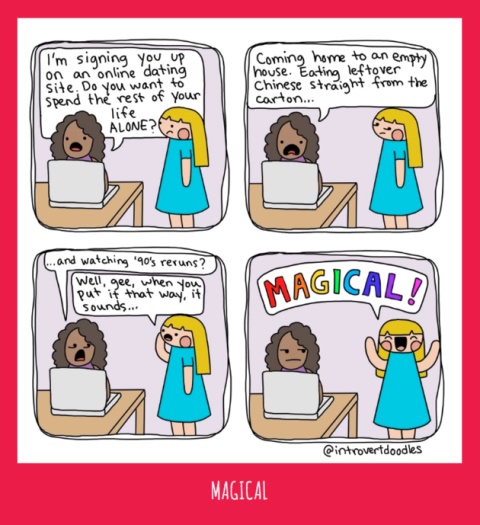 When you know that your laptop is your soul mate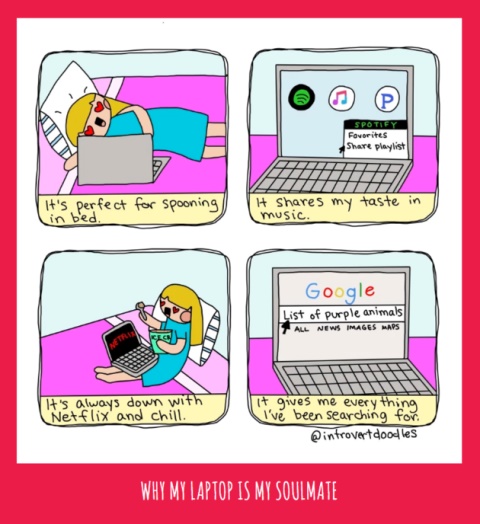 When you find the perfect way to be romantic with your Valentine cards
When you offer a biscuit to a… man. No… a dog. No! A man!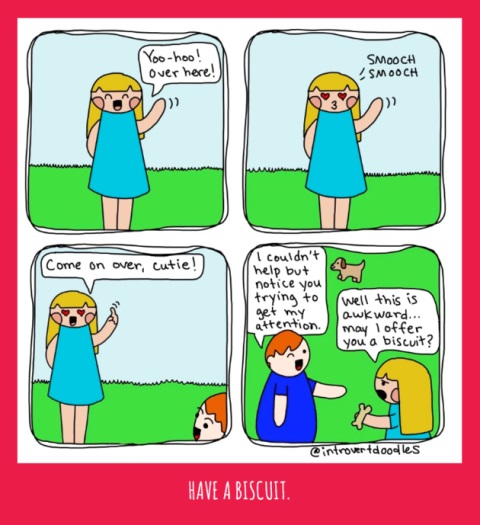 When you try speed dating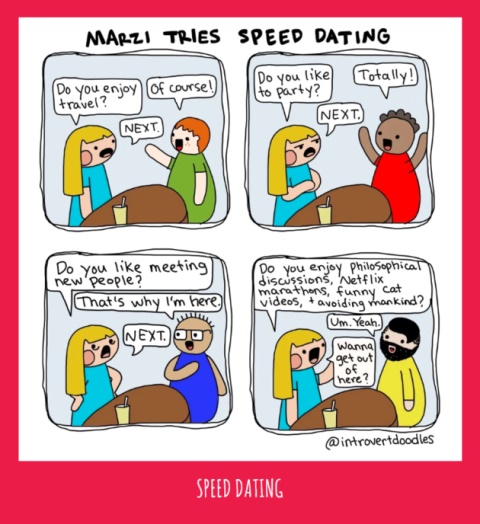 When you find a winner on your prowl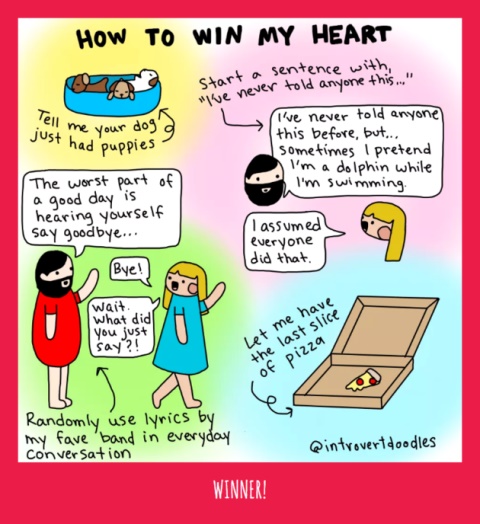 When you describe your soul mate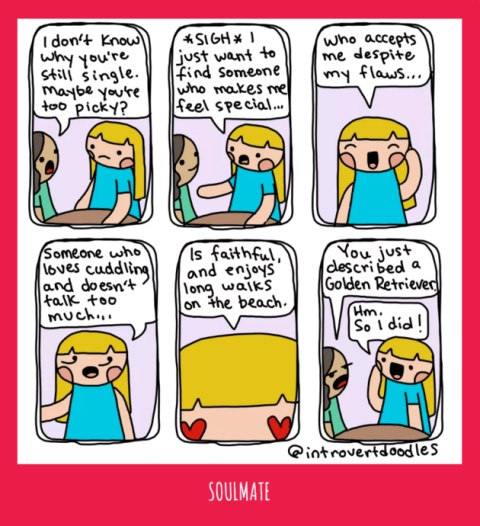 When you try to make small talk on a date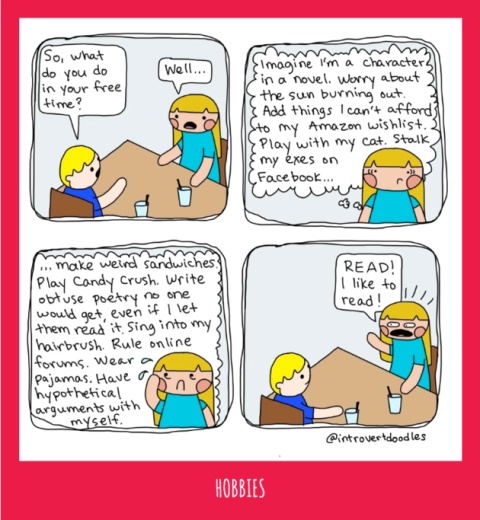 When you find yourself on a dating app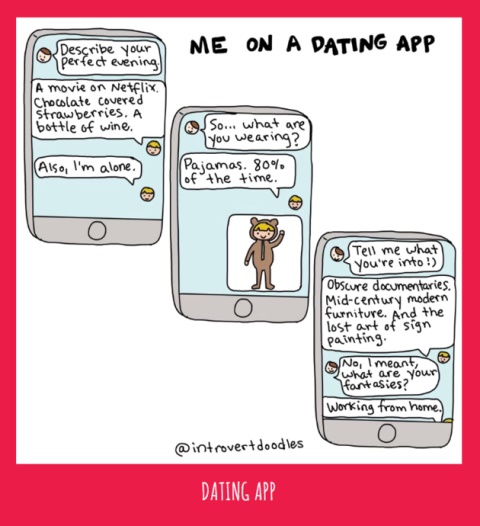 When you list out the perks of singlehood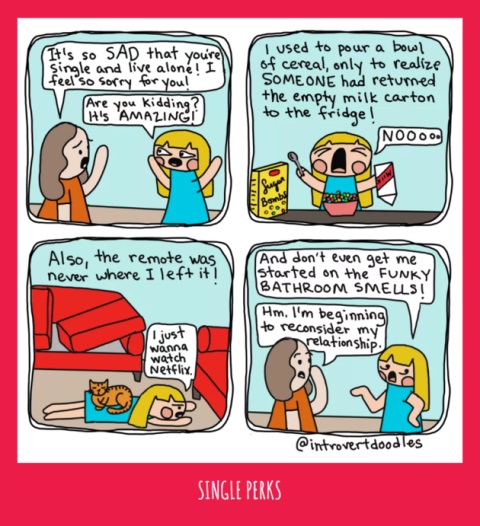 When you're in a love hate relationship (not the kind you're thinking!)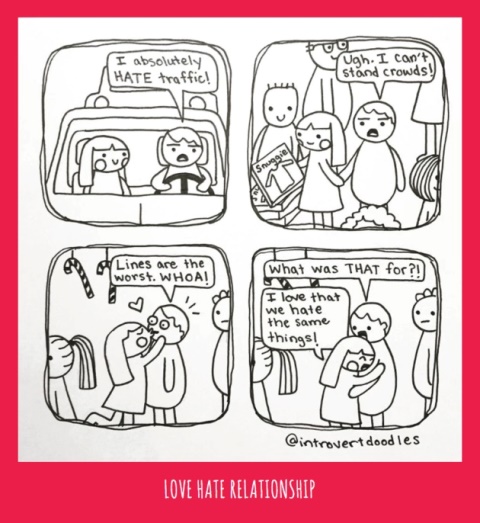 When you value your alone time over a relationship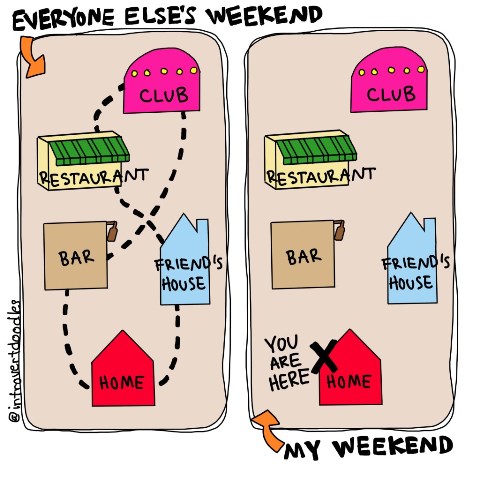 What do you think of Marzi's Introvert Doodles? Do you find yourself nodding as you read her comics? What other introvert problems have you faced while dating or in a relationship? Share your thoughts in the comments below.
All images: Introvert Doodles
Summary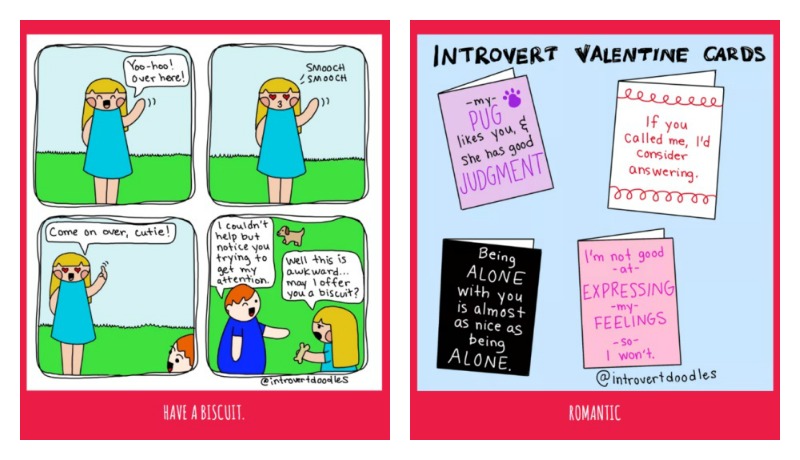 Article Name
'Introvert Doodles' Comics Capture What It's Like To Date As An Introvert
Author
Description
Illustrator Maureen Wilson captures the pitfalls of dating as an introvert in her Introvert Doodles comics. Take a look.