So you've been swiping left and right on any of the plethora of dating apps available today? Good for you! How have the dates turned out so far? Is the person you're meeting offline, live up to what they told you online? Or did they turn out to be a totally different person offline? And we're not just talking about their looks. Everyone embellishes their looks. It's the other, more important details about them that we're concerned about.
A match may tell you that they luuuurvve Taylor Swift, but in reality, they may be a Belieber. Shudder! Or they may be married, have kids, or even have a criminal past that may or may not be violent. How does one find out about such glaring red flags before meeting a potential match in person?
---
Suggested read: The new iPassion app helps couples know each other better – with a game!
---
Worry not for there is a new, free app called Stud or Dud, which helps you avoid such duds by allowing you to gather all the info about your potential date beforehand. Doing a lot of homework on your date, if you will.
Image source: iTunes
Stud or Dud aims to bring both safety and transparency to the world of online dating. It collates data available publicly including a person's criminal history, public filings, licenses they hold, and court records, and presents them to you, in a bid to give you a bit of peace of mind.
It is a fitting service, because a study in 2011 by the University of Wisconsin found that approximately 81 percent of people using online dating sites lie, while 30 percent users on Tinder are, in fact, married. You just need to provide a person's full name and the city/state they're residing in, and out comes a list of details about them, including phone number or email address, criminal records, property ownership, marital status, professional background, and their age.
Image source: iTunes
Speaking about the app, president of Stud or Dud, Amber Higgins, said,
"Americans spend thousands of hours swiping and chatting with people via Tinder, Bumble, and other online dating sites and apps, so our goal was to provide a free and fun app that made dating in the 21st century safe and transparent. Nearly one-third of all online daters do their own background checks about potential dates before meeting them. Stud or Dud preserves the butterflies and excitement of the dating experience while helping users protect themselves from a potential dud."
Further, she said,
"Whenever you meet anyone… offline or online, you want to look your best. Perception is everything to get past that first date or first interaction. If you believe someone is being less than truthful, Stud or Dud can help provide more information so that you are comfortable with moving ahead."
In essence, Stud or Dud helps you stay away from shady and/or seedy matches, or someone who has lied about who they really are.
Image source: iTunes
Explaining how the app basically supports already existing dating apps, Higgins said,
"Stud or Dud supports established dating apps such as Tinder, Bumble, Match.com, Zoosk and others by providing a useful and free app to confirm their trust in someone new that they have met online. When engaging on dating sites/apps, people are not always 100 percent truthful about their age and many other things such as if they're single or not. This is a powerful tool to help avoid those types of issues."
The app coughs up details like a person's age and relationship status, their exact address, and who they are related to. This is a bit creepy, because you can use the app to get information about anyone in your Contacts list as well. If you tap on a result to bring up more details, you can get a look at their partial phone number (if they're not on your Contacts list) and how they rank overall on the Stud or Dud meter.
Higgins is all for doing your homework when meeting a potential date off of a dating app. She said,
"More information is always better than NO information – use with caution. Not so many years ago, if you were introduced to someone new, a potential date, you had the endorsement from a friend or an acquaintance. With online dating apps, that third-party approval no longer exists."
Image source: iTunes
If you think the person you're meeting is above board, you can then tap that they're a Stud, which will be saved under a separate tab. The same for Duds, except those aren't saved.
While this app may raise questions of privacy of data, it's not invasive as it seems, because it pulls date that is already available online in sites like Zillow or other public sites. Stud or Dud just acts as an information aggregator.
---
Suggested read: New Dine dating app lets you go on a date quickly by taking the interaction offline
---
Explaining why every online dater should use the app, Higgins said,
"Information is power, the power to help choose a logical and sensible direction. It should be noted that just because someone has bankruptcy or something else that may not be all that positive, it does not mean they are not a good person, and the same can be said for the positives. We are simply providing more date points to help you maneuver through all the choices."
If you're interested in using the app, it's available on the Apple App Store for free download.
Do you think this app is invasive and crosses the line on being careful and takes it into the realm of too much information? Or that it's an ingenious way of knowing who you're meeting offline? Sound off in the comments below.
Featured image source: StudOrDud
Summary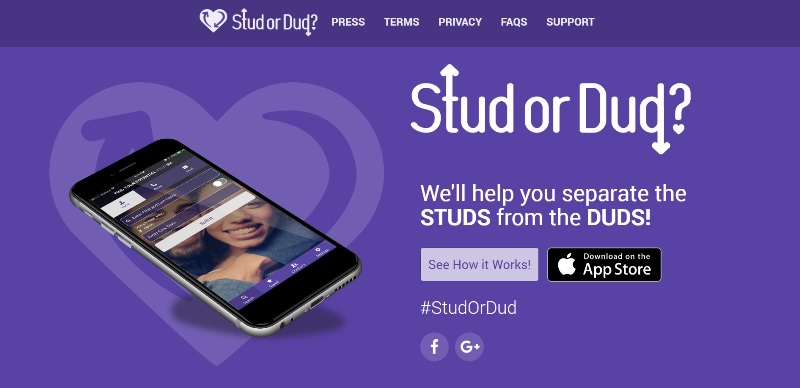 Article Name
Stud Or Dud, A New App, Lets You Run Background Checks On Your Dates
Author
Description
A new app called Stud or Dud, launched recently, allows you to know if the person you're thinking of meeting up with, is actually who they say they are!