In 1999, McGee helped form Bleeding Edge Spoken Word, under the directorship of his then-roommate. Over two and a half years, the two released 33 compilations of contemporary American spoken word. Although the label is now defunct, McGee started his own imprints – 3XMsound and 3XMpress, in 2001 – in order to produce and release his own CDs and chapbooks.

In 2001, after three years of competing at the San José Poetry Slam, McGee earned a spot on the slam team and went to his first National Poetry Slam held that August in Seattle, Washington. He then returned to the National Poetry Slam with the same team in 2003 and 2004.

In 2003, McGee co-founded the Vancouver, B.C.-based "talk-rock" trio Tons of Fun University with Shane Koyczan and C. R. Avery. Their debut was before a crowd of 15,000 at the Vancouver Folk Music Festival, July 2004. The trio has since toured extensively throughout Canada, performing primarily in music festivals.
In 2005, McGee performed a revised version of his popular poem "Like" on a fifth season episode of Russell Simmons Presents Def Poetry on HBO.

-Goodreads Author Bio
---
Suggested read: Dedicate One Of These Beautiful Love Poems To Your Beau!
---
 Best poems by Mike McGee
Here are some of the best poems by Mike McGee.
"Dear Neil Armstrong,
I write this to you as she sleeps down the hall. I need answers I think only you might have. When you were a boy, and space was simple science fiction, when flying was merely a daydream between periods of History and Physics, when gifts of moon dust to the one you loved could only be wrapped in your imagination.. Before the world knew your name; before it was a destination in the sky.. What was the moon like from your back yard?
Your arm, strong warm and wrapped under her hair both of you gazing up from your back porch summers before your distant journey. But upon landing on the moon, as the earth rose over the sea of tranquility, did you look for her? What was it like to see our planet, and know that everything, all you could be, all you could ever love and long for.. was just floating before you. Did you write her name in the dirt when the cameras weren't looking? Surrounding both your initials with a heart for alien life to study millions of years from now? What was it like to love something so distant? What words did you use to bring the moon back to her? And what did you promise in the moons ear, about that girl back home? Can you, teach me, how to fall from the sky?
I ask you this, not because I doubt your feat, I just want to know what it's like to go somewhere no man had ever been, just to find that she wasn't there. To realize your moon walk could never compare to the steps that led to her. I now know that the flight home means more. Every July I think of you. I imagine the summer of 1969, how lonely she must have felt while you were gone.. You never went back to the moon. And I believe that's because it dosen't take rockets to get you where you belong. I see that in this woman down the hall, sometimes she seems so much further. But I'm ready for whatever steps I must take to get to her.I have seem SO MANY skies.. but the moon, well, it always looks the same. So I gotta say, Neil, that rock you landed on, has got NOTHING on the rock she's landed on. You walked around, took samples and left.. She's built a fire cleaned up the place and I hope she decides to stay.. because on this rock.. we can breath.
Mr. Armstrong, I don't have much, many times have I been upside down with trauma, but with these empty hands, comes a heart that is often more full than the moon. She's becoming my world, pulling me into orbit, and I now know that I may never find life outside of hers. I want to give her EVERYTHING I don't have yet.. So YES, for her, I would go to the moon and back…. But not without her. We'd claim the moon for each other, with flags made from sheets down the hall. And I'd risk it ALL to kiss her under the light of the earth, the brightness of home… but I can do all of that and more right here, where she is..And when we gaze up, her arms around ME, I will NOT promise her gifts of moon dust, or flights of fancy. Instead I will gladly give her all the earth she wants, in return for all the earth she is. The sound of her heart beat and laughter, and all the time it takes to return to fall from the sky,down the hall, and right into love.
God, I'd do it every day, if I could just land next to her.
One small step for man, but she's one giant leap for my kind."
---
Suggested read: 10 Poems by Instagram Poet Nurul AK That Talk of Heartbreak and Healing
---
2.
"Everyday I rewrite her name across my ribcage
so that those who wish to break my heart
will know who to answer to later
She has no idea that I've taught my tongue to make pennies,
and every time our mouths are to meet
I will slip coins to the back of her throat and make wishes
I wish
that someday
my head on her belly might be like home
like doubt to doubt resuscitation
because time is supposed to mean more than skin
She doesn't know that I have taught my arms to close around her clocks
so they can withstand the fallout from her Autumn
She is so explosive,
volcanoes watch her and learn
terrorists want to strap her to their chests
because she is a cause worth dying for
Maybe someday
time will teach me to pick up her pieces
put her back together
and remind her to click her heels
but she doesn't need a wizard to tell her that I was here all along
Lady
let us catch the next tornado home
let us plant cantaloupe trees in our backyard
then maybe together we will realize that we don't like cantaloupe
and they don't grow on trees
we can laugh about it
then we can plant things we've never heard of
I've never heard of a woman
who can make flawed look so beautiful
the way you do
The word smitten is to how I feel about you
what a kiss is to romance
so maybe my lips to yours could be the penance to this confession
because I am the only one preaching your defunct religion
sitting alone at your altar, praising you out of faith
I cannot do this hard-knock life alone
You are all the softness a rock dreams of being
the mistakes the rain makes at picnics
when Mother Nature bears witness in much better places
So yes
I will gladly take on your ocean
just to swim beneath you
so I can kiss the bends of your knees
in appreciation for the work they do
keeping your head above water"
---
Suggested read: Best Poems By Agha Shahid Ali: Remembering Kashmir's Beloved Poet On His Death Anniversary
---
This is all we have on today's post on the best poems by Mike McGee. This is, however, not an exhaustive list, and if we have missed out on some of your favorites, then please feel free to add them in the comment section below.
Until next time!
Featured image source: Instagram 
Summary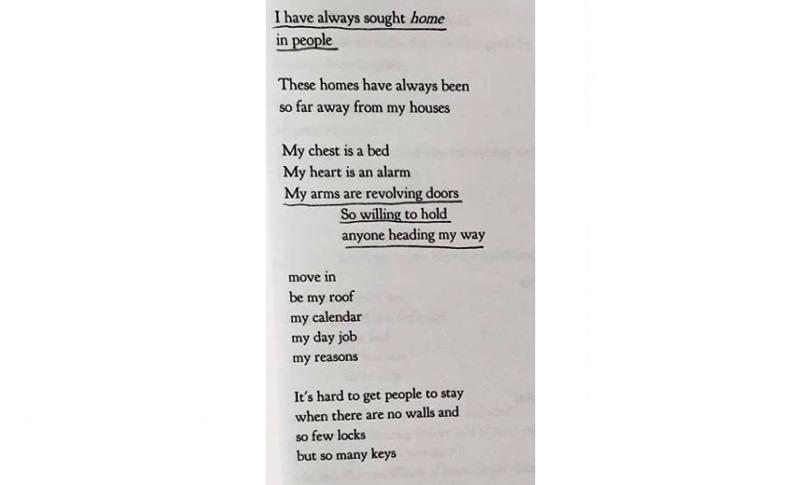 Author
Description
"I can kiss the bends of your knees in appreciation for the work they do keeping your head above water". Here are some of the best poems by Mike McGee.