One of the healthiest foods you can eat, yogurt, is a wonderful must-have in your diet. But here's the good news, yogurt is so much more than just a food item on your menu for the day. Besides being a yummy treat for your taste buds, it also offers us so many health and beauty benefits. From your head to your toes, there's not a place where yogurt can't cast its magical spell of health and beauty.
So, get ready to explore and celebrate some beauty secrets, as here are some amazing benefits of yogurt that will make you a fan of this delicious food for sure.
---
Suggested read: Significant benefits of coconut milk for your skin and hair
---
1. A yogurt mask is the sure shot solution for the trouble of dandruff. And when it comes with the promise of strong and shiny hair like that, who can resist loving it?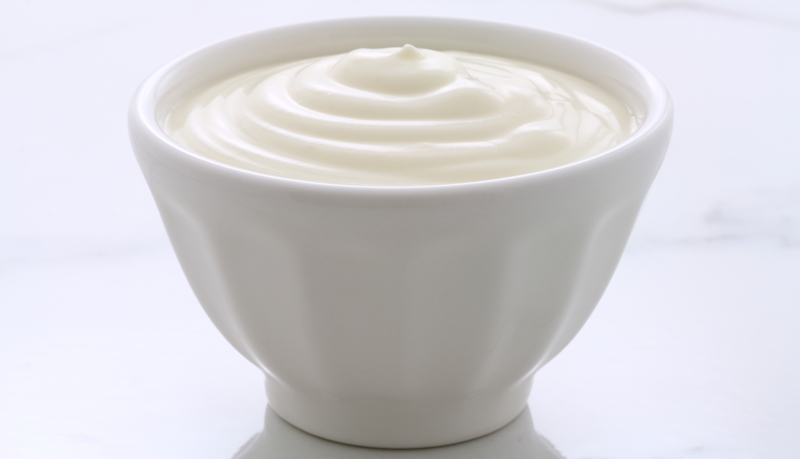 Image source: Shutterstock
2. Not just the perfect delicacy to eat, yogurt is also your best friend when it comes to the easiest teeth whitening solutions. Just rubbing some yogurt daily on your teeth can get you that pearly glow within weeks.
3. Rich in zinc, yogurt is simply the perfect choice to calm your itching sunburn. A nice layer of yogurt with some essential oils will both cool and soothe your inflamed skin.
4. Yogurt is a spectacular natural scrub, which is probably one of the most admired benefits of yogurt for skin.
5. The rich ingredients of yogurt can work wonders in lowering the cholesterol levels.
6. The brightening power of sweet and smooth yogurt makes it an amazing ingredient for the best facials ever. (FYI: just add some skin-friendly secret ingredients to the recipe for even better results).
7. Yogurt can refresh your dry scalp and strengthen your hair from the inside out.
Image source: Google, copyright-free image under Creative Commons License
8. Along with giving you perfect skin, yogurt also protects skin against the cruel assaults of enemies like acne and pimples.
9. Yogurt works unbeatable wonders in getting rid of dry skin cells, leaving your skin flawless.
10. Yogurt is a wonderfully effective ingredient in some of the finest facemasks and packs.
11. You can simply kiss your dark spots and blemishes goodbye for good with the goodness of yogurt.
12. If you dream of the smooth, silky, long, and shiny tresses falling down your back, yogurt for hair could be just the right conditioner to make it come true.
Spectacular skin masks for the beautiful you
1. The delicious recipe for smooth skin with plain yogurt
The only thing you are going to need here is simply some fresh and natural plain yogurt. All you need to do is work it into a smooth, even consistency and make it a routine to apply it on your face for just 10-15 minutes after a little massage, on a daily basis. The lavishly skin-friendly ingredients of yogurt will give you admirably soft, smooth, and glowing skin for that 24×7 fresh look to flaunt.
2. The timeless shield against acne – win your glow with yogurt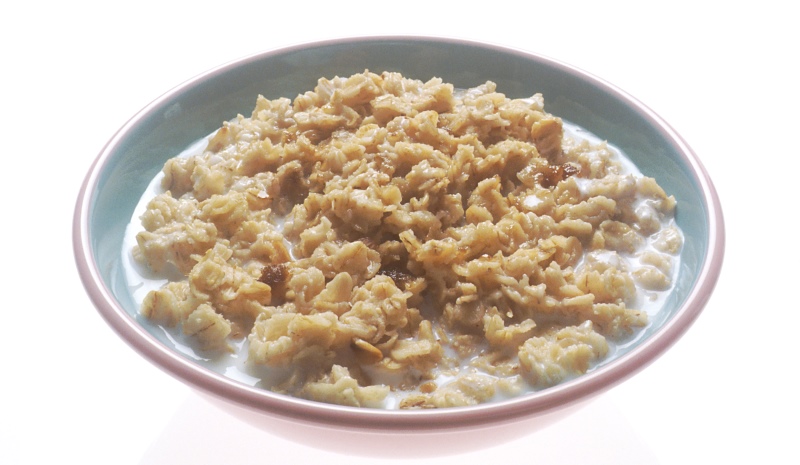 Image source: Google, copyright-free image under Creative Commons License
Prepare oatmeal, yogurt, and honey nicely for the mask. Apply it as a thick layer on your face and let your skin soak in its benefits for about 15 minutes. When you wash it off with lukewarm water, you'll get shining skin that's well protected against all unwelcome infections.
3. The goodness of sweet strawberry and yogurt to brighten up your skin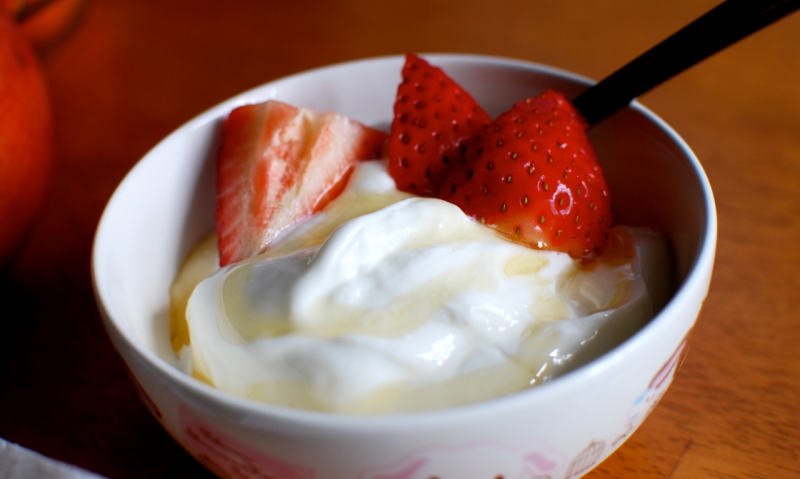 Image source: Google, copyright-free image under Creative Commons License
A splendid mixture of crushed ripe strawberries with yogurt and raw honey can add a bright freshness to your face. After a nice 15 minutes of application, you can scrub it off gently with warm water and the resulting masterpiece will take your breath away for sure.
4. Replenish the moisture of your skin with the perfect blend of yogurt with olive oil and avocado
Mix your mashed avocado with yogurt and olive oil into a smooth paste and thickly coat your face with its rich consistency. Rinse it with warm water after 15 minutes of rest, and it'll leave you with beautifully hydrated skin.
5. The blessing of a mask of yogurt with rose and honey
You'll need some freshly crushed rose petals with some organic rose water and honey. Prepare a beautiful mixture by mixing these with natural yogurt and wear it on your face for about 10-15 minutes before rinsing it off. It'll give you a perfectly moisturized and healthy face to fall in love with.
---
Suggested read: The amazing benefits of tomatoes for your skin and hair
---
6. Get the exquisite freshness with a fabulous oatmeal yogurt mask
Grind some fresh oatmeal and mix it thoroughly with some yogurt. Apply the fine mixture on your cleansed face after adding a few drops of warm honey and let it rest on your face for about 15-20 minutes. When you wash it off with warm water, your skin will be freshly rejuvenated.
7. Let turmeric and yogurt stand guard against all skin infections you are so afraid of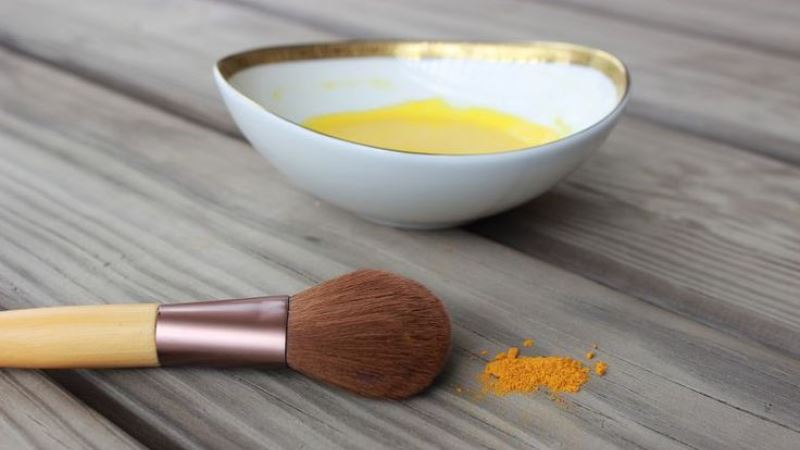 Image source: Pinterest
Infections can give your skin a hard time, but not when you have the magical mask of yogurt and turmeric to fight them for you. Prepare the paste by mixing one tablespoon of turmeric in half a cup of yogurt, apply it on for 10-30 minutes, and you'll end up with the healthiest skin you can ever ask for.
8. Shake off the discoloration of your skin with a lemon and yogurt mask 
The cleansing-special ingredients of the lemon form the most effective force alongside the uncountable benefits of yogurt on your skin. Just 5-6 drops of lemon juice in half a cup of yogurt will be ready to work its magic. Combine the ingredients nicely and keep on the mask for about 15 minutes before rinsing it off with cool water for best results.
Some wonderful yogurt masks for your hair
1. The unbeatable hair mask with yogurt and beaten eggs
Just beat an egg nicely until it's foamy, and then mix it meticulously with about 6-7 spoonfuls of natural yogurt. Use a comb or apply it one lock at a time, and leave it on for about 15-20 minutes before washing, and you'll treasure the spell the plain yogurt and egg casts on your hair. Not only soft, shiny, and tempting, your hair is going to be frizz, itch, dandruff, and infection free as well.
2. Deep condition with yogurt, coconut oil, and honey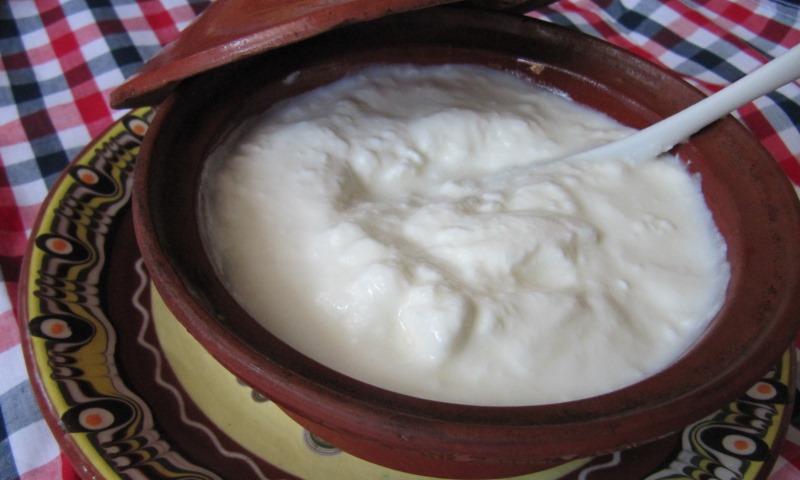 Image source: Google, copyright-free image under Creative Commons License
All you need to do is blend a delicious mixture of yogurt with coconut oil and raw honey. Wear it on your hair for 15 minutes before you shampoo, and you'll be surprised with the results. Along with the perfect cleansing from the lactic acid of yogurt, the nutrition-perfection of coconut oil and the rejuvenating magic of honey will leave an alluring fragrance in your shiny hair.
3. Banana and yogurt hair mask to make the best of your beautiful hair
Prepare a nice creamy and smooth mixture of mashed banana and yogurt added with the goodness of honey and lemon juice. Apply the lavish mask on your hair with some essential oils in it, and you can wash it off with lukewarm water after 15-20 minutes. Its rich protein levels will greatly benefit dry hair.
4. Simple yet magical excellence of the sheer yogurt hair mask
It may sound like a simple affair, but trust me, the result will make this yogurt mask a regular occurrence in your hair care routine. Just get your hands on the finest, healthiest, and the freshest yogurt and use it to massage your scalp well. Wear the mask for 15 minutes before rinsing it off, and you'll end up with the beauty-perfect package of soft, moisturized, shiny length of detangled hair in no time.
---
Suggested read: The many benefits of almond oil for your skin and hair
---
5. The most remarkable hair-mask for you!
A little bit of a tricky and wholesome job to do, this recipe pays off double the effort for sure. Start by massaging your hair with rich oils like almond and jojoba and let it seep deeply and warmly in the roots with 15 minutes in the sun. After your hair is ready, apply a mask of whole-milk yogurt mixed with a touch of the oil thoroughly on every inch from root to tip. Washing it off after an hour of rest should leave you with a heaven of hair.
Now that you know the simply outstanding benefits of yogurt for your skin and hair, you can keep yourself beautiful all the time. All you'll need is a little enthusiasm and that delicious cup of yogurt you love so much. Cheers!
Featured image source: Shutterstock
Summary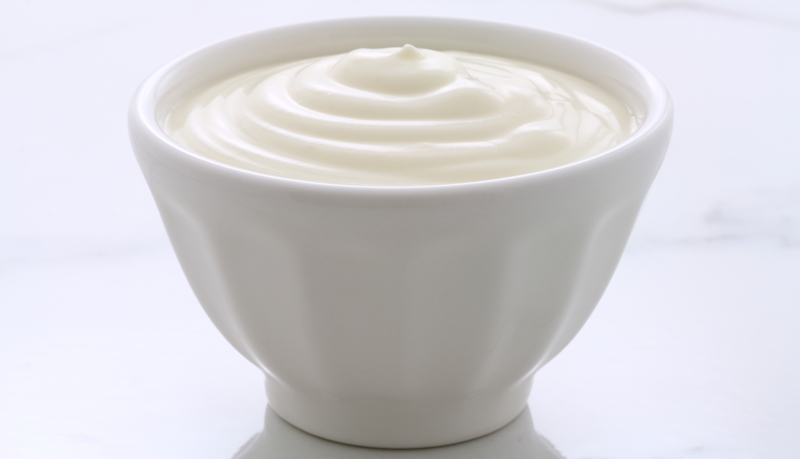 Article Name
The Amazing Benefits Of Yogurt For Skin And Hair
Author
Description
Yogurt is not just beneficial for your health, it is amazing for your skin and hair as well. Let's take a look at the awesome benefits of yogurt here.