Applying makeup like an expert from the comfort of your own home, does that sound like an impossibility to you? Well then you need this guide on how to apply makeup like a pro. This guide helps you with the basic tips and tricks that will make the application of products easier which will ultimately result in a flawless final look. This is a step-by-step guide in which we show you not just how to apply makeup, but also how to prep your skin, improve the health of your skin, which products to use how to create the right foundation for your look, and lastly few tricks to ensure the makeup looks natural and lasts long.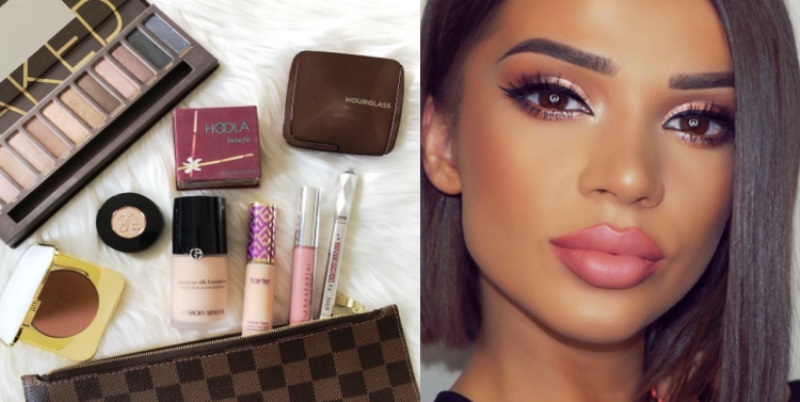 ---
Suggested read: How To Pick The Best Foundation For Your Dry Skin
---
1. Getting the face makeup-ready
Begin by consulting a makeup pro. This will help you figure out which makeup is suited for your face, your hair, your lips and your eyes. The expert will also tell you about the kind of makeup which will enhance your skin tone. Before you purchase any makeup product, visit an expert. Ask them about the correct way of applying makeup, ask them about the colors that will suit you the best etc. If you have other specific questions related to makeup, then you can ask them that too. A makeup expert is usually available in makeup stores and spas.
2. Cleanse your face
Developing a proper skin care regimen is vital because if your skin is healthy, the makeup will look good too. If your skin is prone to breakouts, acne and/or pimples, then you need to be extra careful about your skin care routine. By taking care of your skin, you will be able to get rid of unwanted blemishes from forming.
Start your makeup process by first washing your face with cold water.
You need to determine your skin type, that is, whether your skin is oily, dry, or combination. Once you know your skin type, you can develop a skin care carefully designed for your skin type. Get yourself a face wash for your skin type. If your skin is dry, then you should invest in a mild cleanser, and if your skin is oily, then go for a face wash that contains salicylic acid. The acid will help fight acne-causing bacteria.
3. Apply some moisturizer
After cleaning your face with a cleanser, you need to apply some light moisturizer to hydrate your face. This will prepare your skin for makeup. Moisturizing is a very important part of the skincare ritual as it helps thwart off the early signs of ageing.
If you have dry skin, then you should invest in an intense moisturizer, one that has glycerin as its base. People with oily skin should, however, go for moisturizers that are light and oil-free. You can get yourself a moisturizer that contains rice proteins as they quickly absorb oil.
You need a moisturizer that has SPF. Sun rays can wreak havoc on the skin and so you need to protect it from the mighty sun by using a moisturizer that also works as a sunscreen.
4. Apply concealer
For blemishes and breakouts rely on a good concealer. The product helps cover as well as camouflage blemishes, if any, and dark circles. Go for a concealer that matches the tone of your skin. If there is a red spot you want to conceal, then dab the product on it. Be sure not to wipe. Now blend it into the spot gently using your finger. Now take some loose powder and dab some on the spot to seal the concealer. This powder that you use to set your concealer should be a shade lighter than your skin color. Match your concealer to your skin shade as closely as possible.
For the area under the eyes, use a concealer that is yellow-based as the dark circles need lightening.
5. Apply foundation
Foundation must not be skipped. Also, you need to make sure the foundation complements your skin tone. Skin color, skin tone and undertone are not the same thing. While one's skin tone can change, undertone does not. You can either have warm undertone, cool undertone or neutral undertone. Foundations, apart from adding color to the skin, also have cool, warm or neutral tones, and hence choosing one that will suit your undertones the best, is important. This will also ensure that your makeup blends perfectly and the coloring is intact.
People with rosy complexion, or those with a yellowish/golden tint, have a warm undertone. Those with blue or purplish tinges or olive hues, have cool undertone. If defining the tint is difficult, then you most probably have a neutral undertone.
The other factor you need to keep in mind while pocking a foundation is your skin type. If your skin is oily, then you need to go for an oil-free formula. Those with dry skin should go for a moisturizing foundation. The best bet for you is liquid foundation. Stay away from powder foundations as they can ruin your already dry skin. For normal skin, lightweight foundations are amazing.
To apply the foundation, squeeze a cheery-sized amount of the product into your palm. Now using a makeup brush, dab the foundation like a six-point star that starts from your nose. Now join the dots to form a star that runs through your entire face. Take a sponge and blend the foundation into your skin. Again use the brush to blend it lightly onto the neck. Foundation brushes and sponges can be bought at makeup stores.
6. Fixing powder
You need to apply powder only if your skin is oily. This is not a necessary step otherwise. For people with dry and normal skin, applying powder can cover up the natural glow, which results in a dull-looking makeup. However, for those with oily skin, apply some powder along the T-zone can help ensure that the makeup lasts longer. Use a brush to apply the powder. This should not be the same brush you used to apply the foundation.
7. Do you know about the Five Minute Face rule?
This rule gives you enough time to apply makeup without overdoing it. According to this rule, you need to limit your makeup to just five minutes. No, you don't have to rush. You can easily apply all the necessary makeup products, such as the concealer, the foundation, mascara, eye liner, blush and your lip gloss. If applying these takes you more than five minutes, then you should know that you are overdoing it.
---
Suggested read: The Complete Beginner's Guide To Determining One's Skin Tone
---
Makeup for the eyes, lips and the cheeks
1. Combing the eyebrows
You will need to get yourself a brow brush for this. you can also use a clean mascara brush. Using the brush, comb your eyebrows up and over. You should not go inward in your strokes. This will help in lending them a clean look. This will also ensure that your eyebrows grow the correct way.
Try not to over-pluck your eyebrows as they might stop growing and become too scant.
2. Apply eyeliner
Draw around the eyelids using an eyeliner. This will help define the eyes. Less is more, according to us, but if you are looking for a dramatic look, then you can go for multiple layers of eyeliner. Nonetheless, try to keep it neat.
Depending on the color of your eyes, go for black, brown, deep purple, or light grey eyeliner.
Draw along the lower lash line using the eyeliner. Use a clean cotton swab to smudge it a little to give it a smoky appearance. Now apply along the top lip. You can wing it along the outer edges if you are looking for something fancy.
If you have small eyes, then do not opt for black eyeliner as it makes the eyes smaller.
3. Brush on some mascara
Mascara defines the eyes and makes the lashes thicker, lengthier and darker. Mascara and lip gloss are a minimalist's go-to beauty products. Use a brown mascara to make your eyes open up. Place the brush at the roots of your outer lashes and wiggle outwards. Coat your eyelashes with the mascara. You can go for several coats to complement your dramatic eyeliner. However, be careful as over application can cause clumps.
If you have blue eyes, then you should go for dark brown mascara. If brown and/or is your pick, then you need to decide which shade of these colors suit you the best. And then, invest in that.
4. Applying the eyeshadow
For a natural, more of an everyday look, go for a lighter shade with a dash of shimmer. You should apply the eyeshadow using an eyeshadow brush. Apply on the lower lids gently, and do not rub. Apply on the eyelids, but do not go up to the brow line.
People with hazel eyes or brown eyes should try colors that are warm, such as copper or gold. But people with green eyes, gray and plum eyeshadows are better options.
You can up the ante with a fun color like metallic blue.
5. Apply some blush
When brushing on some blush, go for a nude look. This step will help add a hint of color to your otherwise minimalist look. Try to avoid dark blush colors, unless you want to splash out loud. Go for bronzers that are rosy pink or beige.
To apply the blush right, smile as widely as you can to find your cheek bones. Now brush on a dime-sized amount of the blush on the bones and on your nose, forehead, and along the chin area.
6. Swipe on some lipstick and loads of lip gloss
Lip gloss is amazing as it locks the lipstick shade and adds the necessary shine minus the shimmer. You can use a lip gloss that s tinted if you want to ditch the lipstick People with thin lips should avoid dark colors. To make your lips look plumper, go for light colors and nudes. Metallic shades also give an illusion of plumpness to thin lips.
Removing the makeup
A guide on how to apply makeup is incomplete without a section that deals with how to remove makeup!
Here's how you can remove the makeup efficiently, to ensure that the health of your skin is not affected by the all these cosmetics.
1. Before hitting the bed, remove the makeup
Sleeping with makeup on is a fantastic recipe to ruin the health of your skin. If that is not your agenda, then you need to get rid of the makeup before you retire to your bed. Sleeping with your makeup on causes acne, skin irritation, blemishes and rashes. It results in early signs of ageing too.
To remove your makeup efficiently, invest in an oil-free makeup remover. Using a clean cotton ball to apply the remover on your face. Now gently wipe it off in upward motion.
Makeup remover is an essential product, a must-have that prevents rashes and clogged pores. It is designed to help get rid of makeup residue which a cleanser cannot. You should use makeup remover twice, once before washing your face, and once after.
You should use two different products, one for the face, and one specifically designed for removing the eye makeup which tends to be stubborn.
2. Every night wash and moisturize your face
After you have removed the makeup, wash it off with a cleanser. This will help get rid of the dirt and oil that may not have been cleaned. Now, moisturize your skin so that it remains hydrated. Do not apply the cream around the eyes while sleeping as it can increase the release of oil by sebaceous glands in that area.
You should wash your face only twice a day as over washing it can break down the skin cells and cause breakouts.
3. Use a scrub two times a week
You should exfoliate your skin only twice a week to get open up clogged pores by removing dirt and oil. However, exfoliating more than twice a week can cause the skin to become extremely dry and dull.
---
Suggested read: This Guide On Picking The Right Foundation Will Keep You From Making Rookie Mistakes!
---
That is a wrap on today's post on applying makeup like a pro. Did you find this useful? Let us know in the comment section below.
To receive these posts in your inbox, subscribe to our daily newsletter today.
See you again tomorrow.
Summary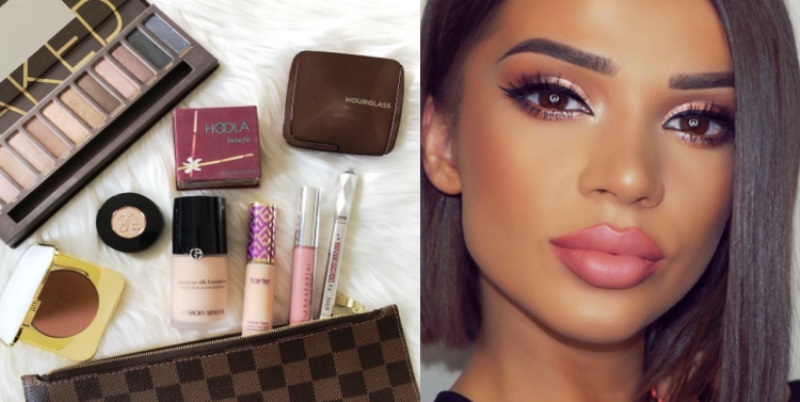 Article Name
The Ultimate Step-by-step Guide On How To Apply Makeup Like A Pro
Author
Description
This step-by-step guide on how to apply makeup like a pro will help you with the basic tips and tricks that make makeup application a child's play!