While there are several hundreds of dating apps available that claim to be women-centric and have the most advanced technology in place to avoid bad experiences for women, perverts and all-round idiots and online scammers still manage to ruin online dating for some people (read, women). However, being catfished is not so uncommon as to let it be, because several people get scammed out of their hard-earned money through this cyber crime.
For the uninitiated and those living under a rock in this digital era, here's what a catfish is according to Urban Dictionary: A catfish is someone who pretends to be someone they're not, using Facebook or other social media to create false identities, particularly to pursue deceptive online romances.
So, to expressly thwart this catfishing menace, a new dating app has been launched, called Blume, an iOS app. Users on Blume have to prove their identity with a selfie.
Image source: Blume
Blume is a location-based dating app, and functions similar to most dating apps out there – register by connecting your Facebook account to your Blume profile, then start swiping (swipe right if you like a profile and left if you don't) to your heart's content. However, this is where the verification process comes into play. Blume makes its matched users snap their respective selfies and upload them into the app. These selfies can only be seen by these two matched users, only after both of them have sent them in. To ensure that a user doesn't upload a fake selfie or an old one saved on their camera roll, users need to take their selfies using the in-app camera. Savvy, eh?
Image source: Blume
These real-time selfies, which are only available only for seven seconds, make it difficult to take screenshots. Plus, they disappear forever after the seven second window. Once the users swap their selfies, they are required to accept each other's selfies to begin communicating.
---
Suggested read: A Stitch in time for seniors: A new dating app for baby boomers
---
Since the app has access to iPhone's screen capture technology, a notification is swiftly sent to the developers. Should a user manage to take a screenshot, they will be punished by imposing a 2-hour ban on the app, along with a warning. The second time a user is caught, they are handed a seven-day ban. While the third offense incurs a 30-day ban from the app, a fourth offense will get them banned for life.
Image source: Blume
On a different note, although a user's profile on Blume is populated by their linked Facebook accounts, they can filter out certain things. Plus, the app doesn't show a user's last name, making it difficult for one user to stalk them on Facebook.
Blume app was conceptualized in Copenhagen by its 21-year-old CEO Daniel Delouya, COO Umar Akram, CTO Simon Benfeldt, and Simon Degn. Since then, the app has spread to the US, UK, Denmark, Sweden, and Norway.
Image source: Blume
Talking about the USP of Blume dating app, Daniel said,
"What's unique about Blume is that it solves the whole catfishing issue, and makes the users invest in their match before they can start a conversation. Both users have to send a personal selfie to one another before being able to see the other person's selfie and then hopefully match. This shows that both parties are keen on making the match happen, which leads to much better communication after matching. And it works: 65% of people who match on Blume initiate a conversation. Blume creates a platform where people can actually form authentic emotional relationships."
There's something to be said about a genuine effort to launch a dating app that is truly women-centric and hopes to minimize catfishing. All the best, Blume!
Summary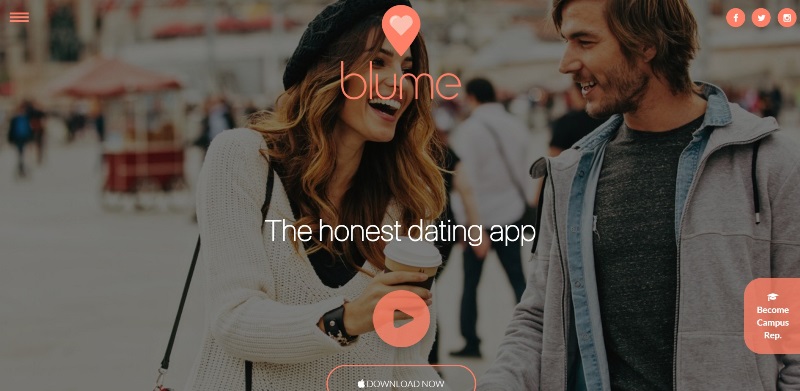 Article Name
Blume Dating App Weeds Out Catfishing With Real-time Selfie Match
Author
Description
Catfishing is a real problem on most dating apps. Blume dating app hopes to counter this online menace.