When there are dating apps for pretty much everyone (a slight exaggeration on my part, but bear with me) on the planet, why not a Tinder for seniors? Well, someone actually thought of it and has come up with a new dating app called Stitch. With a reported 3 percent of Tinder's enviable 50 million strong user base between the ages 45 and 54, it's only natural for someone to capitalize on the as yet untapped potential.
That's why Marcie Rogo, Stitch's CEO, came up with the idea for the dating app, which has been dubbed the baby boomer's equivalent to Tinder. However, Rogo is quick to point out that Stitch is much more than a hookup app (which is what Tinder has been accused of lately) for seniors.
Image source: Stitch
Rogo said,
"At first I was really offended we were being associated with Tinder, but then I realized that a lot of our users have found us by googling 'Tinder for seniors' because they know their kids are on it, and they're wondering if there's something for them as well."
---
Suggested read: A new dating app, Netflix And Chill, is exactly like it sounds!
---
While Tinder and its ilk have been mainly seen as hookup apps, Stitch emphasizes on companionship – romantic and/or platonic. Stitch promises to match older people with companions – for romantic or platonic purposes – who are interested in couple activities such as salsa dancing, wine tasting, or even something simple like going to the movies.
Image source: Stitch
Stitch promises authenticity and quality of interaction, because the company takes pains to verify its users by asking them to scan a copy of their driving license. Once a user registers using their email id and a password of their choice, they can view profiles of other users on the app. Then, it's the same old game of expressing interest in a profile or declining it. Another interesting feature is the 'Maybe later' option, which allows a user to decide at a later date whether or not to interact with that person. However, this option is available only for Stitch's premium users.
Image source: Stitch
The app, which was first launched in San Francisco, has been active since July 2014, and has raised $1 million in its first six months. It has also increased its user base from 18,000 in October to 25,000 in November.
While dating over 50 has taken off in the recent past, it remains to be seen whether or not Stitch, the Tinder for seniors, will hit the right note. Good luck, Stitch!
Featured image source: Stitch
Summary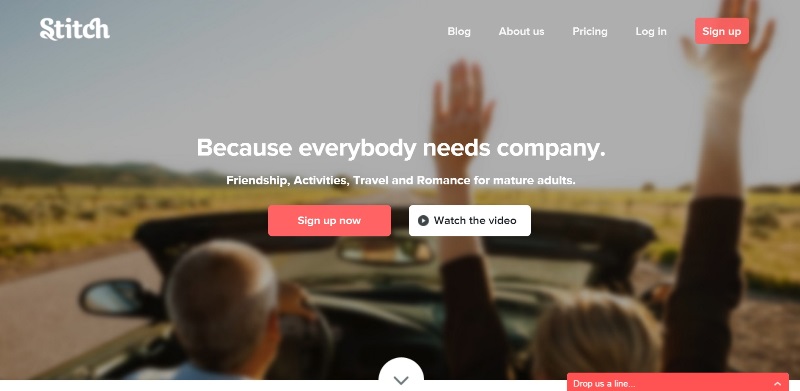 Article Name
Dubbed 'Tinder For Seniors,' Stitch Dating App Caters To People Over 50
Author
Description
Tinder for seniors - this is what people over 50 wanted, and that is what Stitch dating app provides.