Chetan Bhagat is a household name now. New York Times called him the 'Biggest Selling English Language Novelist' in India's history. He made it to the Time's list of 100 most influential people in 2010. His books are widely read and his latest book 'Half Girlfriend' was released in October 2014. He writes regular columns for leading Indian dailies and also tours nationally and internationally speaking about India and its youth. He also addresses the youth as a motivational speaker.
Chetan's books have talked about love on college campuses (Five Point Someone), about inter-state marriages (2 States) and love between a person who does not speak English well and a more polished woman (Half Girlfriend). But his own love story is not as well-known. His own rockstar of a wife, Anusha Bhagat, who has built a successful career for herself and been a pillar of strength for Chetan, is firmly out of the limelight. Here's a look at the real love story between these two successful individuals.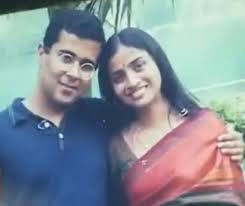 Image Source
Where they come from
Chetan Bhagat was born on 22 April 1974 in Delhi to a Punjabi family. His father was a Lieutenant Colonel in the Indian Army while his mother was a Government employee with the agriculture department. He did his schooling from Army Public School in Dhaula Kuan where he scored 76% in Class 10 and 85% in Class 12. This was followed by BTech (Mechanical Engineering) from IIT-Delhi from 1991-1994.
Anusha Suryanarayanan was born into a Brahmin family from Thanjavur and did her schooling in Chennai.
Chetan – "It was a tumultuous relationship (with my father), where there were unmet expectations on both sides. I tried very hard to fix it but beyond a point it was difficult. I had to forgive him to move on in life, and I did so by writing 2 States where the boy's father plays a positive role in the end. That helped me heal"
Anusha – "(During Diwali) We would start our day at 4am with an oil bath. Then we have a puja and burst crackers"
Book Inspiration For – Five Point Someone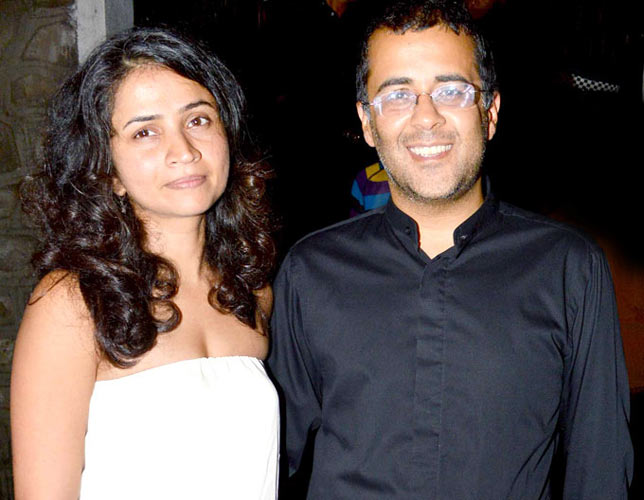 Image Source
How they fell in love
Destiny had Chetan and Anusha bump into each other in the hallowed campus of IIM-Ahmedabad, India's foremost management institute. He was awarded the best outgoing student at IIM-A. The two years that they spent at IIM-A between 1995 to 1997, grew their fondness for each other and cemented their relationship. Anusha says that she fell in love more with his sense of humor and the ability to spot the lighter things in any incident. Of course, the fact that he did not come across as a 'typical Punjabi' and had no pre-conceived notions about South Indians helped in growing their bond, she feels.
Chetan – "My wife Anusha was so cute that many guys in campus wanted to try their luck with her"
Anusha – "He was a clown in campus, and I'd crack up at his jokes while the other guys were too busy studying or trying to impress me"
Book Inspiration For – 2 States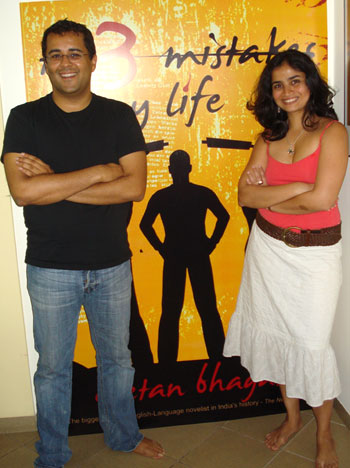 Image Source
Getting married
Chetan and Anusha got married in 1999, presumably after going through the struggle of convincing their respective families about their choice of life partner. They have both admitted that it was a stressful period in their lives, but eventually things worked out as per their wishes. They then spent 11 years in Hong Kong where he worked as part of Deutsche Bank. But as his desire to write increased and they decided to return to India, Anusha was very supportive of the decision to quit and concentrate on writing full-time.
Chetan – "For my parents, the number one sticking point was that she is South Indian. From her side also, the biggest reservation was that I was not a Brahmin and I was not a Tamilian. We could have (married against families' wishes)…But we didn't want to shove the decision down their throats. It's easy to fight but very hard to convince"
Anusha – "He thinks we (South Indians) are in general too controlled and formal… which I agree with…"
Image Source
Making the marriage work
Both Chetan and Anusha believe in making time and putting in the effort to make the relationship work. The cultural differences, which will also be imprinted in the psyches while growing up, can be quite hard to overcome if the right attitude is absent. With Chetan not having a specific 'office' to go to, he calls himself a 'house husband', playing the role with aplomb – getting the kids ready and arranging for the lunch boxes for the kids and Anusha.
Chetan – "One should always have a strong friendship and clear communication. People who are going to be together long term should also take responsibility for their own happiness. Also, one should realize and prioritize the importance of family"
Anusha – "Yes we do have clashes at times due to different values and upbringing. What is considered respectful or disrespectful when dealing with each other's parents, agreeing on teaching children one/ both parents' mother tongue to name a few. The key to a happy and content life is to take the positives from each others' culture, and like everyone else, work on investing in the relationship"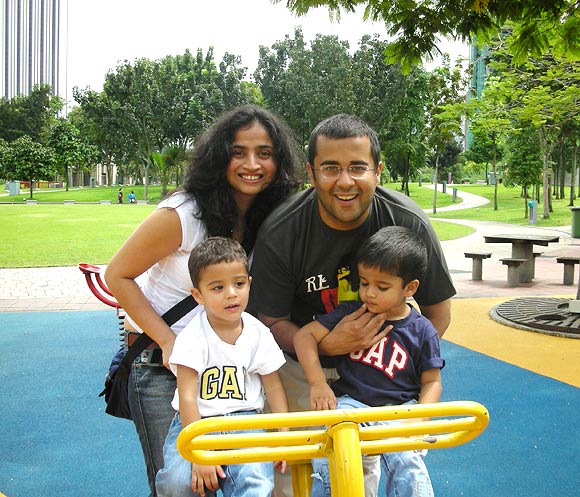 Image Source
Building a family
Chetan and Anusha try and start their day by about 6.30am, while having tea by the window of their living room, which looks over the greenery in their society in Mumbai. Between his travel commitments for his book and movie promotions and her busy work schedule as a COO of a multinational bank (UBS), the relationship can be impacted. They have twins – Ishaan and Shyam – who are both 9 years old now. Chetan feels that he is the more traditional of the two and would like his children to grow up with Indian values imbibed in them.
Chetan – "Work pre-occupies me even when I am on a break and I have to make a special effort to disconnect. I guess it means I love my work but it should not be at the cost of family neglect. I have turned down several films for instance in the last year as it would have been too taxing on my time"
Anusha – "Although my mother used to make a lot of sweets and savouries at home, I don't get the time to do that. We've been living outside India for so long that our celebrations have been pared down to the core"
Ishaan & Shyam – "Dad, why are you kissing mom so much in the 2 states movie ads?", on seeing the trailers of 2 States on television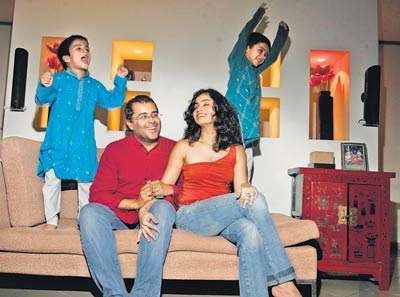 Image Source
Working on a shared future
Chetan and Anusha are both Directors of Chetan Bhagat Entertainment Pvt Ltd while she also manages her role as an investment banker. Their kids are growing up in the city and they have seen success and fame. Chetan has started writing scripts for Bollywood movies – recently co-wrote the script of Salman Khan's Kick – in addition to writing and speaking at various events across the country.
Chetan – "There is some sort of a plan B (if his writing career ends), but frankly life doesn't work that way. I'll just have to figure out plan-B if the need arises, but also only when the need arises. I have enough degrees to get me some employment. Dealing with the lack of writing success — well, I think I will devote myself to spiritual activity more"
Anusha – "He is still driven by his inner self-belief and is very caring; but he's become a bit tougher as a person now I feel, in order to deal with putting his views and his writing out there"
What do you think about their sweet love story? Tell us in the comments below!
Summary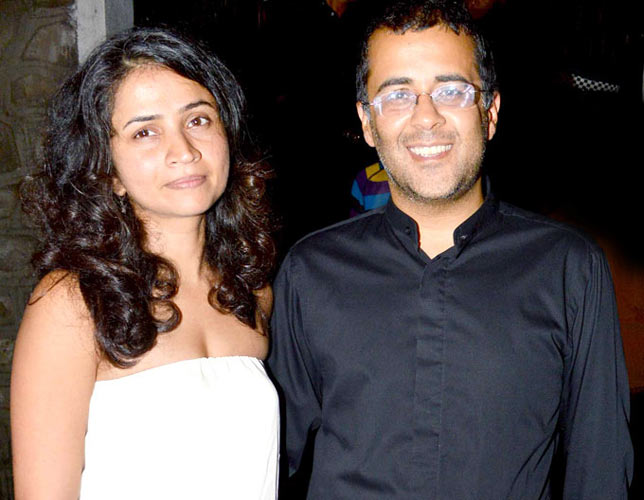 Article Name
Chetan Bhagat's real life love story with Anusha
Author
Description
While many know of Chetan Bhagat's books, few know of his own love story, his successful wife and happy family. Here's a look a this facet of his life