Love is all-consuming, blinding, and passionate, especially first love. But this will quickly fizzle out as time goes by. What love really is is what comes after the passion has mellowed, the blinkers have come off, and the mundane becomes sweet and you start looking forward to it. Reveling in the mundane, the prosaic, and the steadiness of it all, is what true love is. You can't expect passion and ardor every day of your life. Frankly, it's exhausting. Not to mention, boring. But if you're content to just be with your partner and celebrate the ordinariness of life, you are one lucky person. In other words, ordinary love is the best kind.
Celebrating such life's mundane moments is a series of illustrations by artist Curtis Wiklund. He's been documenting special moments and memories that he shares with his wife Jordin in a series of sketches since 2011.
Image source: Curtis Wiklund
Both Jordin and Curtis are wedding photographers by profession. And what began as a 365-day photo project by Jordin, turned into a series of poignant sketches when she asked Curtis to join her. With Curtis vowing to draw a new sketch every day for a year, the current series of sketches were born.
In his website, Curtis explains,
"During that year, many people told us they got to know us better through the drawings, like they were a peek into our personal life."
Image source: Curtis Wiklund
Talking to HuffPost, Curtis said,
"She had always loved it when I drew because I used to draw cards for her when we were dating. With her encouragement, I started drawing something each day and posting it online."
---
Suggested read: 12 important things I learnt from falling in and out of love
---
Further, he explained,
"Without meaning to, I started incorporating sketches of us – things we were doing or something Jordin did that I thought was funny or cute, like wearing snowboard goggles while chopping onions."
Image source: Curtis Wiklund
Although the 365-day project ended long ago, Curtis still posts new drawings to his Tumblr account. There's a sweetness and poignancy to Curtis' sketches that touches the heart. Whether it's something as mundane as the couple doing budgeting or sitting in bed reading at bedtime, the emotive quality of the sketches stays with you long after you've seen them.
Image source: Curtis Wiklund
Curtis and Jordin have been married for seven years and live in a farmhouse in southeast Michigan with their two little boys. However, they've practically known each other their whole lives.
"I'm better with communicating through images than words, but I can tell you there is no one I would rather spend every day of my life with," Curtis said of his wife, Jordin. "I married my best friend."
Image source: Curtis Wiklund
Image source: Curtis Wiklund
Curtis' sketches span through everyday moments like playing with the kids, fighting and making up, having a husband-wife sleepover, a trip to Ikea, and such. But of all these mundane moments, Curtis says that the pregnancy announcement was one of his favorites.
Image source: Curtis Wiklund
He said,
"It will always be dear to me, because it take me back to this very moment. When I decided to draw this, I could see it so clearly in my head that it was all I could do to get it onto paper as quickly as I could before I lost if from my memory."
Curtis' sketches have been collated into a coffee table book. Those interested can sign up for a copy on his website. Meanwhile, check out more of this husband and artist's emotive sketches on ordinary love.
Image source: Curtis Wiklund
Image source: Curtis Wiklund
Image source: Curtis Wiklund
Image source: Curtis Wiklund
Image source: Curtis Wiklund
Image source: Curtis Wiklund
Image source: Curtis Wiklund
Image source: Curtis Wiklund
Image source: Curtis Wiklund
Image source: Curtis Wiklund
Image source: Curtis Wiklund
Image source: Curtis Wiklund
Featured image source: Curtis Wiklund
Summary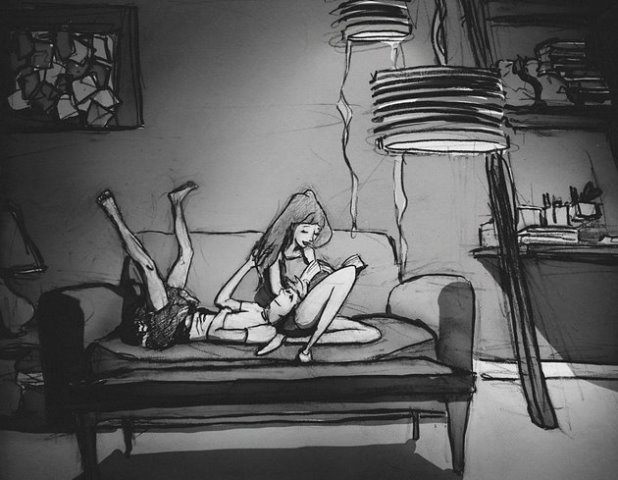 Article Name
Husband's Emotive Sketches For His Wife Capture Ordinary Love In All Its Glory
Author
Description
Ordinary love is the best kind, or so these sketches this artist has done try to show. This husband's drawings are the best thing you'll see today! :)