Micro needling (aka collagen induction therapy) or dermarolling is a potent technique to counter ageing and lend the skin a youthful, resplendent glow. The minimally invasive treatment deploys tiny needles to punch mini-holes in the skin with the singular objective of bolstering collagen and elastin formation to improve the texture of the skin, enhance firmness and reduce the appearance of wrinkles, fine lines and other signs of ageing. Research has evinced that micro needling or dermarolling helps promote skin rejuvenation and helps with scarring, hyper-pigmentation and stretch marks as well. It also augments the skin's absorption capacities to allow deeper penetration of the serum.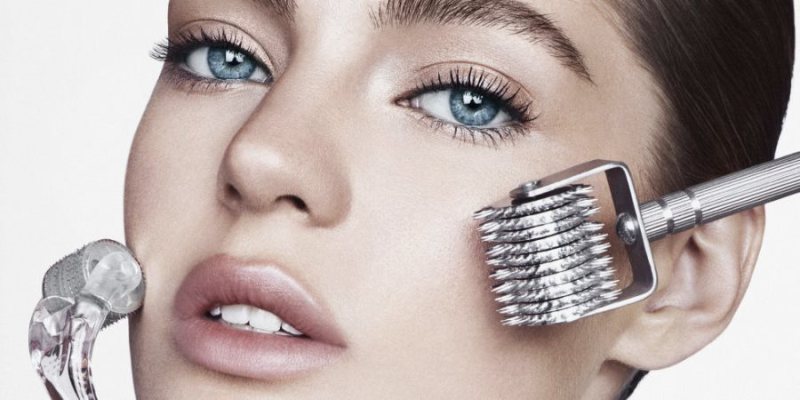 Image source: Skinneymedspa
If you wish to avail the benefits of micro needling therapy, your first step should be to look for a board-certified dermatologist who specializes in the procedure.
"There are several types of professional micro needling devices (with the Eclipse MicroPen being the most popular), but they all work similarly in that the device is set to a certain depth and the number of passes — which is ultimately how thorough the treatment will be — are both determined by the practitioner,"
explains Dr. Elizabeth Tanzi, founder and director of Capital Laser & Skin Care and associate clinical professor at the department of dermatology at the George Washington University Medical Center. For the layman, it would suffice to know that micro needling, if not performed with acute care and precaution, can result in infection, inflammation, scarring and/or other potential skin problems, with aggravated side effects.
---
Suggested read: 10 amazingly useful and easy homemade papaya face mask recipes
---
The size of the needles used during the procedure may vary between 0.5 millimeters to 3 millimeters. The larger the depth, the greater the stimulation of the production of collagen fibers. However, the same can cause discomfort and pain during the procedure and may require anywhere between a day to a few days as downtime to give the skin some recuperating time, before it's time for the initial series treatments (with growth actor serum) as well as the maintenance needlings, spaced out between months. The recovery is fairly quick, although the skin may remain red and flaky for a few days.
"Dermatologists often use a numbing cream to make the procedure comfortable and thoroughly clean the skin to minimize risk of infection. They may also select a special topical solution or gel to be applied to the skin with micro needling. The procedure can vary depending on the approach taken. Some derms choose to use an individual's own platelet-rich plasma (PRP) — which is derived from that individual's own blood — and apply that as a topical solution to enhance the effects of the treatment and stimulate stem cells. [This procedure is commonly referred to as the vampire facial],"
says Dr. Sue Ann Wee, a top-ranked dermatologist who specializes in laser and cosmetic dermatology at Schweiger Dermatology Group, elaborating further,
"Since micro needling lacks the heat and specific targeting of structures associated with lasers, dermatologists can perform the procedure on most skin types and skin tones with potentially fewer side effects than some laser procedures. However, individuals who have recently been on isotretinoin, have a history of hypertrophic or keloidal scarring and/or any rash or infection on the treatment area should avoid it."
Wee also throws light on the latest equipment and the next gen devices averring,
"There are now FDA-approved devices, such as the Fractora device by InMode Aesthetic Solutions that combine micro needling with radiofrequency energy. This involves a matrix of tiny needles that deliver a burst of radiofrequency energy down tiny pins into the skin. Studies have shown significant improvement in wrinkles, scarring, loose skin and even acne."
Though professional micro needling procedures are recommended, we understand that professional procedure can be quite a drain on your pocket. The regular treatment averages over $1000 per treatment, with about four-five monthly treatments required for visible effects for deeper lines and wrinkles. An at-home micro needling treatment, though admittedly less effective, isn't nearly as expensive. However, a consistent dermarolling regimen at home can produce striking results. Apart from plumping, rehydrating and refining your skin, it shall also even your skin tone, making your skin comely and perfect for a smooth makeup application. Also, the at-home procedure is less invasive  since the in-house rollers superficially prick (as opposed to the in-clinic rollers that pierce deeper and puncture more), thereby slashing the downtime. In fact, the at-home micro needling procedure can even be performed an hour or two before an event.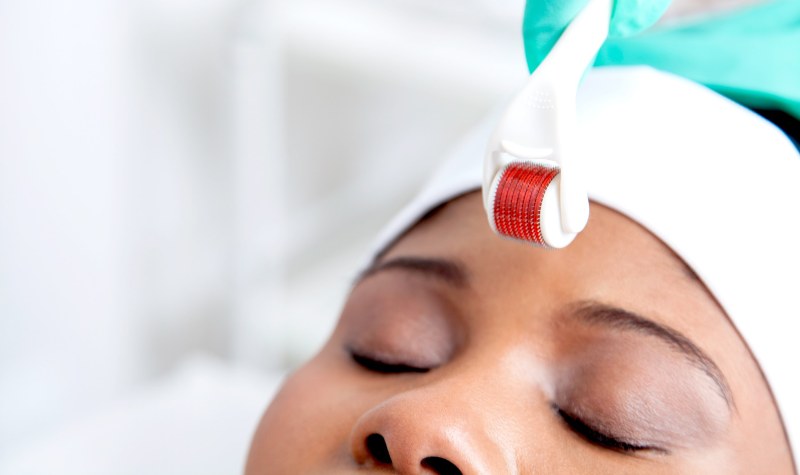 Image source: allure
For those with doubts, the superficial pricks from tiny needles still create deep micro channels for the anti-ageing nutrients to percolate through the skin and lend a visible glow.
"The main benefits to at-home dermarolling is that it significantly increases absorption of active ingredients by greater than 90 percent, making this procedure one of the most powerful and effective ways to stop early signs of aging and prevent new fine lines and wrinkles from occurring,"
says Kerry Benjamin, celebrity esthetician and founder of StackedSkincare. He also maintains that the best results are obtained with serums that contain active ingredients like stem cells, peptides and hyaluronic acid.
---
Suggested read: The only 12 chocolate face mask recipes your need for amazing skin!
---
"These ingredients really maximize the effects of micro needling to stimulate collagen, speed up cell turnover, lift hyperpigmentation, smooth out fine lines, plump, hydrate and firm skin," adds Benjamin.
Benjamin recommends the use of 0.3 millimeter needles or even smaller at home to have a safe and less painful experience, sans bleeding. With zero or negligible downtime, and the freedom to apply as much pressure as one wants with the advantage of 3-5 repetitions a week, the procedure bolsters collagen and elastin by stimulating epidermal growth factors, for plumping and firming skin. For optimal benefits, one needs to cleanse the skin, apply serum all over the face, neck, under eye and crow's feet and then, begin to use the dermaroller. The appliance has to be rolled horizontally, vertically and diagonally over all areas before applying another serum layer and moisturizing. An SPF coating is advised if one is headed out for the day.
There are certain tips that one may do well to bear in mind while opting for the micro needling procedure at home:
Replacing rollers at intermittent intervals
Like with razors, dermarollers need needle replacement over time. If you are using dermarollers three-five times a week, you must replace the needles once a month. If you do not replace the needles, you shall damage the skin.
Sanitizing rollers before use
You should clean your hands and face before beginning the procedure. For minimizing the risk of infection, you must dip the dermaroller in rubbing alcohol and rinse off. It is recommended that you disinfect your roller after every use.
Conducting a patch test before using a new serum
"The increased absorption has its advantages and disadvantages. When certain products are used (like pure hyaluronic gel), desired absorption is helpful. However, the increased absorption can also mean too much irritation with stronger potions, so always check with your provider about what to use," advises Tanzi. It's also wise "to conduct a patch test of the serum on your cheek and wait for 24 hours to see if there are any adverse reactions," adds Benjamin.
Using different serums to address different skin issues
There are different serums to use like starting with the thin epidermal growth factor serum to continue with those containing peptides and rounding it off with the one containing hyaluronic serum. Asking your dermatologist for help is advisable.
Avoid dermarolling over acne
Doing so can spread bacteria and cause infection. You need to wait for the acne to clear out before the procedure.
Know where to begin
You need to pay attention to your neck, chest and the back of your hands. "There are areas that we often overlook, but they are often the first places that show signs of aging," says Benjamin.
---
Suggested read: 10 super easy homemade turmeric face mask recipes your skin would LOVE!
---
You can combat dark circles
Micro needling therapy can help counteract dark circles by thickening the epidermis under your eyes and reducing the darkness. "The orbital darkness we often see is usually due to blood under the skin; thus, if the skin is more plump under the eye, the darkness should be diminished," theorizes Benjamin.
For any more information on micro needling therapy, you can always reach out to us in the comments below. For staying abreast of the latest in beauty, wellness and fashion, sign up for the NLT newsletter today.
Featured image source: Skinneymedspa
Summary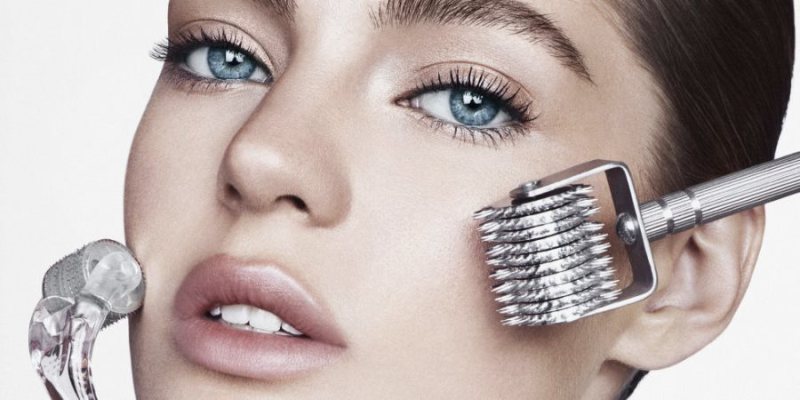 Article Name
Everything You Need To Know About Micro Needling Therapy
Author
Description
Roll back skin aging with micro needling therapy. Here's all you need to know!