Moisturizers are undoubtedly the most important part of any skincare routine. If you don't apply the right moisturizer for your skin type, then you can gradually see the adverse effect on your skin. The lack of moisturizing can leave your skin dry and trigger its aging process. It can make all those wrinkles and fine lines visible as well.
Though, before you pick a moisturizer, make sure that you keep your skin type in mind. For instance, there are different kinds of moisturizers for various skin types like oily, dry, sensitive, etc. If you have sensitive skin, then you should avoid using an artificial or chemically processed product. Consider picking an organic or natural moisturizer for sensitive skin. In this way, you would be able to give your skin the nourishment it deserves without causing any side effect. Here are some of the natural moisturizers that you can try.
Welda Ultra-rich Cream
When we talk about natural skin care products, Welda Skin Food is one of the first brands that come to our mind. It has been active since 1921 and has almost a century-old history of making natural products. The thick texture of the cream instantly hydrates the skin. It consists of various plant extracts, lavender, pansy, calendula, and numerous other natural products that are extremely beneficial for our skin.
Although you can use the cream on your entire body, it is mostly recommended to be applied on your face, elbows, hands, and neck. The cream is free of any chemical or synthetic product. It doesn't even have any artificial fragrance and leaves a soothing natural scent instead.
Acure Brightening Day Cream
This natural moisturizer will help you regain the lost luster of your skin by nourishing it from deep within. One of the best things about the cream is that it is both sulfate and paraben free, which ensures a soothing reaction to the skin. Also, it follows a cruelty-free vegan approach as well. It is based on argan oil and has extracts of chlorella and Gotu Kola. Therefore, it will not only hydrate your skin, but would also repair the damaged tissues.
The cream is recommended for people with dry to normal sensitive skin type. Since it is a day cream, you should apply it in the morning before heading out. The cream will protect your sensitive skin from harsh damage and restore its natural glow at the same time.
Glow Studio Green Tea Moisturizer
If you like the natural and soothing smell of green tea, then this would be a must-have product for you. It is an all organic-based natural moisturizer for sensitive skin that will absorb the extra oil from your pores. Ideally, the moisturizer is recommended for oily to normal skin type. Apart from green tea, it consists of numerous other natural products and their extracts. Some of them are spinach, camellia, kale, rosemary, celery, and broccoli.
It doesn't include any added fragrance or processed ingredient. Additionally, the moisturizer is paraben-free and doesn't have any artificial coloring agent as well. Apart from nourishing the skin, it would also regular the production of oil. Also, it has Vitamin A, which is known for its antioxidant and anti-inflammatory properties as well.
Alteya Organic Day Face Moisturizer
This organic anti-aging cream is one of the most nourishing things that you can apply to your skin. The base of the moisturizer is rose essential oil, which is considered extremely beneficial due to its anti-bacterial properties. Additionally, it also has nut oil with the extracts of marigold.
The cream will easily be absorbed by your skin and is recommended to be used during the day. It has youth-restoring properties that will help your skin to heal and rejuvenate it from within. Also, the rose essential oil will make sure that you won't suffer from acne or inflammation.
Osea Malibu Ocean Lotion
Yes – you have read it right. This ocean lotion from Osea Malibu is a lightweight moisturizer that is known for its hydrating properties. It is highly recommended for people having dry and flaky skin. The lotion would be absorbed by your skin instantly and will keep it hydrated for hours. Not just as a face cream, you can use it as a complete body lotion.
The organic moisturizer does not have any chemical or processed ingredient. It is sulfate and fragrance-free. Some of the major ingredients of the lotion are sunflower seeds, algae extracts, avocado oil, rosehip, Jojoba seed, and macadamia seed oil. It will make your skin more elastic and soft while protecting it from the harsh sun and pollution.
Paula's Choice Earth Sourced Face Cream
If you are serious about your skin care, then this would be an essential product for you. The face cream is rich in antioxidant ingredients to heal your skin and make it more radiant. Not only will it help you attain an evenly toned skin, but will also minimize the appearance of wrinkles and fine lines.
Its regular use will help you get a radiant and younger-looking skin. Since the lotion is organic-based, it won't harm your skin and make sure that it won't stay dry. You can also include it with other products as well to attain a complete skin care routine.
Ursa Major Golden Hour Recovery Cream
Ursa Major is a reputed brand to come up with a wide range of organic products and this recovery cream is no exception. The cream is sulfate, paraben, and cruelty-free, which makes it an ideal natural moisturizer for sensitive skin. It is made of 28 natural ingredients like sunflower seeds, calendula, sea buckthorn, sandalwood, rose extracts, etc.
The recovery cream is rich in Vitamin A, C, and E. It is known to heal every kind of skin and prevent the occurrence of wrinkles. Additionally, it is rich in antioxidants and fatty acids as well to give your skin the care it deserves. It doesn't have any artificial coloring agent or fragrance as well.
Suki Skincare Day Lotion
Another natural moisturizer that we recommend is from the house of Suki Skincare. It is made of 100% pure ingredients and has a thin texture so that you can easily apply it on your face. The lotion is made of Jojoba seed oil, hazelnut, borage seeds, lavender, rosehip, calendula, chamomile, and other natural ingredients that are beneficial for our skin.
All of these products will nourish your skin without causing any irritation or harm. It doesn't contain any artificial or chemically processed product. The cream is sulfate and paraben-free and has a natural fragrance that you would adore for sure.
Organic Yarrow Face Moisturizing Cream
This FIG + YARROW organic cream is ideal for dry and sensitive skin. The butter cream will nourish your skin and leave it hydrated for the rest of the day. It will leave a soothing texture so that your skin won't suffer from dry patches. Apart from your face, you can apply it on your hands, legs, and other body parts too.
The cream is made of yarrow distillate, aloe, Shea butter, almond oil, and Jojoba seed oil. It will heal the flaky and dry patches of your skin and is recommended for daily use. Since it is free of any chemical ingredient, it is best-suited for sensitive skin.
Herbivore Pink Cloud Cream
This rosewater-based moisturizing cream is recommended for every skin type. It doesn't matter if you have dry or oily skin – the cream will give your skin a perfect care. It will nourish your skin and make sure that it maintains a smooth texture all day long. The rosewater-based formula is extremely hydrating and will prevent the occurrence of wrinkles as well.
It is an organic product and does not have any chemical additives or toxins that can harm your skin. Apart from rosewater, it consists of white tea, rice extracts, Aloe Vera, and Kukui Oil. The cream will leave a subtle glow on your skin that you would love to flaunt.
Nourish Organic Ultra Hydrating Face Cream
Never worry about dry or flaky skin with this ultra hydrating face cream from Nourish Organic. The cream is based on argan oil and features natural pomegranate extracts. This will leave your skin refreshed and hydrated while nourishing it at the same time. Apart from that, it also has Shea butter and Aloe Vera leaf oil to leave a smooth texture even after a single application.
It is a USDA organic certified natural product. Therefore, it is free from all kinds of chemical or processed additives that can harm your sensitive skin. It is recommended for normal to dry sensitive skin as its regular use will make your skin more elastic, preventing it from wrinkles.
---
Suggested read: Natural Moisturizers For Your Delicate Sensitive Skin
---
After getting to know about these natural and organic moisturizers for organic skin, you would certainly be able to pick the right product. Feel free to browse other natural skin care products as well. Just make sure that you read their ingredients before making your purchase. It should be free from sulfate, paraben, or any other processed ingredient that can damage your sensitive skin.
Summary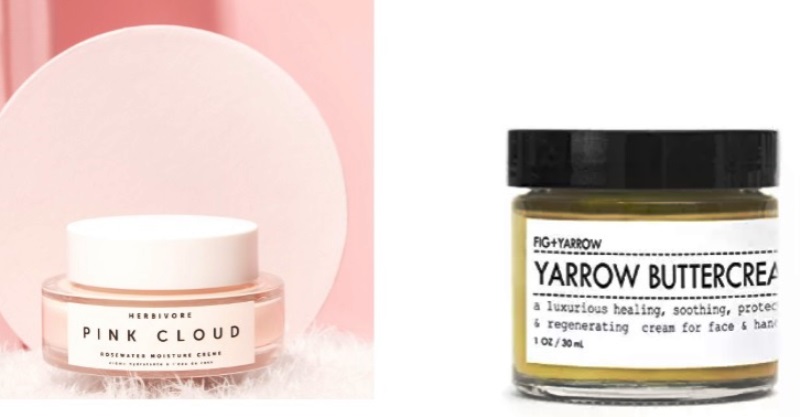 Article Name
11 Organic Moisturizer For Sensitive Skin Recommended By Experts
Author
Description
If you have sensitive skin, then you should avoid using an artificial product. Consider picking an organic or natural moisturizer for sensitive skin.