So you have finally made up your mind to spend the rest of your life with her? Well, first of all – congratulations! Love is indeed a beautiful feeling and it's great that you have decided to take your relationship forward. Now, let me put forward the big question – have you chosen an engagement ring to slip onto the finger of your sweetheart? What are you waiting for?
Shopping for a ring does not have to be a dreaded experience. In fact it can be really enjoyable if you know exactly what you are looking for. And needless to say, your efforts will be well worth it on the big day when you finally go down on one knee. Here are a few tips for you on how to choose an perfect engagement ring for her.
1. Types of band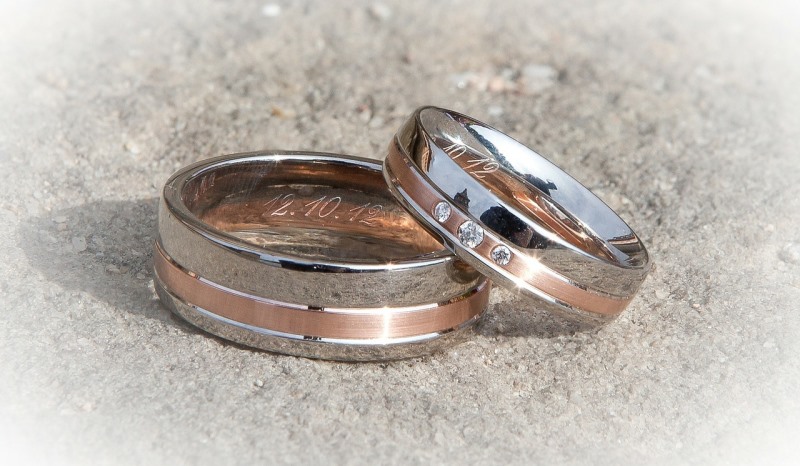 Image source: Pixabay, under Creative Commons License
Be very careful while selecting the band for the ring, meaning the circular part of the ring that sits around the finger. So, before choosing your engagement ring, it is necessary to have a fair idea of which band would suit your lady the best. Do thorough research on the types of bands available beforehand to avoid being taken advantage of by the jeweler. There are three main types of bands – gold, white gold (gold alloyed with metals to give it an off-white appearance), rose gold, and platinum.
2. Jewel setting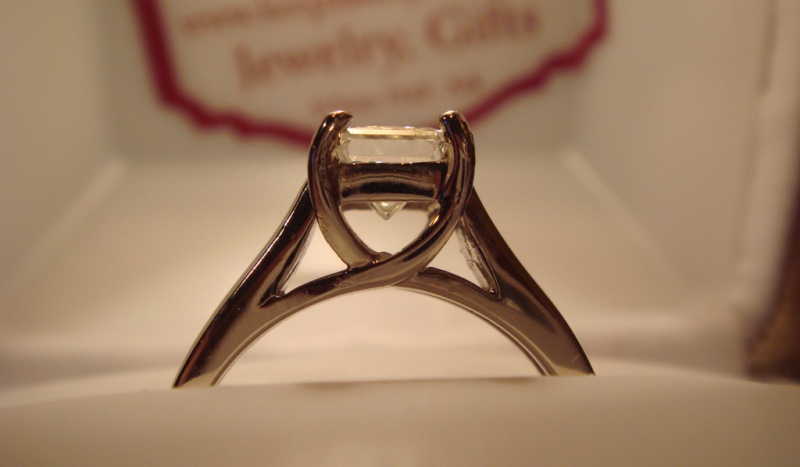 Image source: Google, copyright-free image under Creative Commons License
Don't forget to choose the right setting, either! By "setting" I mean the piece attached to the band that holds the gemstone in place. In some rings, the setting is clearly visible and highlighted; while in others it is invisible. A common combination is to have a platinum setting on a gold band.
3. Gemstone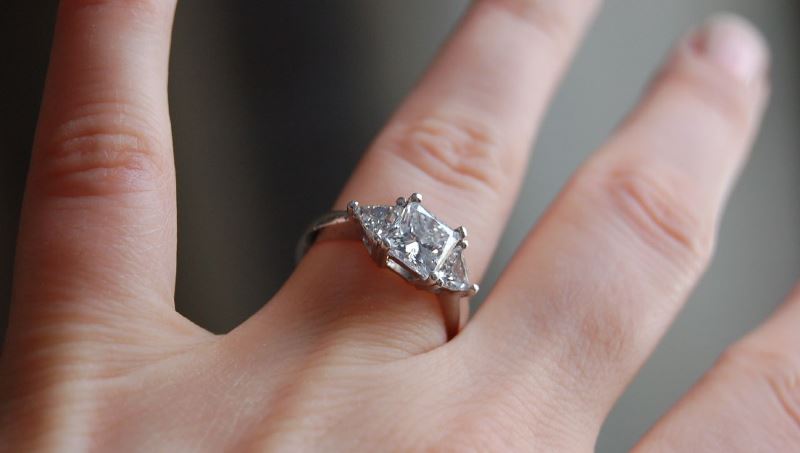 Image source: Google, copyright-free image under Creative Commons License
Once you have finalized the right setting for the ring, it's time to choose the right gemstone. The gemstone is the main attraction of a ring. Given that diamonds are a girl's best friend, this is probably the most popular gemstone for a proposal. Moreover, it is believed the bigger the stone is, the better it is for her to say "yes." But I would suggest that you go by the tastes and preferences of your sweetheart, rather than listening to what others believe or say.
4. Size matters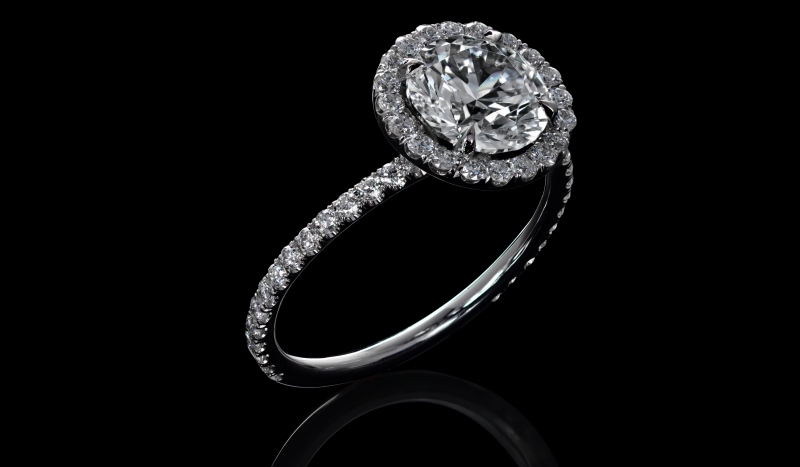 Image source: Shutterstock
Always choose a ring of the right size. An easy and reliable way to find out her finger size is to quietly sneak out a ring she wears on a regular basis and take it to the jeweler. On the other hand, a trial-and-error approach might lead to you choosing a ring of the wrong size for your beloved – which would be disastrous no matter how glamorous your choice may be. If you want your proposal to be perfect, you're better off not taking any chances with the size of the ring.
5. Budget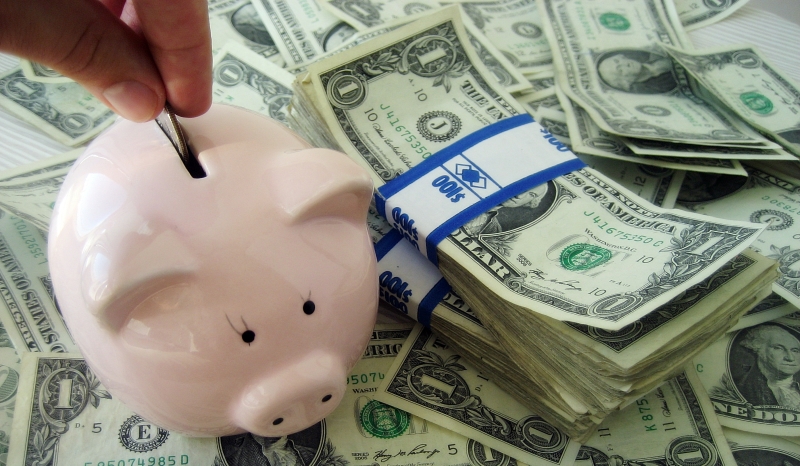 Image source: Google, copyright-free image under Creative Commons License
Consider your budget for the symbolic purchase. It is a tradition that a man should at least spend two months of his salary on an engagement ring. Whether you want to conform to this tradition or not, is entirely up to you, but at least decide on a budget range beforehand so you can narrow down your search to a large extent. If you're just dying to propose and don't think she cares about having an expensive ring, you can get her something you can afford for now and opt for something fancier at a later date – say, for the actual wedding ring! Besides, the size of the engagement ring has been linked to divorce rate in a study. So, you don't want to take any chances, do you?
6. Her preference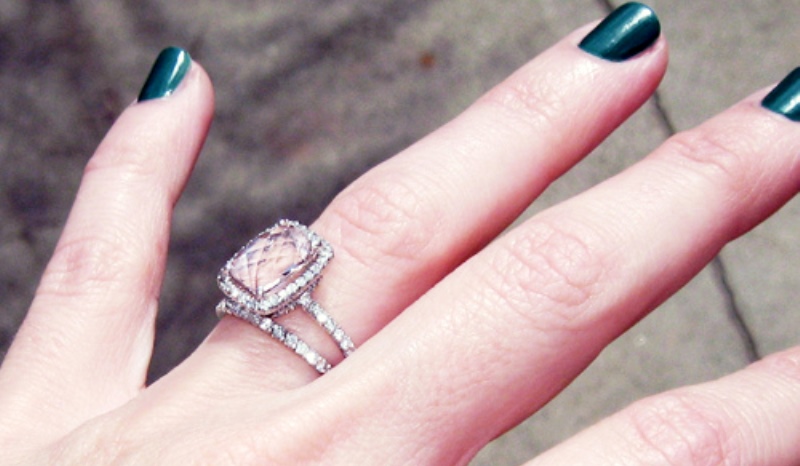 Image source: Google, copyright-free image under Creative Commons License
Last but not least, it is important to actually find out what your fiancée-to-be would prefer. Take her to any jeweler's shop on the pretext that you want to buy something for your mother, and talk to her about rings there. If you are smart about it, she will give you ample information about the kind of ring she likes, which can help you make a wise choice for her.
As you can see, buying a ring isn't rocket science if you get these basics down. And if you two are truly in love with each other, she will definitely like it no matter what kind of ring you choose. Nevertheless, now go look for something special for your beloved and so you can "put a ring on it," and make it official!
Featured image source: Shutterstock
Summary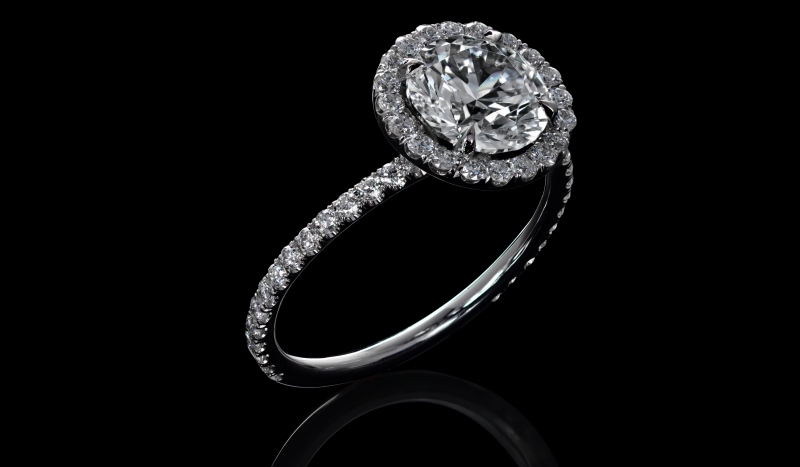 Article Name
How to choose the perfect engagement ring
Author
Description
Choosing the perfect engagement ring need not be a chore. Here are 6 simple things that will help you choose the perfect engagement ring.