Every woman has fantasies about making love in the perfect location, at the perfect time with their special lover. Yet, in reality, when it comes to making love, having all the planets and stars aligned, is somewhat difficult. Though it needn't be. With this in mind, here are some helpful hints to ignite both you and your lover's passion and spice up the bedroom tonight:
1. Establishing a connection with your partner is vitally important. Listening wherever possible to signals they give off whilst lovemaking, can generate heat when lovemaking on future occasions. Whether they enjoy being touched in a certain place, or enjoy a particular position whilst making love, are important facts to consider in the bedroom. The connection is all about communication. Eye contact is crucial, feeling out your lover's desires through facial expressions, and the intimacy of eye to eye communication are extremely important. Your man wants to feel wanted, and looking him straight in the eye whilst expressing wanton looks is a surefire way to turn him on in bed.
Image source: Shutterstock
2. Whispering in his ear, or making eye contact and letting him know how excited he is making you feel, how hot he making you feel, and how wet he is making you feel. Every guy wants to feel wanted in bed, and they want the assurance that their male prowess is not going unnoticed at the same time. "That really turns me on darling, right there," ; "that feels sooo good," are all phrases that engender additional heat. If you feel even more comfortable when making love you can even turn the heat up by being even more risque. "Give it to me, give it to me, I need it, I want it,"; "yeah, I know you want to give it to me," and "just like that," are all turn ons, when communicated in a sexy, meaningful way in the bedroom.
---
Suggested read: How to spice up your sex life with role playing
---
Unfortunately though, it's difficult for many of us to bring our man, and even ourselves, to the lovemaking stage in the bedroom. We are too tired, too distracted, or possibly bored with our regular partner. We enjoy their company and their personality, though having sex just seems out of the question.
Often in these situations, some accessories or aids can assist in generating heat between you and your partner. Today, there are many erotic stories available for you to arouse yourself in the bedroom, to liven up your dormant hormones, and put you in the lovemaking mood. Most men are visual creatures, and these days there are a number of erotic websites, such as Frolic Me, where erotic films for couples can be viewed, to arouse both you and you lover. Adult toys can be purchased to stimulate the process, and lubricant can be added to heighten your man's pleasure.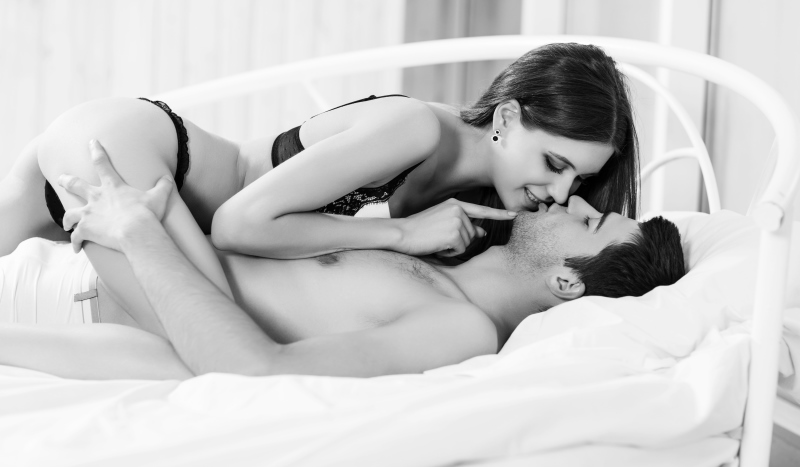 Image source: Shutterstock
Yet, turning up the heat in the bedroom is more often than not, all in the timing. Many women find it difficult to communicate with their partners on an emotional level, let alone on a physical and sexual level. Many survive by faking climaxes, pretending to be aroused, and just giving in spasmodically to their partner's sexual needs. Though, again, this need not always be the case. By allowing yourself to time the moment appropriately, lovemaking can be stimulating, rewarding, and HOT for both of you. Finding the moment when you are both relaxed, either on a holiday, on a day off, or on the weekend, can be the catalyst for greater things. Then it's all about taking your time to engage your partner, to let him know what it is that turns you on. And always remember, it's not all about you alone. Establishing what makes him feel comfortable, and what turns him on may just hold the key to your next hot night together.
These are just some of the tips you can use to spice up the bedroom and have a satisfying night of lovemaking with your partner.
Featured image source: Shutterstock
Summary
Article Name
How To Spice Up The Bedroom For A Satisfying Night With Your Partner
Author
Description
It's not as daunting as you might imagine to spice up the bedroom for a glorious night with your partner. Here's how you can go about doing it...