So you gave your babe a good time in the sack? Big deal! Your job has not ended, buddy! Before you start basking in the afterglow, engage her in some pillow talk (and not sweet nothings!) since that will do good to the both of you! So what are these romantic things to say to your girlfriend? Don't sweat over it. We have come up with 15 such lines that you may get inspired from.
After a couple make love to one another, the usual thing is to call it a day and catch their forty winks. Most of the men don't realize how much their women crave talking to her knight after she has let her guard down. This is your opportunity to tell her how special she is and how, without her, you would be lost. She is vulnerable now; it is your duty to make her feel at home.
---
Suggested read: 8 kinds of physical partner nobody wants to have
---
So here are 15 romantic things to say to your girlfriend after making love.
1. "When I fall short of words to tell you how much I love you, you won't have to remind me to come and kiss you."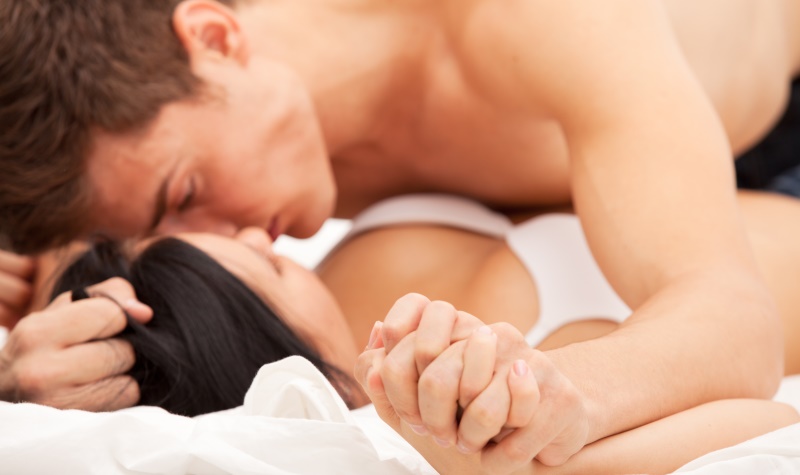 Image source: Dollarphotoclub
You need to be genuine. You must mean what you say. Don't just say something sweet because that's a chivalrous thing to do! Your body language will always spill the beans if it isn't in sync with what you say. She will call your bluff immediately!
Remember, a woman is a thousand times better than guys at reading the signs, and so your chances to successfully fake genuineness are pretty grey, my friend!
2. "I could swim the vastest oceans to see you smile that way!"
There are a lot of romantic things to say to your girlfriend after the two of you have made love. However, you need to be specific. That will make you sound more caring, show that you notice she is special and that you cherish the moments you spend with her. There is a huge difference between how a girl feels when her significant other says, "You look beautiful" and "Your eyes are gorgeous!"
3. "Life would never be this good if you didn't say a "yes" that night!"
After making love, talk little but say something special. No one's in a mood for a tête-à-tête then, right?! So don't be a chatterbox and talk her ears off! Just get to the point, the core of whatever it is that you want to communicate to your babe. Keep it short, simple, and sweet. Avoid the rambling!
4. "I love how passionate our love is."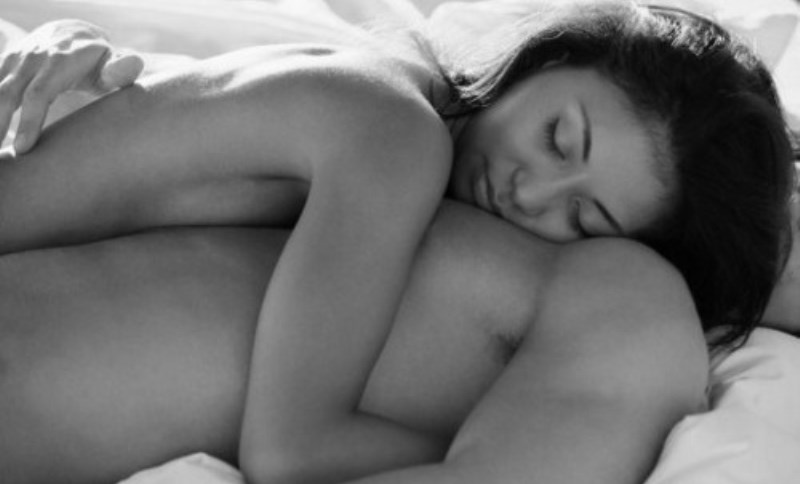 Image source: Google, copyright-free image under Creative Commons License
It is very important for a girl to know that you enjoy making love to her. You could even consider saying something like, "I love the way you kiss me. So intense, so passionate." This is very reassuring for her. When her man compliments her about the way she kisses, he is focusing exactly on what he loves about her. (Let us say that's just one of the things! ;)) However, stay miles away from a line like, "Hey, you are a great kisser!" That will totally put her off! This will not be taken as a compliment but will unnecessarily make her wonder about all the other lips you have encountered!
5. "I feel alive when I lie by your side!"
Once you are done with making love (or who knows?!) you need not talk dirty to her. You, however, must let her know that she makes a huge difference in your life. Make sure that you make her feel important, special, and sexy. Your words should be an intimate form of expression. Women long for this. They love being subtly reminded of how badly you want to make love with them again!
6. "I cannot wait to be inside you again!"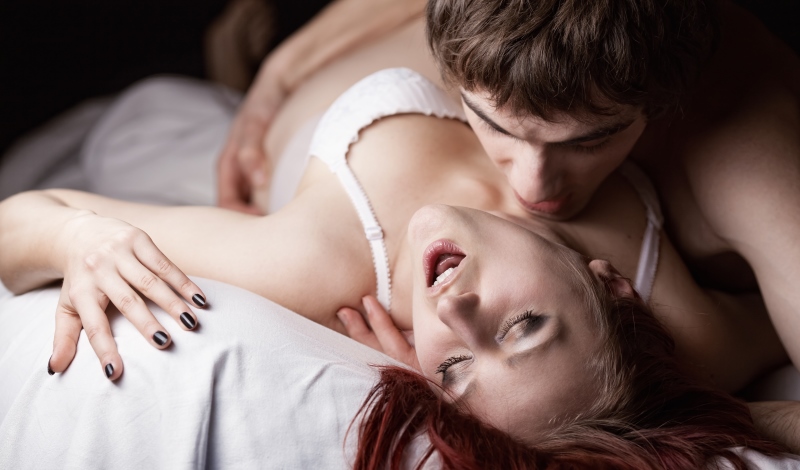 Image source: Shutterstock
A little bit of dirty didn't hurt anyone! 😉 Nonetheless, make sure you whip this one out only as a 'companion line' and have something really deep and emotional to back it up with. You can also say this to her via text immediately after she leaves the bedroom to get something or to freshen up! These words are more in depth than they seem to be. They express that you actually fantasize about her, about the feelings, the sensations, the warmth, the happiness… and all the things you feel when you are one with her.
7. "The taste that you leave in my mouth? I think that's heavenly!"
I know you worry about your endowments when you make love to your woman. So why should she be any different? She too is concerned about whether or not she pleased you enough or if she is desirable at all. It is very human of her to think that way. So after you have gone down on her, make sure you make her feel comfortable and celebrated! Your words and the way you look at her when you say them, must make her feel needed. Spout off the "I" statements more than the "you" ones (something like "you taste great") because they will let her know how you feel about her.
---
Suggested read: 12 common wet dreams and what they actually mean
---
8. "Promise me that you will be the first thing I lay my eyes on every morning, till the very end!"
Yes, it does sound a little sappy, straight from a cheesy Aerosmith song! Yeah, everyone knows about the song I am referring to but hey! If you really mean it, if that's what you have been dying to tell her, then why not just say it?! In response to that climax when her body pumped out that "cuddle hormone" (oxytocin, brother!), make her feel comfortable. Realize her need for tenderness, trust, and safety. You need to share this with her that you relish her company and the connection that the two of you share. That's what romance is all about!
9. "I absolutely loved it when you…"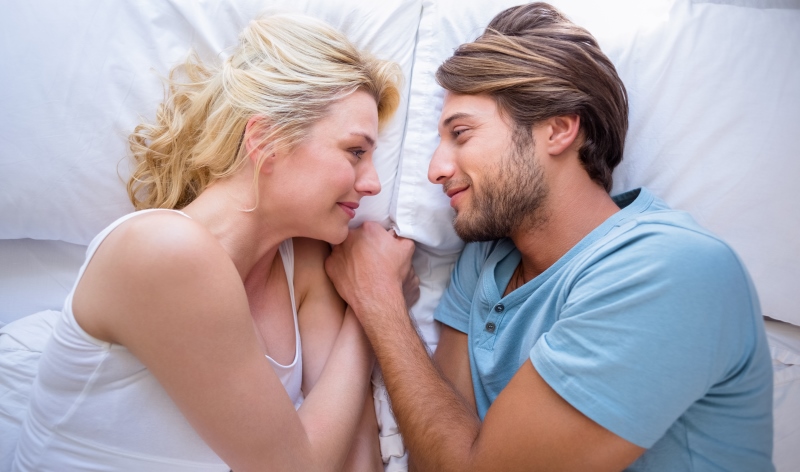 Image source: Shutterstock
I will let you fill that up. A great thing about this line is that it's not just a compliment but it also lets her know that you really like her and one of the reasons why you adore her. Also, it will be clearer to her as to what you really love in bed so that she can repeat it the next time. You may praise her skills even days after the two of you made love!
10. "I want to be with you until 'always' ends!"
Tell her that when you saw her first, she was perfect and that's why you loved her. Now you know that she has flaws, like everyone does, and you love her more! Also communicate it to her that though your thoughts are free to move any and everywhere, they surprisingly love being stuck on her!
11. "I am honored to be loved by you."
Quickly qualify that with a "Be with me forever and always"! They say love is not a bed of roses but you are willing to take risks, if you know, she will be by your side, right? Why not tell her that then? No better opportunity than right now. Tell her that you think your life is worth living because she is a part of it!
12. "I cannot imagine a life where you don't feature!"
Image source: Shutterstock
Basically, an "I cannot live without you!" Tell her how grateful you are that she is your support system, because without her, you would be totally lost. Loving her feels like breathing, doesn't it? Something that basic, that essential. It is during these moments of vulnerability that you should tell her how much you love her and that she makes your heart melt.
13. "If I ever had to, I would wait an entire lifetime to just be with you!"
"There have been so many times that I have fallen in love, but always with the same person… you! You are my soul mate, and I have no two questions about it in my heart. You bring out the best in me and I believe this journey of ours is going to be a hell of a ride!" Like I said, short, simple, and sweet!
14. "You know why I love you…"
Then tell her that it's not only because of who she is, but also because of who you become when with her. Tell her how, if you even had a hundred hearts, they would be too few to embrace all the love that you had for your darling. Men usually don't get attached, but once they do, they should make sure they converse about the same with their lady love.
---
Suggested read: How to spice up your physical love life with role playing
---
15. "You smell like YOLO. Enuf said!"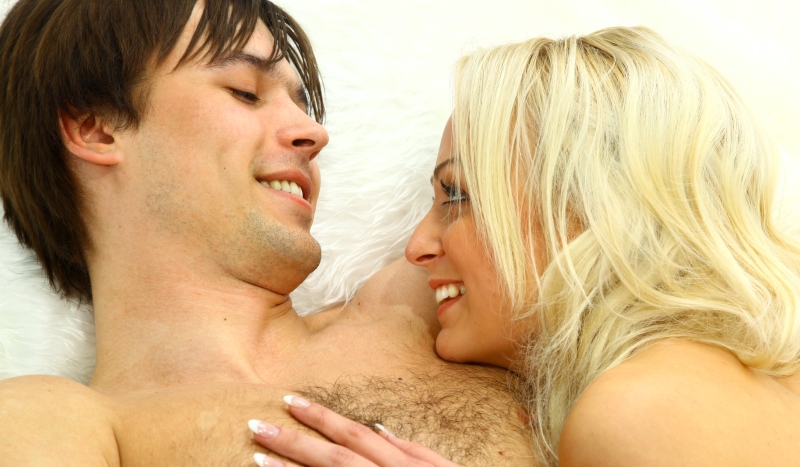 Image source: Shutterstock
So you are that funny guy who cannot let go of that humor element (and why should you coz then you wouldn't be you and she would hate that the most!), consider saying things like "Victorious" or may be "Do, rinse, wash, repeat"! Again, quickly modify it with a, "Next time, please don't change any detail!"
These are a few nice things to say to your girlfriend after making love. If there is something that we missed out on, do let us know in the comments section below. Until then, love and be loved!
Featured image source: Shutterstock
Summary
Article Name
15 Romantic Things To Say To Your Girlfriend After Making Love
Author
Description
Take your relationship up another notch with these sweet and romantic things to say to your girlfriend after making love and melt her heart! You're welcome!