No matter how loud she screams at the sight of that new Louis Vuitton bag or Jimmy Choo shoes, a thoughtful gift that you have invested 'time' and 'love' in (okay, far lesser wads of green too) shall trump a gift bought at the mall. Don't believe me? Try these out and find out for yourself.
And since I know I am right, maybe send me a cute little thank you gift with all the cash you save! 😉
1. Love is in the air
Buy a big chest and fill the chest with helium balloons that have strings of your photographs taped to them, along with pretty ribbons and mushy love notes. Make sure you attach the photographs and notes well, so that they do not fall off before the final show. Once that step is complete, make sure you tuck them safely into the chest and shut it tight. You may opt to decorate the chest as well. When she opens this one, she shall feel your love in the air!
2. Scroll of love
Image source: Google, copyright-free image under Creative Commons License
Surprise your girlfriend by having a scroll of love delivered to her, at her workplace. Have your photograph inscribed on the scroll along with a few lines that profess your undying love for her. Brownie points if you can get one of your friends (someone she does not know) to pose as a royal messenger who shall deliver the scroll with all the requisite paraphernalia to pull off a convincing performance!
3. Inscribed ring
Image source: Google, copyright-free image under Creative Commons License
This one is for the non-commitment-phobic boyfriends who are sure of taking the relationship a step closer to the altar. There is nothing more special than solidifying your commitment to your girl by gifting a tangible token of love she wants to receive. And when you get your initials or an anagram of your names, or even the date when you first met inscribed on the circle of never-ending love that you shall slide up her finger, it becomes much more than a gift. It becomes an eternal promise.
4. The road to my heart
Image source: Google, copyright-free image under Creative Commons License
Make a big heart shaped map of the route to your heart. Make the map as realistic as Google maps. You may download a text-free template and then stick it upon the heart shaped board. You may opt to label it in several different ways. For example, you may choose to label streets by the names you call each other and landmarks in the order of key moments in your relationship. Make the path a well-delineated one, not too difficult to decipher. The idea is for her to relive moments as she makes headway to your heart and not be sucked up in the thrill of solving a puzzle. Finally, put a little heart (clay or any other material you want) at the end of the track and round it up with a little flag that bears a short and sweet 'It's yours to keep' message. Frame the thing so that it can adorn the wall she looks at every morning! If you can dole out a little extra cash and have the time, you may opt to do the same in 3D format. That way, you can include billboards that have your photographs!
5. Personalized lingerie
Image source: Google, copyright-free image under Creative Commons License
If your girlfriend is a dirty doll, you may want to get her personalized lingerie. The options available are endless. While the most common ones are those that bear photographs, names or naughty texts like 'Take me off' or 'Peppy Pumpkin,' the other novel options include fluorescent light strip underwear, seashell, rhinestone, and even Swarovski elements encrusted underwear. Whether you are buying her lacy little nothings or a corsetiere or even a costume that fulfills your fantasy of seeing her as the mermaid mistress, make sure you get the sizes right. Also, ensure that the fabric is of a good quality. Do not complete the shopping process with the misguided notion of 'how long shall they be on her, anyway,' as that shall spoil the whole experience. And by the way, before that 'do not disturb' sign goes up, let me tell you, this one is not going to be as light on the wallet. If you want to treat the queen, do not cheat the means! (Sorry!)
6. A kiss for a coupon
Prepare kiss shaped confetti (the more, the better) and stuff her handbag, laptop bag, gym bag, clutch, and even the spa and makeup kits with them. Tell her that she can exchange each of them with a custom coupon of her choice by kissing you. Set the rules (lest this one come and bite you and your credit cards later!) to home-based activities only and watch how each day turns mmmmuuuuuaaaahh magical! You may want to indulge in variations like using blindfolds and handcuffs, which she can exchange too. How? Well, by now, both of you know the rules! 😉
7. Personalized terrarium
Image source: Google, copyright-free image under Creative Commons License
If your girlfriend loves green, then a terrarium shall make for a perfect present for her. Buy/make her one and customize it to include any other elements she likes. For example, a mini tree house or a swing or even miniature caricature versions of the two of you. Chip in a sign post that says 'I Love You' and you are good to go. The simpler things are often the best ones!
8. Stalk, stalk, stalk
Disclaimer: This is a bold idea and might backfire. But if your girlfriend is quite the confident lass, who is not afraid to give anyone a piece of her mind, you do not have much reason to worry. Here's the idea. On a routine day, get some people (all known to you, of course) to greet her on the street, call her, and text her with personal messages. Take the stalking even further by having some of your pals to dress up like weirdos and hold up placards in her name. They might even opt to follow her for a bit. If she drives to work, you might have some kids knock on her window and hold up message cards. You might also want to make some of her colleagues partners-in-crime and facilitate the process. Remember you want to be around the whole time. When you know she is about to break, end the stalking with a sweet serenade. She might call you names, swear for a bit, and may be kick your ass (publicly or in private) but the after-smiles and all the hugging and cuddling will be worth the crime!
That is all I have for now as creative gifts for girlfriends. I shall wait for her priceless expressions captured on camera to land in my inbox, and yeah, my thank-you present too! J
Featured image source: Shutterstock
Summary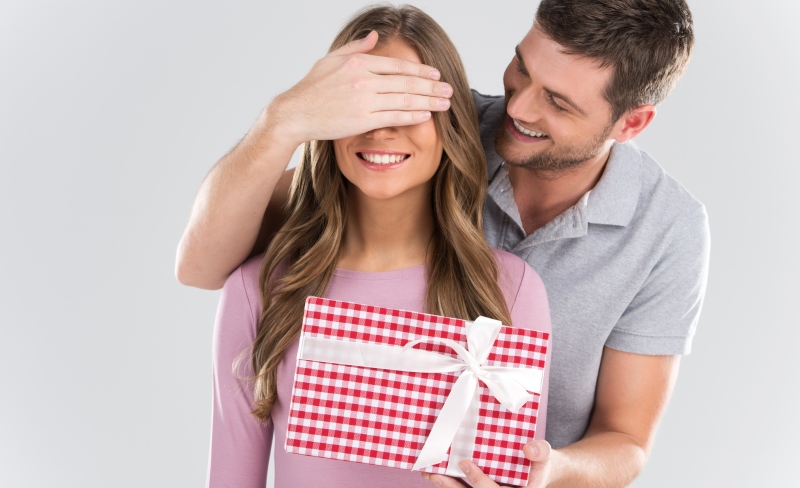 Article Name
8 innovative gifts for girlfriends under INR 3000
Author
Description
You don't need an occasion to gift the lady in your life a special something. Here are 8 innovative gifts for girlfriends under a budget of INR 3000.