From "once upon a time when butterflies did rounds in my tummy" to "now – when I see stars in the morning like a cartoon network character" – this is an account of Jack and Jill's texting and sexting trajectory from dating to the time they ended up in marital hell, with its fair(?) share of highs and lows!
So, once upon a time, and a long, long time ago (it feels like that when you are married), when Jack met Jill,
Jill: "The hill top was so cool. Hope your head's not hurting too much after the fall?"
Jack: "Well, my heart fell for you way back, and it hurts in the most beautiful of ways!"
Jill: ":')"
Jack: "You say it best, when you say nothing at all!"
Well, only if children knew how badly Jack wanted to get into Jill's pants!
                           * * * * * * * * * * * * * * * * * * * * *
---
Suggested read: Expectation vs Reality of first time doing 'it'
---
Next day, in the market, they accidentally (?) bumped into one another…! 😉 But Jack ditched all his important appointments for the day like milking his cows and eve teasing other girls, and thought of a "great idea" (Jill's words) to go on a proper date! Well done, Jackie boy!
Jill: "Our first date was brilliant. Not that I have been on a date before, but I had imagined it to be something like today, today being better!"
Jack: "Hey, babe! I am glad you enjoyed.
            When's the second, eh? 😉
            I can't wait to see those beautiful ***ples
            NOOOOOOO
            What I meant was dimples!!! This stupid autocorrect!!
           I am so sorry. I really meant dimples, baby… Say something!!!
Jill: *Sheepish smile*
Jack: "I am sorry"
Jill: "But I am not!" 😉
Our Jill knows 'good girls ain't no fun!" 😉 I know I am ruining your childhood. But who cares!
                           * * * * * * * * * * * * * * * * * * * * *
They kept meeting EVERY SINGLE DAY because Jack was the perfect boyfriend who "will call you for nothing, text you a million times, want to see you even at midnight (especially then ;)), and cries for you!!!" Basically, Jack was jobless!
Jack: "People have things to laugh about, cry about, and sing about. But it is true, for me it's you!"
Jack was good at copy-pasting lyrics! 😉
Jill: "Oh! Jack! You write so well. Which love do you think is deeper, philosophical or physical?
Jack: "Depends on the penetration!" 😉
Jill: Aww, I am going to marry you!
And then, the inevitable happened…
Jack: "This is the happiest day of my life, princess"
Jill: "Mine too!"
Yep, Jack and Jill did go up the hill of marriage and we all know about 'the fall'!
                             * * * * * * * * * * * * * * * * * * * * *
*3 years down the hill*
Jack: "What's up, babe?"
Jill: "Hey! Once you come home, take all your clothes off …"
Jack: typing…
Jill: "And separate them into whites and colors so that it is easy for me to wash!"
Jack: typing…
Jill: "Don't worry, I have kept a fresh pair of pajamas for you." ☺
                                  * * * * * * * * * * * * * * * * * * * * *
*6 years down the hill*
Jack: I am so tired today. Want to come home and see your lovely dimples?"
Jill: Dimples? Or did you mean something else? 😉
Jack: "What else?"
Jill: "Never mind!"
Jack: "Oh! Yes! I meant that!
             This stupid autocorrect!!!
             I am so sorry, baby! Please say something…"
Jill went offline
                                 * * * * * * * * * * * * * * * * * * * * *
*Have stopped keeping a count, but somewhere down the hill*
Jack: "Do you need me to bring anything home for dinner? Have the groceries been delivered? The kids needed something for their project, will you buy it or should I get it?"
(Not seen)
Jack to himself: You say it best, when you say nothing at all! 😉
                 * * * * * * * * * * * * * * * * * * * * *
---
Suggested read: Awesome ways to dodge your parents' questions
---
Disclaimer: All characters in this story are non-fictional. 😉 Any resemblance to a character living or dead is purely intentional! 😉
Featured image source: Youtube
Summary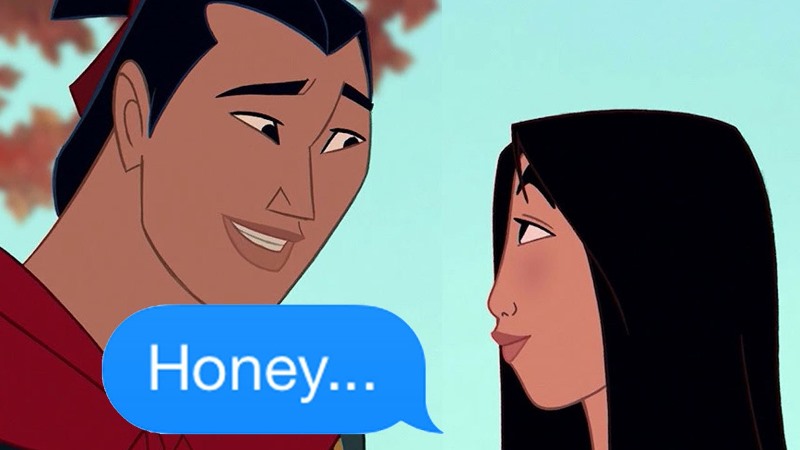 Article Name
How Texting Changes From Dating To Marriage
Author
Description
Marriage spares nobody, not even the ones we thought had 'happily ever-afters.'