Raksha Bandhan is the celebration of the unique bond between a brother and sister. And as the name implies, Raksha Bandhan is the bond of protection. But did you know that the historical origins of the occasion dates way back into the days of the Aryan civilization? And that there are scriptures peppered with references to Rakhi and Raksha Bandhan?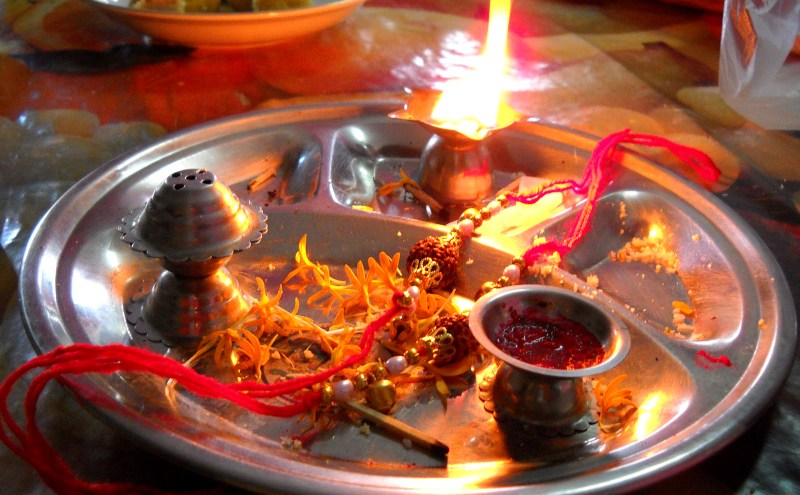 Image source: Google, copyright-free image under Creative Commons License
No?
Well, then, you might like to take a look at the origin of Raksha Bandhan, as handed down by scriptures and observed through history:
---
Suggested read: 20 quotes that exemplify the bond between brothers and sisters
---
Sachi and Indra (husband-wife)
Although the most ancient use of a holy thread for protection is in the context of the war between Gods and demons- where Indra faced a temporary setback owing to demon King Bali, and Sachi, Indra's wife, tied Vishnu's blessed thread on Indra's wrist for his well-being and success, legends about the Rakhi as a bond of promise between a brother and sister abound.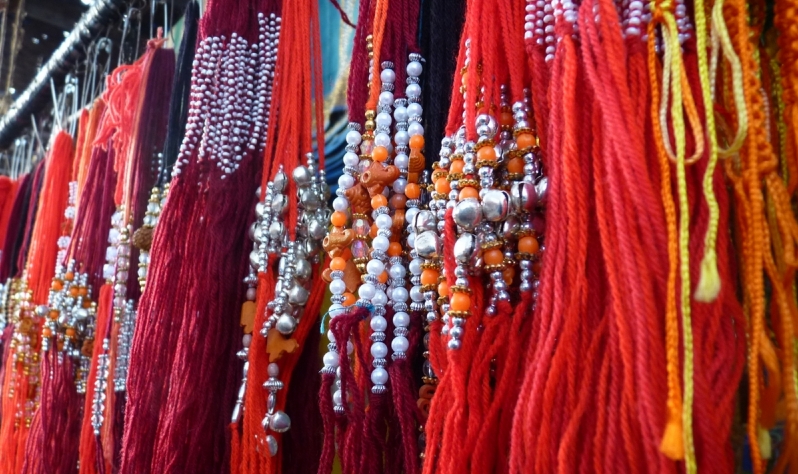 Image source: Google, copyright-free image under Creative Commons License
Goddess Lakshmi and Bali
According to one such legend, credited to Bhagavad Purana and Vishnu Purana, after Vishnu won the three worlds from the demon King Bali, Bali requested him to live in his palace – a request Vishnu granted. Vishnu's wife, Goddess Lakshmi, did not like the palace or his newfound friendship with Bali and preferred that her husband and she return to Vaikuntha. So she went to Bali, tied a Rakhi and made him a brother. Bali asked her what gift she desired. Lakshmi asked that Vishnu be freed from the request that he live in Bali's palace. Bali consented as well as accepted her as his sister.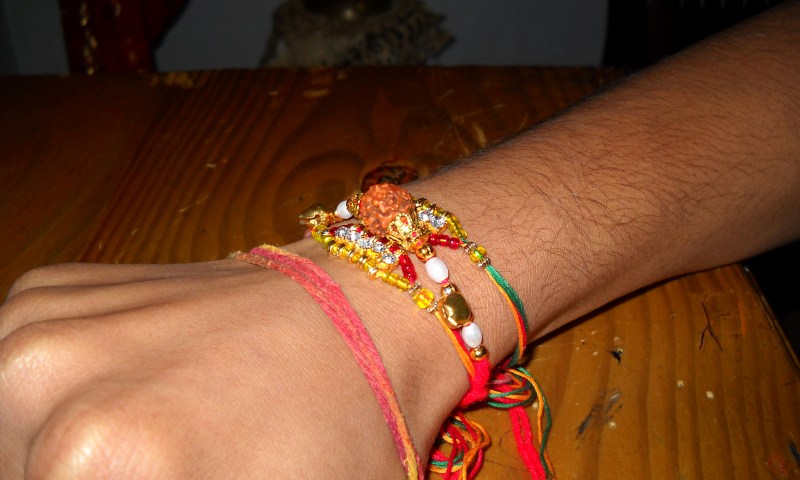 Image source: Google, copyright-free image under Creative Commons License
Lord Krishna and Draupadi
And of course, when Lord Krishna cut his finger while beheading Shishupal, Draupadi immediately tore off a piece of her sari and bandaged his cut. Krishna averred that her love wrapped him in debt and that he would repay each thread when the time came. And we know that when Draupadi is humiliated by the Kauravas at the game of dice, she fervently prays to Lord Krishna for help and is given unlimited cloth when Dushyasana tries to disrobe her to shame her and the Pandavas. And we all know how Lord Krishna makes good on his promise to protect her honor.
Alexander and Porus
In history, however, the first reference to Raksha Bandhan is in a narrative of the legendary King Alexander's invasion of India where Roxana, Alexander's wife, sends a Rakhi to Porus, the king of Kaikeya kingdom and asks from him the safety of Alexander. On the battlefield, when Porus is about to deliver a fatal blow to Alexander, he is restrained by the sight of the Rakhi on his wrist and keeps his promise.
Rani Karnawati and Humayun
Another historical account is that of the time when the Rajputs were fighting Muslim invasion. When Rani Karnawati, the widowed queen of the King of Chittor, realized that she could not defend herself and her fortress against the invasion of the Sultan of Gujarat, Bahadur Shah, she sent a Rakhi to Emperor Humayun. The Emperor was immensely moved by her gesture and arrived with his troops to protect his sister.
And ever since, the Rakhi has continued to be the token of protection – a promise every brother is held to make good of, always. We wish all the brothers and sisters a very happy Raksha Bandhan!
Featured image source: Google, copyright-free image under Creative Commons License
Summary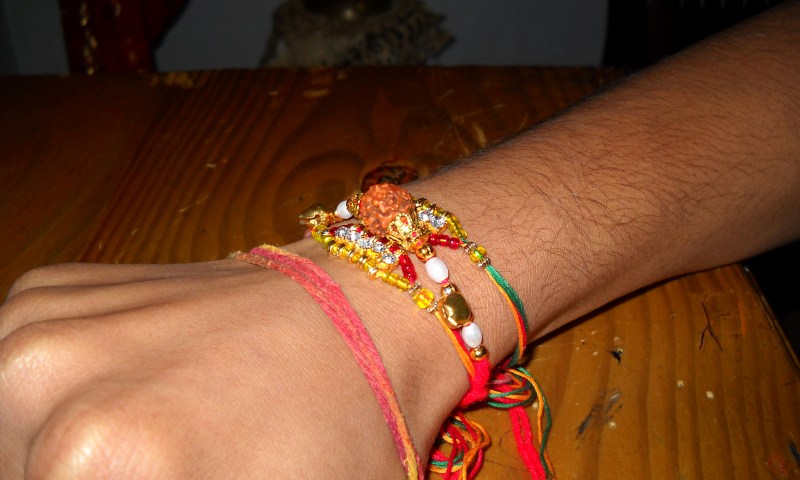 Article Name
The History Of Raksha Bandhan
Author
Description
This Raksha Bandhan, let us know a li'l more about how and why the festival has come to be what it is.