"I've got seven kids. The three words you hear most around my house are 'hello,' 'goodbye,' and 'I'm pregnant'."
– Dean Martin
Even if you don't plan for your partner to hear it as many times as Dean Martin did, the few times he does hear it, should count!! This is a huge moment for the two of you, and it deserves to be treated as such; a bland 'I'm pregnant' will certainly not do! While there are some elaborate ways to tell your partner about your pregnancy, most of them require a lot of time and effort and no one can wait that long to share such exciting news! Here are 10 fun and easy ways to tell him you're pregnant, without too much work.
1. Bun in the oven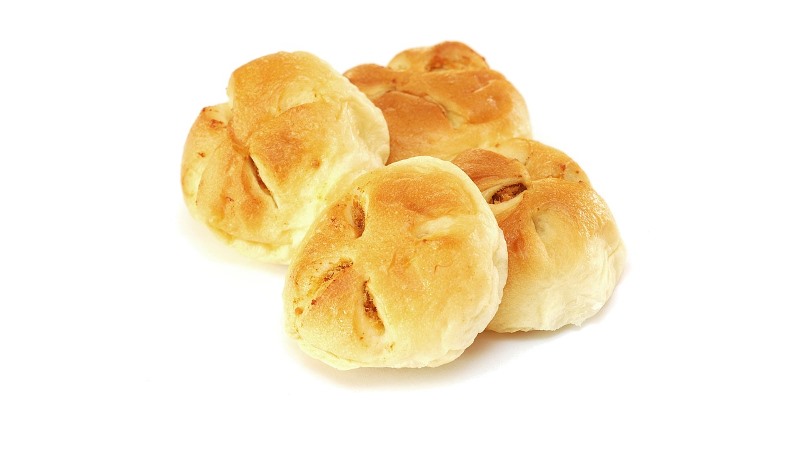 Image source: Pixabay, under Creative Commons License
The 'Bun in the Oven' trick is an old one, but the good thing is that it can be refreshed and modified to your liking. An easy way to do this is to place a large-ish bun in your oven – the one in your kitchen, of course. Use sweet or savory depending upon your husband's tastes. Then when he's home, tell him you've got something in the oven and ask him to get it. He should guess it on seeing the bun, but if you think he won't you can be a little more explicit by putting a note that says, 'It's not just me, there's a cuter bun in her oven!' That should hit the spot!
2. Paint job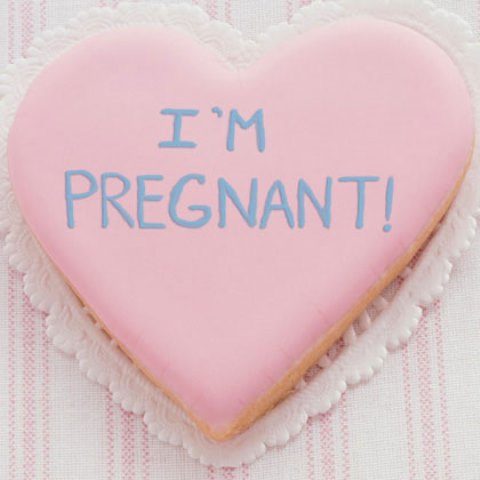 Image source: Google, copyright-free image under Creative Commons License
This one is a little DIY; get a ceramic dish or platter and use non toxic paint to paint a message on it. It can be as simple as 'Hello Daddy!' Then, when it's dry, place a napkin on the writing and cover it with cut fruit or wrapped chocolates or whatever it is that rocks his boat. Or, if you have a knack for baking and are good with a piping bag, then baking a cake with the message does the trick too. Once he's done eating, he's sure to use the napkin to wipe his hands, and that's when his eyes will pop!
3. Wardrobe welcome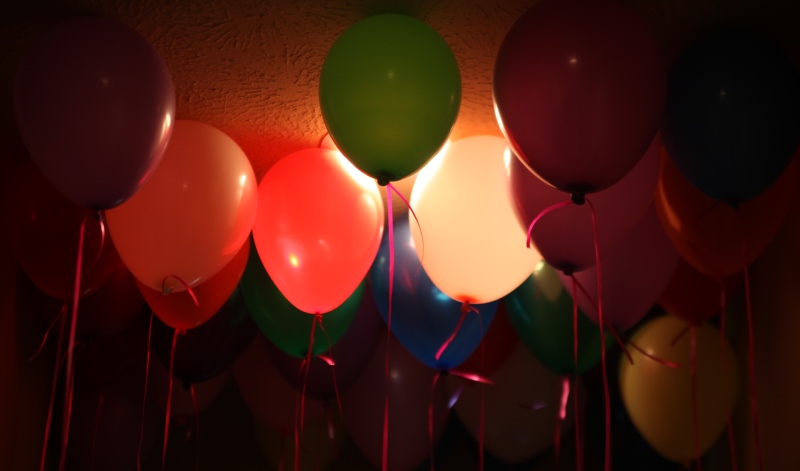 This is good for either the morning when he's getting ready for work, or after he's home and about to change from his work clothes. Whenever it is, you'll have to keep aside some time for prep work. When he's in the shower or working out, decorate the inside of his wardrobe with balloons and streamers – make it look like a birthday party. Only instead of a Happy Birthday sign, put up a 'Congratulations, you're going to be a Dad!' sign. Then close the wardrobe and go about your regular tasks. But be around when he opens it, because you don't want to miss the look on his face!
4. Show me the shoes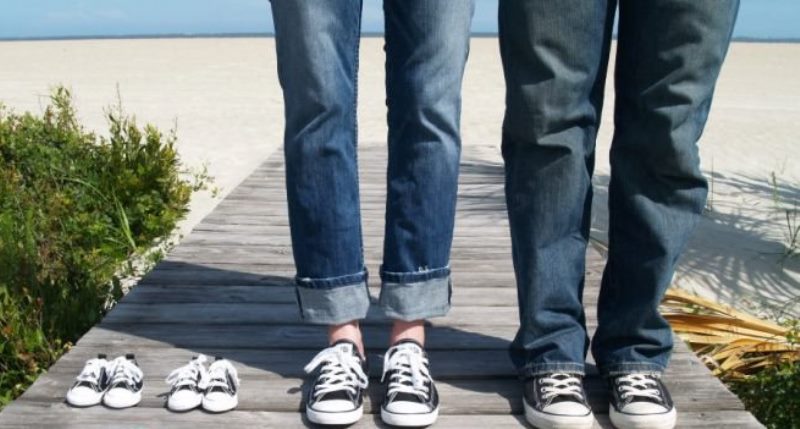 This one's again good for when he's leaving for work. Buy a pair of cute little shoes; doesn't matter if it's a boy's or a girl's. Place them right next to the shoes he usually wears and put your shoes on the other side. Clear the rest of the shoe rack to make the display uncluttered and to drive the point home. Just make sure it's not a day he's late; you want time to catch his expression when he sees the adorable little shoe family!
5. Big Brother – Or Big Sister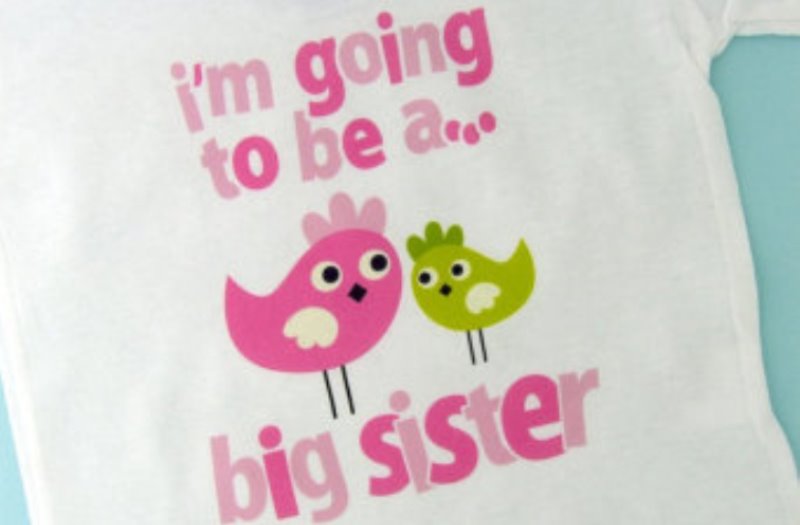 If you can find T shirts with big sibling writing on them, great! Otherwise, you might have to get them printed at a gift shop or paint them on with fabric paint or markers. Whatever you do, be sure to put them on your oldest kid just before you expect your partner home, because you can't trust kids; put them on too early and they'll spill juice and smear sauce all over it. This is a great way to make siblings excited about the new arrival too.
6. Go official
This idea is perfect for the man who isn't in town when you make your discovery. You don't have to wait for him to get back; do this and he'll come rushing home! What you can do is make a mini presentation and animate it with free video software like powtoons. Make it as funny as you want and then send him the link with a subject line: 'Important Presentation.' He'll open it in all seriousness and see that it's now indeed official – he's going to be a Dad!
7. Desktop divulge
Whatever kind of computer your man uses, he's sure to have some kind of wallpaper on it. So first create a poster yourself using tools like Canva or PicMonkey, with your announcement. When he's not using the computer, and if you're sure he's not paranoid about people touching his device, upload your poster and make it his desktop wallpaper. The next time he logs on, he's bound to be pleasantly surprised!
8. Bare it with a Basket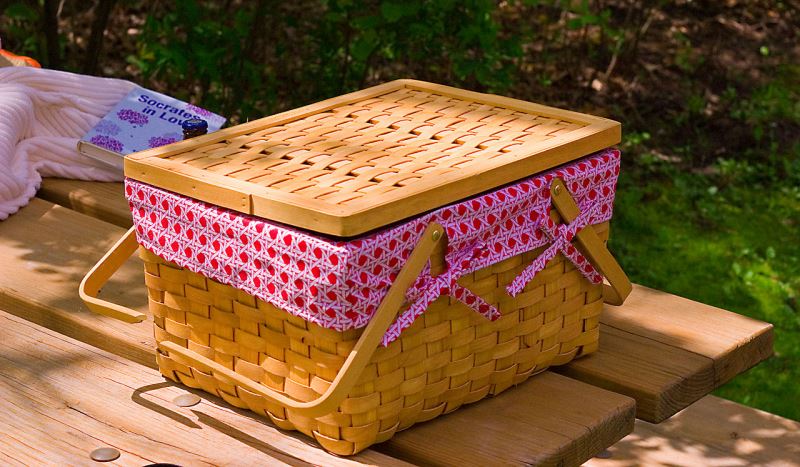 Image source: Google, copyright-free image under Creative Commons License
Prepare a books n movies basket with objects that give strong 'clues.' Include books like 'Your boys can swim' or 'What to Expect when you're expecting,' along with DVDs of movies like 'Knocked Up' or 'Nine Months' and TV shows like 'Parenthood.' Put as many as you think your man will need for the bulb to light up in his head. After that, the two of you can snuggle up watching all the DVDs together!
9. Telling T shirt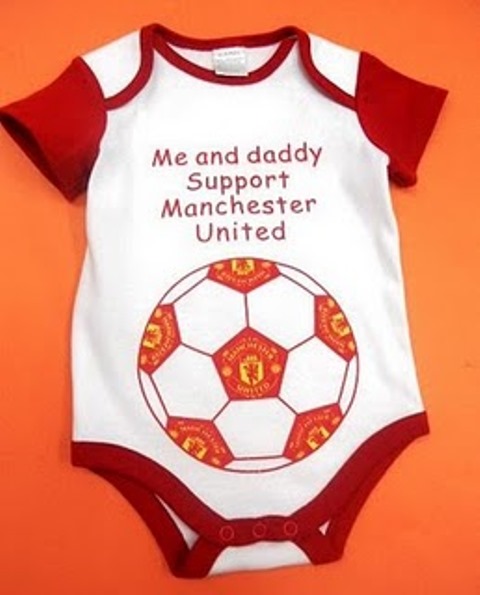 Image source: Google, copyright-free image under Creative Commons License
This idea works when there's a major game coming up. Every man has a favorite team, whether it's cricket, football or hockey. And if he has a favorite team, chances are he has a matching T shirt. Get a similar T shirt in the smallest size available – some popular teams even have onesies! Just when he's getting ready to watch the game, casually put the mini T shirt next to your husband's, so that he can't miss it when he reaches out for it. That should let him know that it's now a game changer!
10. The Bath Reveal
If your husband has his own shelf in the bathroom for his bath and shaving products, then this idea will work well. Just before he's about to step in, replace all his products with a complete range of baby stuff – soap, shower gel, shampoo, oil, powder, etc., When he goes in, he'll be surprised at first, but he'll soon catch up. If you think this is too vague, do the same thing as with the shoes. Put a small bottle of baby shampoo in between both of your regular shampoos. That should do the trick!
As you can see, none of these require too much time, effort or money to plan, and they're all equally effective – no fuss, only fun!!
Image source: Shutterstock
Summary
Article Name
10 cute ways to tell your husband you're pregnant
Author
Description
If you're expecting, then pick one of these fun and cute ways to tell your husband that you're pregnant!