"If all else perished, and he remained, I should still continue to be; and if all else remained, and he were annihilated, the universe would turn to a mighty stranger."

― Emily Brontë, Wuthering Heights
The concept of love never muddled me. It is as simple as eating, drinking, sleeping or any other everyday chore. I feel that I have always known what love is, and I'll thank my family for that. My mother is very soft-spoken yet strong-headed. She raised me to be a girl who's not scared to speak her mind. My dad was kind and a peace-lover. (I lost my father in an accident when I was 16.) I never saw my parents fight in their 18 years of marriage. Having grown up in a love-filled environment, the art of loving came naturally to me. Love, to me, is being selfless, compassionate, committed, and caring.
---
Suggested read: Gentleman's Guide To Asking A Woman Out On V-Day
---
Growing up, I was a studious kid. I was fat, and hence, very few boys bothered me with love letters. I say few as opposed to none because some guys did bother me with love letters; however, they weren't addressed to me! They were either for my friends or for me to give an opinion on their writing or to add a poetry/quote to make it sound more profound. I was very happy that way. As I grew older, my hormones began to take charge. It was also because I was staying away from home in a girls' hostel and studying in a girls' college. There was an overdose of estrogen. All we ever talked about was boyfriends, gifts, kisses, and everything out of a rom-com movie. That's when FOMO got to me. I wanted that too! I was desperate and wanted a partner to hang out with.
Even though I felt that I was missing out on that special someone, I was having a blast with my friends. However, there was this one friend who made me believe that I wasn't pretty. He constantly reminded me that I needed to lose weight, dress better, and look better to attract boys. I was becoming too conscious of my body. I saw girls around me and I started believing that no boy would ever be interested in me for the way I looked. I accepted this and I moved on.
One fine day, one of my childhood friends was visiting Kolkata and said that he wanted to meet me. He was going to stay at a friend's place, and he asked me to meet him there. Serendipitously, he didn't have the address, so he gave me his friend's number and asked me to get in touch with 'HIM'. His name was Mohit. He was from my hometown, and I had heard of him and seen him in several photographs since he hung out with many of my school friends. I had always found this guy cute and I was very excited to meet him. My friend's train got delayed by two hours. (All praise to God!) And there I was, waiting outside Mohit's place. In a while, he appeared out of nowhere. He looked even cuter in person – his eyes were bright and puffy, his smile heart-warming and the best part – he was much taller than me (I am 5'8" feet, while he is a little over 6'). I was awestruck by the way he looked, and, in my head, I had already had two kids with him – both had beautiful eyes and took after their father!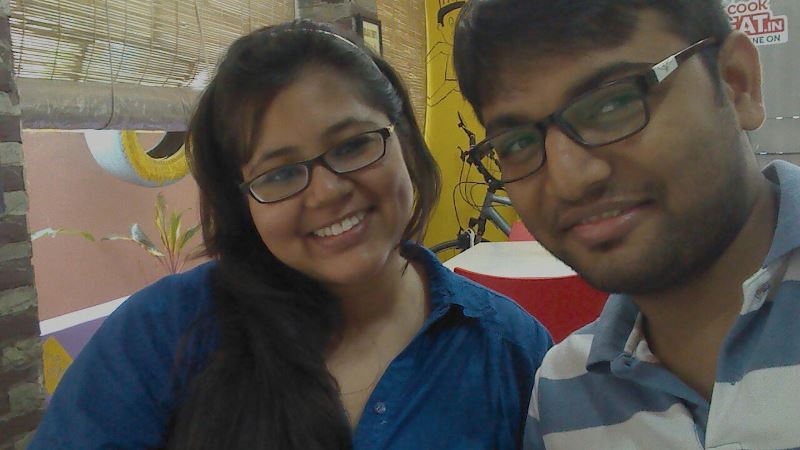 Image source: Richa Kejriwal 
My reverie was broken when he said, 'Hi Richa'. We started talking about the train being late, how we have common friends, and that once we were neighbors. We talked only for a few minutes, but it felt as if I'd known him for ages. When my friend finally arrived – I feel like a devil for saying this – I was disappointed that he turned up sooner than I expected him to. We had dinner, all three of us, and then they dropped me near my hostel. I had already texted my girlfriends that I was smitten by Mohit and that I plan on having pretty babies with him. It was only during the night that it struck me, 'Why would he be interested in me?' 'I am not good enough for him'. But, to my utter delight, I woke up to his text, 'It was nice meeting you yesterday. Are you coming to the get-together tonight?" I was on cloud nine. I immediately replied, "Yes, and you?" He replied within a few seconds, "Yes. Of course." Then he asked if I knew where the place was and how I would be commuting, etc. It was one of the best mornings of my life. My heart was pounding. At that moment, I did not want anything else from life. We met a couple of times at parties and get-togethers. We texted each other almost every day, and slowly, I realized that we talk to each other all the freaking time. He was there with me on my phone all the time. He'd know where I was, what I ate through the day, and every other detail of my life. I was confused because I didn't know if he texted his other friends this much or if it was just me.
---
Suggested read: When You Love Each Other And Can't Be Together: An Incomplete Love Story Of A Musician And A Writer
---
I asked one day if he was single, to which his answer was 'yes.' I was happy, but only for my roommate because she had a minor crush on him as well. I tried to set them up. I asked him to talk to her and chat with her. But then, he called me and said, "Why are you trying to make me talk to her? I am not interested in her!" I asked, "Who are you interested in?" and what he said, changed my life forever. He said "You. It's you I want to talk to. I like talking to you. I want to meet you now." I couldn't believe my ears. All my doubts suddenly faded. I felt loved, I felt I was good enough for him. We met that evening and there was a different kind of energy around us. We were talking, but we weren't really talking. We were just walking on the sidewalk 'talking' about apples and the wax on their skin. Our fingers brushed a couple of times, each time sending waves of ecstasy straight to my heart. The third time, he grabbed my index finger and slowly cupped all of my fingers in his hand. I could see him smile a little. I knew at that moment that it's not just my heart that's fleeting with ecstasy at that moment. Holding my hand was as big a thing for him as it was for me. We didn't speak much that day, but we let our fingers do the talking.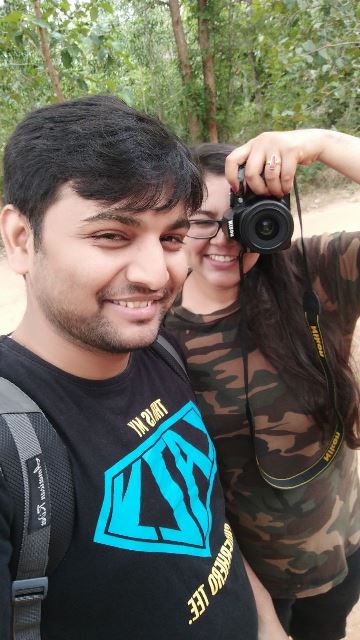 Image source: Richa Kejriwal 
We started talking on the phone every day. When we weren't talking on the phone, we'd text. One night, I told him that I loved him, and he said he loved me too. For me saying 'I love you' was equivalent to 'Kabool Hai'. I told him that very night, that relationship for me is very simple – just tell me whatever is going on and I promised to do the same. I also told him that 'breaking up' was not an option for him. I don't do well with complicated or shades of grey – it's either white or black. He said he understood what I said, but it was much later he really understood what I meant. For me, Mohit and I were now 'only death can do us part.' For Mohit, we were 'I am not allowed to flirt with or talk to any other girl'. But it was only a matter of months that his status changed to 'Even death can't do us part'! We were truly, madly, deeply in love.
In Kolkata, we met every day. He brought me flowers on our 'first month anniversary' of saying I love you to each other. They were my first roses. Nobody had ever given me flowers, and I still remember him walking towards me with that bouquet of beautiful Bangalore roses. I hugged him for the first time that evening. Falling in love with him was as easy as breathing. The only thing I ever wanted in a man was that he should be caring, and Mohit was. He was a good listener and did adorable things. Once I was in a minor accident and I wasn't able to walk. So we could not meet for almost three days. He'd still send me flowers and things that I liked to eat through my roommates and friends. Nobody had done anything like that for me since my dad. Mohit touched my heart and I was falling in love with him all over again, every day.
After I completed my degree, I moved to Varanasi for further studies and he moved to Bangalore. On our last day in Kolkata, we were both scared and deeply unhappy. A change was coming. We didn't know if our long distance relationship would work out. We'd miss each other terribly, and the thought of not being able to see each other every day was killing us. We were both crying, but then we had to go our separate ways. The two years of distance made our love stronger. He was my strength and I was his. We met during the holidays when we'd both be in our hometown. He would drive by my house at least thrice a day and honk so that I would come to the balcony. That's how we saw each other – just a glimpse – thrice a day (like some dose of medicine prescribed by Dr. Love). Sometimes we would meet somewhere outside but not for too long. We would see each other longingly, exchange a few quick words and then head our ways.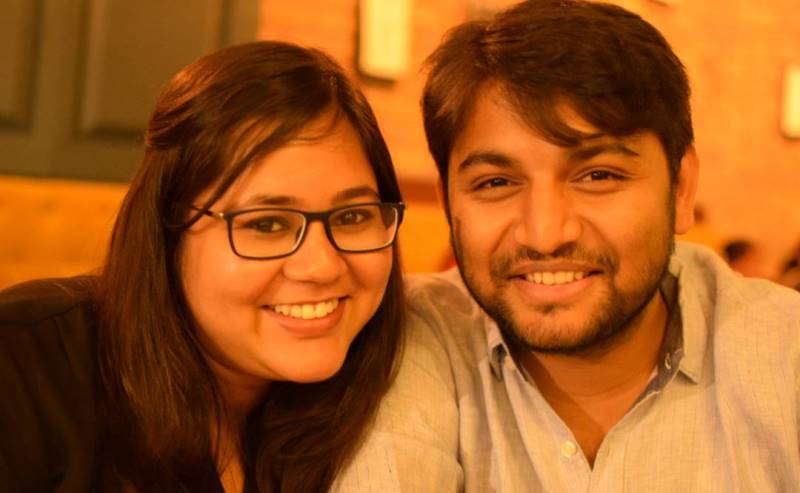 Image source: Richa Kejriwal 
After my final semester, I moved to Bangalore and that's when Mohit and I started knowing each other even better. We matured, and with us, our relationship also matured. We slowly got to know things that we didn't like about each other and we adapted accordingly. We found ways to get on each other's nerves and in our three-year-old relationship, we were fighting for the first time. It seemed unusual at first, but we slowly saw what a relationship is about – it isn't about the calls, the flowers, the letters, it's how much you want the other person. How willing you are to stay with each other regardless of the things that you don't like about each other. How your partner brings out the best in you and inspires you to be a better version of yourself.
---
Suggested read: My 50-year-old Love Story…
---
Mohit has never asked me to change anything about myself (except maybe a few of my bad habits). He lets me be. He has never tried to control me or change me. He loves me for who I am. He never asks me to lose weight or put on makeup or anything. I love him the way he is – since there's nothing about him that I can't love. He reminds me of my dad, and I feel that by bringing him into my life, God tried to make up for my loss. We are meant to be.
Image source: Richa Kejriwal 
Today, Mohit and I are happily married. We will celebrate our first anniversary on 10th February. Even today, I love how I don't feel like going to the office because I don't want to stay away from him. I love that I hate it when he is not with me because he is out with his colleagues or is stuck in the office. I want to be with him all the time. My soul connects with his. We understand each other without even saying anything. One look at my face and he knows that I have had a bad day. He knows which particular scene in a movie is going to make me cry so he would keep his kerchief ready. He won't hug me sometimes when I am sad knowing that I would start wailing and it would only get worse. He would miss me even when I am away only for a couple of hours. All these little things, little acts of kindness and love form the foundation of our relationship, and I am glad that with every passing day, it is only getting stronger.
Mohit is the Heathcliff to my Catherine, the Chandler to my Monica. There's a quote that I love, and it perfectly defines the essence of our relationship –
"He's more myself than I am. Whatever our souls are made of, his and mine are the same."

― Emily Brontë, Wuthering Heights
---
Guest Author Bio: Richa Kejriwal: First things first – I am not even remotely related to Arvind Kejriwal! Hailing from a small town in Bengal, I am a 'Khaati-Marwari' in the business of words. I have a thing for literature, classic novels, and books with cute covers. Literary quotes excite me and peppering 'Random-gyan' on friends is my favorite hobby. I don a 'never say die' attitude and believe in learning something new with every tick of the clock. I am an optimist with a dash of pessimism that helps me stay sane and modest.
Things I love: Libraries, eateries, nurseries, Harry Potter, Linda Goodman, Food (Cooking and eating), Zomato (Follow me!), GOT, Photography! 
Featured image source: Richa Kejriwal 
Summary
Article Name
Falling in love with him… was as easy as breathing.
Author
Description
Falling in love with him... was as easy as breathing. Fall in love with this real love story this Valentine's Day.