A woman's body changes throughout her life, from adolescence to puberty to adulthood to motherhood to old age. Of course, motherhood is a choice. Pregnancy changes a woman's body the most among all of the stages combined. But what if you can keep that fit pre-pregnancy body during pregnancy too? Surprised?
Hmmm. Take a look at Sarah Stage, 30, who is over 8 months pregnant.
What?! How?!
---
Suggested read: Spanish artist photoshops celebrities into their curvier avatars!
---
My thoughts exactly. Sarah Stage is a model, who has been sharing her pregnancy pictures on Instagram with her 1.1 million followers, mostly clad in just lingerie and bikinis. Oh, the most impressive (?) thing about her photos is that despite the advanced stage of her pregnancy, she has successfully maintained her impressive abs. If you look closely, you can just make out the ridges on her abdomen. And, she's due to deliver in less than a month.
In an interview with news.com.au, Sarah revealed that she worked out during the whole of her pregnancy by doing 'light prenatal training,' which also included Pilates.
In one of her Instagram posts, she also said that she uses a food delivery service in LA for 'healthy meals,' which are delivered to her door. And what do these meals contain? Chicken, quinoa, spinach, and vegetables.
The mother-to-be has received a barrage of both positive and negative comments on her figure. While some have expressed outrage that she's harming the baby, others have praised her for her figure and fit body. One user even went so far as saying: "How is this possible? I wish I looked like this when I was pregnant."
---
Suggested read: Stretch marks bothering you? Here's how you can get rid of them
---
But some of the negative comments are aimed at the unhealthily small baby bump at this advanced stage in her pregnancy. They have expressed concern that she may be endangering the baby's healthy by exercising too much while pregnant. Currently, the fetus is clocking in at a mere 5 pounds. The comments started pouring in wildly when she posted a picture of herself in gym clothes, with her baby bump almost non-existent.
On Entertainment Tonight, the model and mother-to-be opened up about the criticism that her pictures have garnered, and also spoke about her fitness regime, her body, and a new line of maternity wear she's coming up with.
Talking about the negative attention she's received, Stage told ET,
"I'm just trying to stay positive. It's hard enough to be pregnant. I think all women are beautiful, especially pregnant women."
Thus far in her pregnancy, Sarah has gained only 20 pounds, but asserted that her doctor assured her that her baby is healthy.
"The doctor said my baby is healthy. All my girlfriends that are pregnant now, their bellies are a lot bigger, so I asked him and he started laughing. He was like, 'You're fine,'" she explained.
Stage also confessed that she is a big fan of burgers and splurges on mint chip ice cream from time to time. But looking at her tiny baby bump and six pack abs, it's hard to believe she 'splurges' on anything when it comes to food!
One thing is certain – that kid inside her ridged-almost-washboard tummy is going to come out pumping iron. Although, the baby might already be doing at least tiny pushups in there!
Summary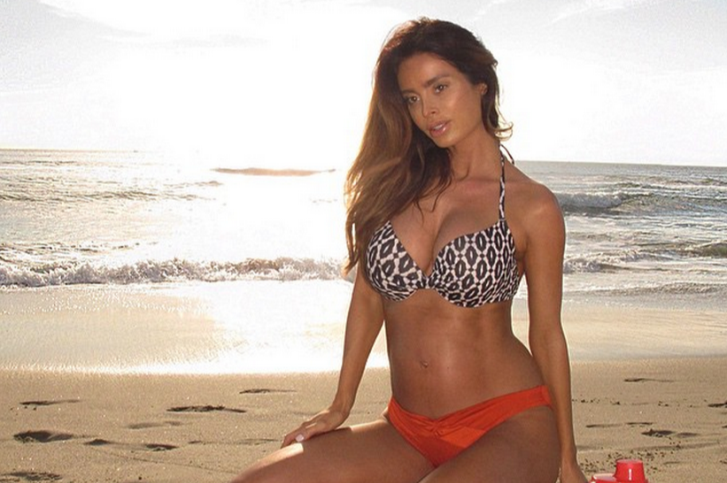 Article Name
Sarah Stage draws flak on social media for tiny baby bump
Author
Description
Sarah Stage, a Costa Rican model, is 8.5 months pregnant. But you can't make it out when you look at her. Here's why.