Muscles are elastic and need to be stretched and relaxed, in order for them to remain healthy and function well. When you live your life without stretching, you will inevitably develop muscle pains that will make your life absolute hell. Especially since these days, most people have sedentary lives, where they spend most of their day sitting in a chair, in pretty much the same position for hours on end.
If you're a fitness freak, you may think that this article does not apply to you because you ALWAYS do your cardio and your strength exercises and there is noooo way your muscles are weak or stiff. Well, that's not true. Just like for people who do not exercise, stretching is also important for those who work out regularly. By doing cardio and strength training, you are putting pressure on your muscles but not giving it any relief. That's like pulling a rubber band continuously, without letting it retract to its original shape. We all know what will happen eventually… it'll snap.
---
Suggested read: The complete guide to Callanetics exercises and why you should try it
---
So we jot down 12 of the best stretching exercises that will help you loosen muscles in every part of your body!!
1. Neck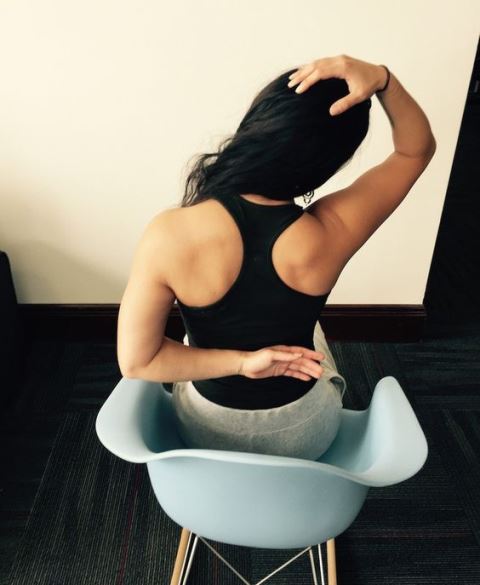 Image source: Pinterest
This is essentially a yoga position, but is incredibly effective in loosening neck muscle tension and reducing neck pain.
How to do it: Place the palm of your hand on the opposite side of your head (just above the ear) and pull till you can feel the strain on your muscles. By folding the other arm behind your back, you will essentially be increasing the strain on the muscle so that it stretches as much as it can. Of course, make sure your neck is straight and your head isn't bending backwards while you pull it. Otherwise, not only will the stretch be ineffective, but you may also hurt yourself.
2. Shoulder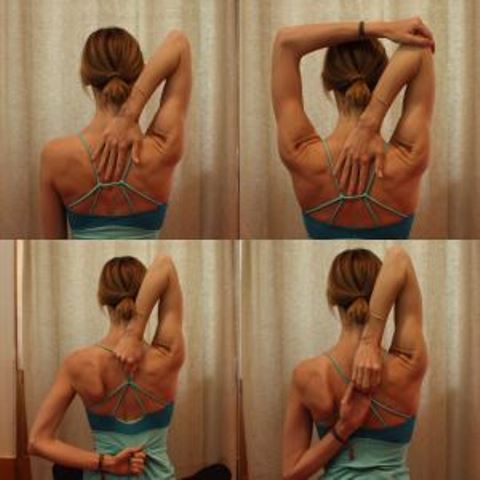 Image source: Pinterest
This is called the cowface, arms and is a bit trickier than most stretches, but is sooo worth the extra effort. If you're not the most flexible of people, then you might need a strip of cloth or a tie to help you execute this stretch properly.
How to do it: Take your arm, hold it straight up, and fold it so that your palm is touching your back. If it's not reaching low enough, push it down by applying pressure on the elbow. Then, fold your other arm behind your back and try to clasp the one that's already touching your back. It might be difficult to do so initially, in which case, hold a tie with the first hand and try to grab on to the tie with the other hand. Once that is done, just pull either hand towards itself till you can feel the pressure on your shoulder muscles. Remember to never overdo it or force your arms to fold if it hurts when you try.
3. Biceps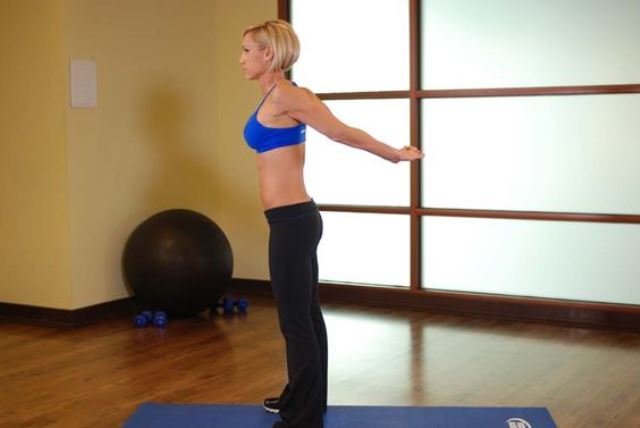 Image source: Pinterest
This stretch affects both your biceps and your back, simultaneously. It is a bit tricky and won't be easy to pull off initially. But take baby steps and keep doing it till you can do it perfectly, like the lady in the picture, whose arms by the way, are the things of legends.
How to do it: There are two ways in which you can try this stretch and then settle on the one that you prefer. One way is to clasp your hands (intertwine your fingers for more stability) behind your back and try to raise your arms as much as you can. Otherwise, you can try to raise your hands behind your back (till they're somewhat perpendicular to your body) and try to clasp on to the other hand. This will put a massive strain on your biceps and some on your back muscles (depending on how flexible you are). Always remember to keep your arms straight and not fold them at the elbows while doing this stretch.
4. Triceps: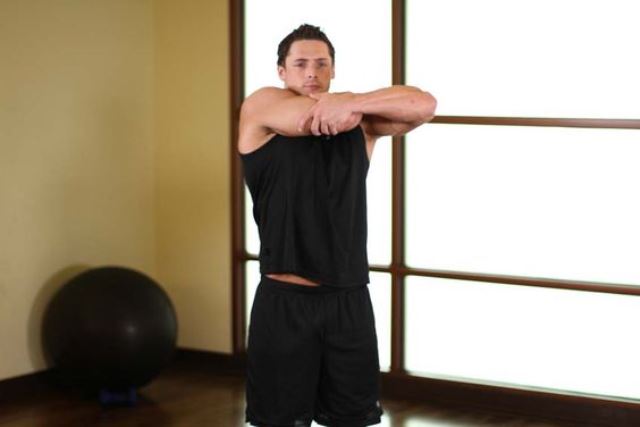 Image source: Pinterest
No, triceps aren't something only well-built people have. Everybody has them. They're the muscles underneath your arms, starting at your armpits. Stretching your triceps is probably one of the best stretching exercises ever. It's so satisfying!
How to do it: This one is pretty simple. Just fold your arm so that your palm rests on or goes over the opposite shoulder, and use your other arm to push it even further back. You should be able to feel like pressure on your triceps and maybe a teensy bit on your shoulder. Just be careful to not overdo it or choke yourself with the folded arm.
5. Chest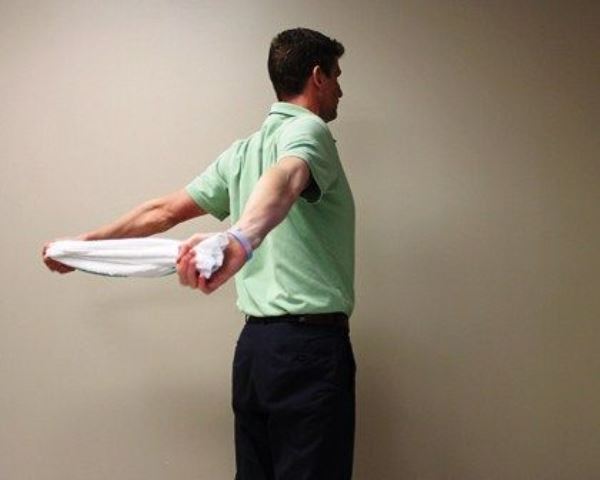 Image source: Pinterest
We cannot impress enough upon the importance of chest stretches for both men and women. Chest stretches help tighten your breasts and keep them from sagging. They also help improve those pecs and keep away any possible moob (man-boob) action.
How to do it: Take a towel or a resistance band and grab the ends behind your back, as shown. The shorter the towel or resistance band, the more strain you'll feel on your chest muscles. Hold this position for up to 30 seconds, then relax and then repeat the process at least 5 times.
---
Suggested read: 12 life-changing Kegel exercises that will make your vajayjay happy
---
6. Abs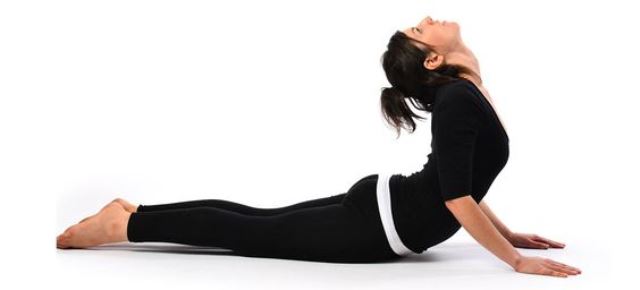 Image source: Pinterest
No, this stretching exercise won't give you washboard abs. What it will do, is stretch your abdominal muscles and keep you from getting tummy cramps and also help out a little bit in getting rid of those tires and love handles you aren't very much in love with.
How to do it: Lie down flat on your tummy (so far so good eh?). Place your hands, palm-down, as close to your shoulders as possible. Then, lift your upper body, while your lower body remains touching the floor. This will stretch out your abdominal muscles beautifully. Although, put as little pressure as you can on your arms while lifting your body. Lift it using your core (abdomen) strength. Also, remember to relax your posterior or you will cramp up and it will not be a fun experience, trust us.
7. Back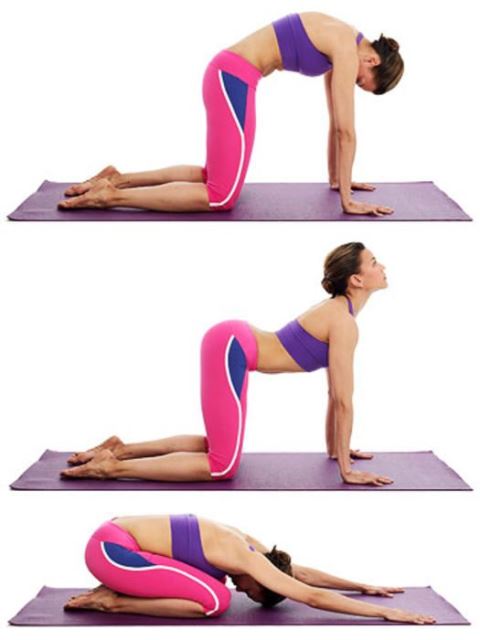 Image source: Pinterest
This is called the cat-cow position and is probably one of the best stretching exercises ever.
How to do it: There are 3 very easy steps to this stretch. First, get on all fours and arch your back outwards to form a little dome with your body (as shown in the first picture). This is the "cat" position. Then arch your back inwards to form an almost concave shape (like in the second picture). This is the "cow" position. Both these stretches pull the back muscles either way for the best possible effect. Finally, sit on your heel, stretch your arms out and try to make your nose or forehead touch the floor. Try and make your behind touch your heels while you do so, in order to stretch your back muscles perfectly. This helps lengthen and strengthen your back muscles. These 3 steps, not only help stretch your muscles, but also help align your spine, thus alleviating any back pain.
8. Waist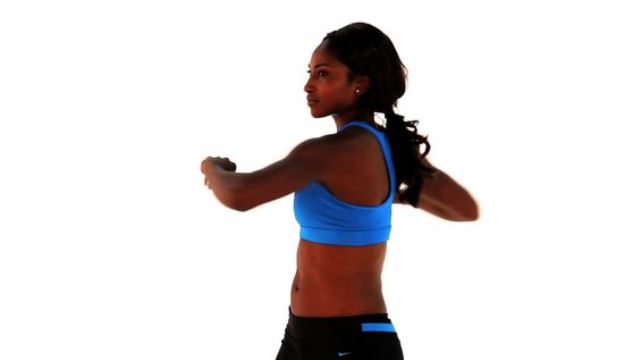 Image source: Pinterest
This is probably one of the most well-known stretches. This stretch works for your sides and your abdominal muscles too, essentially affecting your waist.
How to do it: Stand with your legs apart (corresponding with your shoulders), and then just do slow but deliberate twists to either side, till you can feel the strain on your muscles. Just because it's a good waist workout does not mean that it isn't for men. Do the twist to help you with your belly and side fat, and also help prevent tummy, side, and back cramps.
9. Hips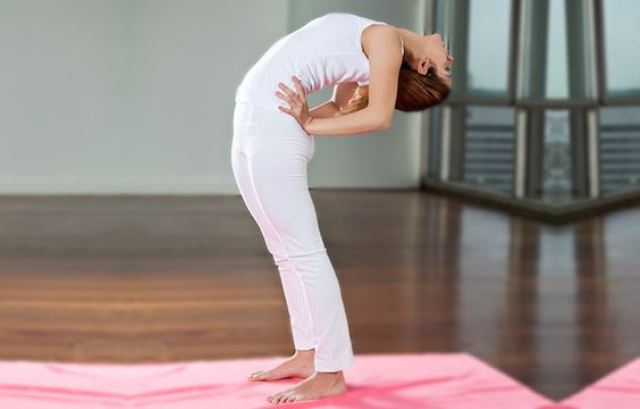 Image source: Pinterest
This is called the standing hip hinge, and is excellent for people with hip or back pain and also for people who do a lot of glutes/lower back-oriented strength training.
How to do it: Simply stand straight, with a little bit of gap between your legs. Place your hands on your hips and arch your back as much as you can. Hold for 10-15 seconds. Then bend forward and touch your toes, or the floor. Always remember to maintain your balance while arching back or you may fall and gravely injure yourself. Also, do not bend your knees at any point in this stretch or the stretch will not be as effective as it would be had you kept your knees straight.
10. Hamstring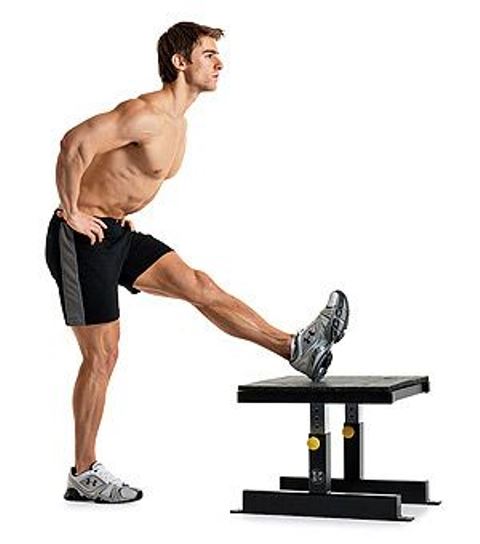 Image source: Pinterest
The hamstring is the muscle at the posterior part of your thigh (between the bum and the back of your knees). Stretching the hamstring is extremely important because it tends to cramp up very easily and may prove very dangerous (even fatal) if they cramp up while you're swimming or riding your bicycle in traffic.
How to do it: Place your leg on an elevated platform (a short stool or the second/third step of a staircase will do just fine), place your hands on your hips, and bend your upper body forward. The strain will be felt at the back of your thighs. Hold the position for up to 15 seconds and then relax. Alternate between either leg and complete a set of at least 10 stretches per leg. Do maintain your balance by bending the leg you've put your weight on. The leg that you're stretching should be kept absolutely straight for best results.
11. Inner thighs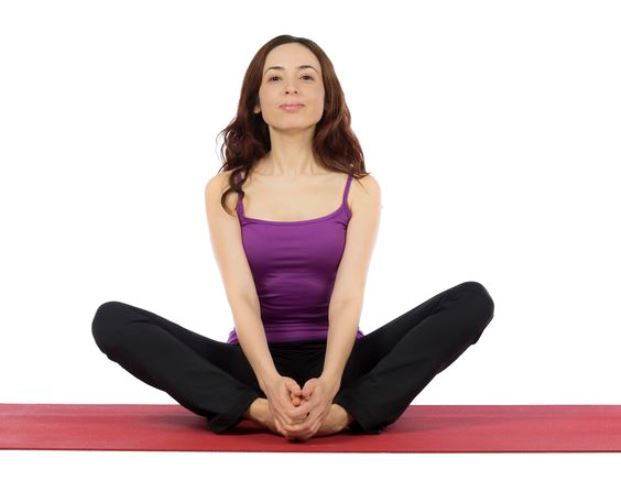 Image source: Pinterest
Your inner thighs are just as important as any other part of the body. This stretch is called the butterfly, and is surprisingly pretty fun!
How to do it: Sit straight on the ground. Fold your legs so that the soles of your feet touch each other. Hold your feet with your hands (in a sort of a clasp) and keep your feet steadfast on the floor. Finally, lift and drop your knees so that your legs look like butterfly wings flapping (hence the name). Try and force your knees to touch the floor to feel the strain on your inner thigh muscles. In order for this stretch to be effective, remember to keep your feet planted to the ground and push your knees as close to the floor as you can without hurting yourself.
---
Suggested read: 10 best anti-aging exercises for a younger looking you
---
12. Calves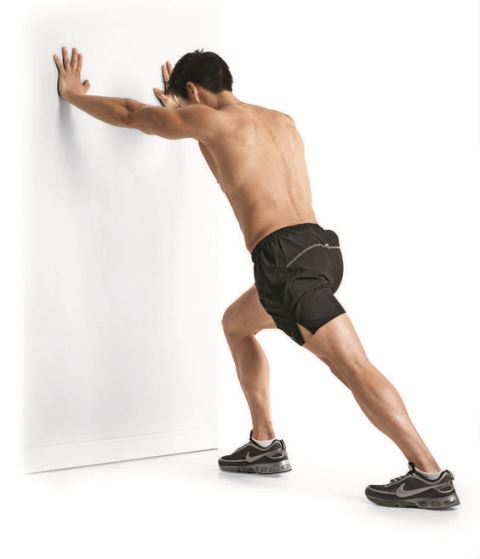 Image source: Pinterest
The calf muscle extends from below the back of your knee to a little above your ankle. Calf muscles also tend to cramp very easily. So stretching your calves is of utmost importance.
How to do it: Place a leg in front of you and push the other as far behind as possible. Fold the front leg as shown in the picture, while keeping the leg behind as straight as you can. Place your hands on the wall in front of you for support and just bend forward with your whole body. Essentially, try to lightly thrust your hips forward and downward (in a diagonal line) till you feel the strain on the calf muscle of the leg stretched out behind you. Do this on either leg, alternately for around 10 sets per leg.
Whether you engage in physical exercise regularly, or are a bit of a couch potato, stretching is mandatory for everybody. So take 10 minutes out of your daily schedule and do these stretches to loosen your muscles and ease any pain in any part of your body.
Summary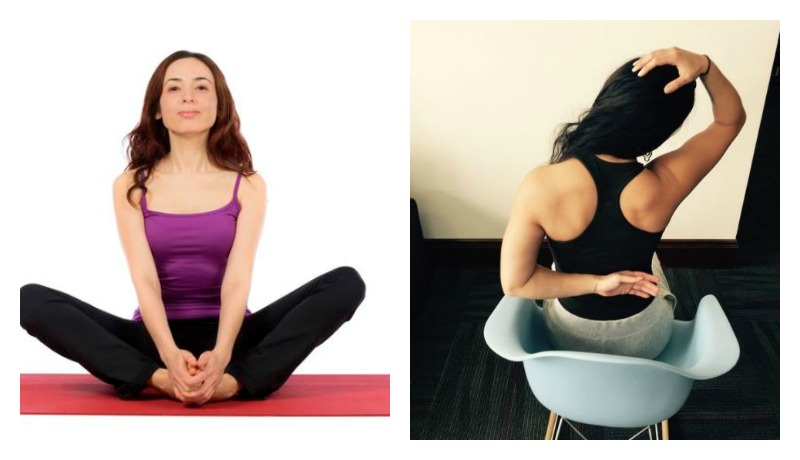 Article Name
12 Best Stretching Exercises That Will Change Your Workout Routine
Author
Description
These best stretching exercises are an absolute must to include in your workout routine! You'll thank us later!