Varicose veins are a condition that affects more than 25% of women and 10% of men every year. It is a common problem for people who engage in extra strenuous activities. However, there are several effective home remedies for varicose veins which we shall discuss in this article.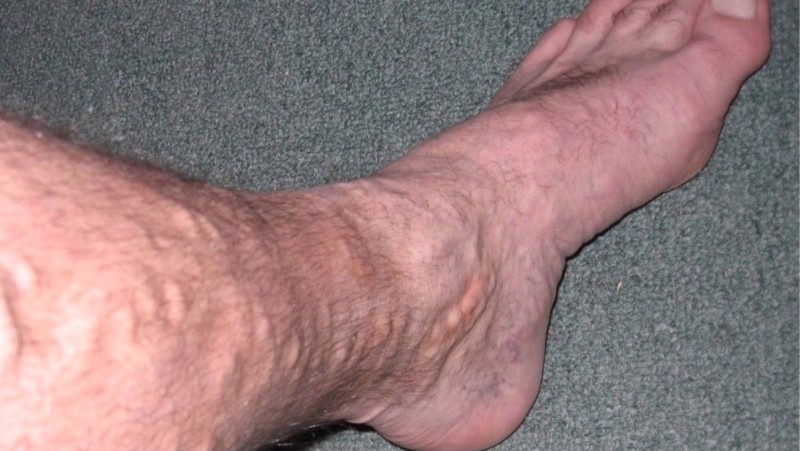 Image source: Google, copyright-free image, under Creative Commons License
Varicose veins are veins that pop out and appear prominent over the skin. Veins are the blood vessels which are responsible for carrying blood to the heart from the rest of the body. In order to prevent gravity and other forces from letting blood flow the opposite way, veins have valves, which regulate the direction in which the blood flows. Sometimes, it so happens that these valves malfunction, and blood starts accumulating and clotting and the veins get clogged up, appearing pronounced and blue from over the skin. When these veins gets knotted up and twisted and don't function as they are supposed, the condition is known as varicose veins.
---
Suggested read: Get Instant Relief From Angina With These Effective Home Remedies
---
Even though it is not too serious a condition, it needs to be treated properly and promptly, so that it doesn't lead to heart problems later on. It can also cause other health problems like fatigue and fainting spells, if blood circulation doesn't occur properly. The causes of varicose veins are as follows:
Standing for long hours
Excessive exercise
Hereditary problems
Menopause
Pregnancy
Stress
Puberty
Constipation
Hormonal changes
Even though the most obvious symptom of this condition is the building veins, which usually appears in places like the feet, ankles and the calves, there are a few other symptoms too that you should look out for:
Fatigue
Pain
Cramps
Restlessness
Heaviness in the legs
If you have been experiencing these symptoms, here are some home remedies for varicose veins that are completely natural and highly effective.
1. Marigold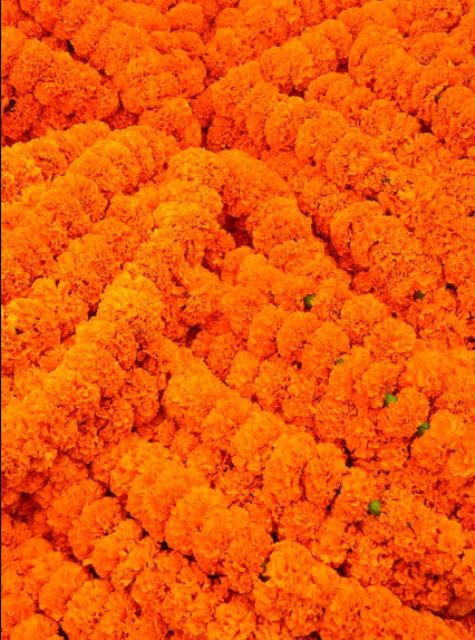 Image source: Google, copyright-free image, under Creative Commons License
Marigold is an ancient herbal remedy for any blood and inflammation related issues. It contains flavonoid, which helps in repairing broken tissue and resolves any issues that you might be having in your blood vessels. It also decreases the appearance of varicose veins because of its anti-inflammatory properties.
Take the separated petals of a couple of marigold flowers and blend them to make a fine paste. You can even add some water to increase viscosity. Apply this paste to the affected area daily to see positive changes within a week.
2. Apple cider vinegar
Apple cider vinegar tones your skin and soothes the area where the veins are very apparent. This natural ingredient also has amazing anti inflammatory properties, which helps reduce the swelling that takes place when the veins pop out of your leg (or any other place). It also facilitates proper blood circulation to clear any blockages.
You can apply apple cider vinegar on the affected area twice a day, while massaging gently. You can also 2 teaspoons of this vinegar to water and drink it every day.
3. Hot/cold compress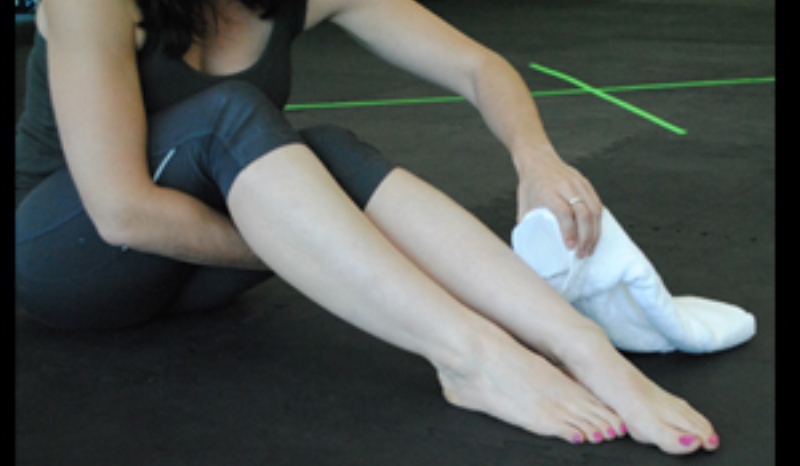 Image source: Google, copyright-free image, under Creative Commons License
A hot or cold compress, whichever you feel is more comfortable for you, is an effective home remedy against problems like varicose veins. More often than not, a dilation of the blood vessels or a constriction causes the problem. Pressure and varying temperatures helps regulate blood flow and also reduces the pain that you might be feeling.
4. Cayenne peppers
Cayenne pepper contains important compounds which are essential for the effective treatment of varicose veins. The Vitamin C as well as the high levels of bioflavonoids gives relief to the swollen area and increases blood flow, removing any clot or congestion that might have occurred.
To consume enough cayenne pepper, mix one tablespoon of cayenne powder in a glass of water and drink it every day. You will see your condition reduce in less than 2 weeks time.
5. Grapeseed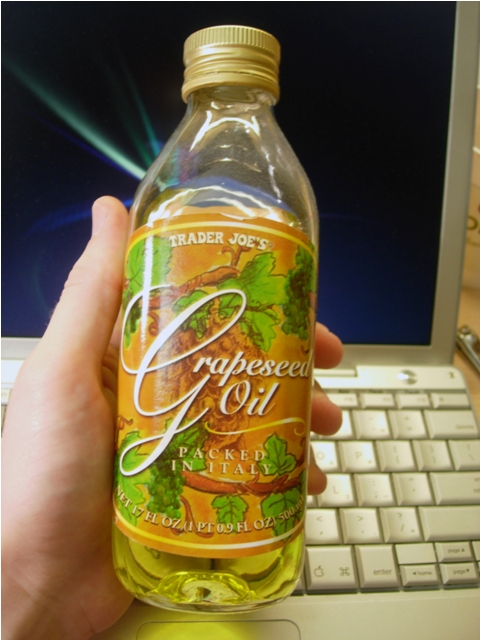 Image source: Google, copyright-free image, under Creative Commons License
Grapeseed oil is an excellent source of compounds called OPCs which reduces inflammation by making the connective tissues in blood vessels stronger. Grapeseed also helps protect and strengthen the other blood vessels like capillaries and arteries, and promotes the formation of collagen. It also prevents your blood vessels from incurring further damage and protects against problems like infections, clotting and rupturing of veins.
One of the best ways to consume grapeseed is by taking it in oil form, which you can add to your food, salads, etc. You can also crush dried grapeseeds and add it to a glass of water or to your food to consume.
6. Gotu kola
Gotu kola is an ancient herbal remedy that has been used to treat varicose veins in various parts of the world. It is also a part of ayurvedic medicine. Gotu kola is a plant which has extensive healing properties, and can get rid of the feeling of heaviness and swelling that you might experience when suffering from this condition. It prevents veins from degenerating under pressure and also prevents the leakage of fluids and plasma from the veins when it is healing.
Steep a handful of dried gotu kola leaves in boiling water with a tablespoon of honey. Strain out the leaves and drink this solution every day for the effects to become apparent.
---
Suggested read: 13 Highly Effective Home Remedies To Relieve Painful Muscle Cramps
---
7. Garlic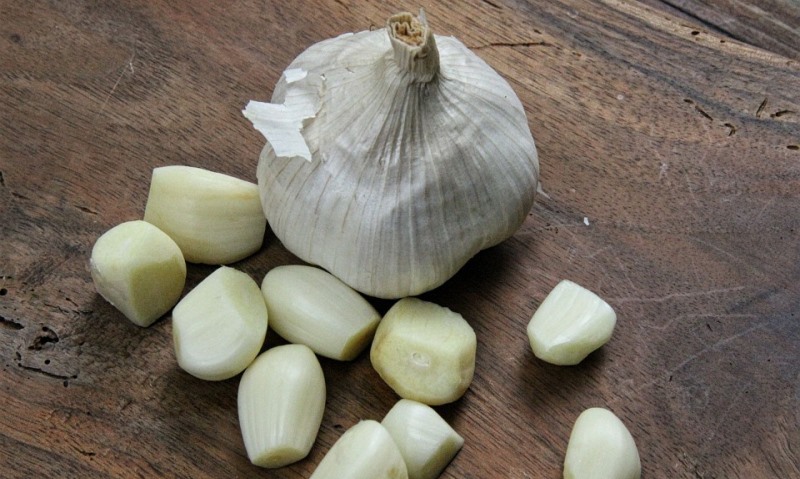 Image source: Google, copyright-free image, under Creative Commons License
Garlic has amazing anti-inflammatory properties because it contains high amounts of antioxidants and other important nutrients which helps reduce swelling and pain to a great extent. In fact, massaging  garlic shows positive results within a week of regular use.
You can mix 6 cloves of mashed garlic with a tablespoon of olive oil and massage it on the area for the effects to become apparent almost after the second use.
8. Witch hazel
Witch hazel is a naturally occurring herb which not only contains anti-inflammatory properties to help reduce the appearance of the varicose veins, but also astringent properties which helps strengthen all your blood vessels, including the damaged veins. It is also rich in essential oils, which give you effective relief from the pain.
You can add witch hazel to your bath water and soak in it for 15 minutes before washing your body gently. You can also apply a towel that has been soaked in witch hazel water and apply it to the affected area.
9. Fuller's earth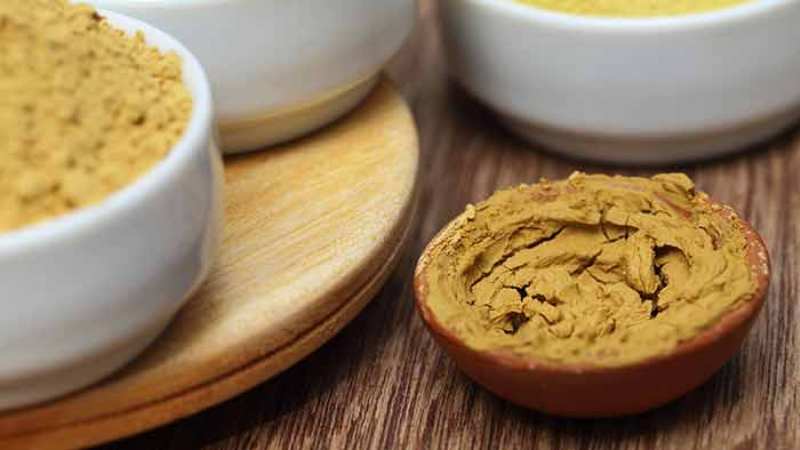 Image source: Shutterstock
Fuller's earth is a soothing, healing home remedy for problems like varicose veins and is especially beneficial for women who are pregnant or are undergoing menopause. It promotes the constriction of blood vessels, helping your body regulate blood flow better.
Make a paste with fuller's earth and water. You can also add rosewater for an extra soothing effect. Use this on the area where the varicose veins are popping out for your condition to show improvement by the second use.
10. Horse chestnut seeds
Horse chestnut seeds contain a compound called aescin which is essential for the proper elasticity of the walls of your blood vessels. It prevents your veins from getting damage and by promoting them to function properly, it also reduces the appearance of varicose veins and prevents the problem from occurring in the future.
This ancient herbal remedy can be used in various ways. You can apply the gel of this seed and apply it on the affected area. You can even crush the seed to make a paste with water and apply it as a mask. However, if you are pregnant or nursing, you should avoid using it.
11. Essential oils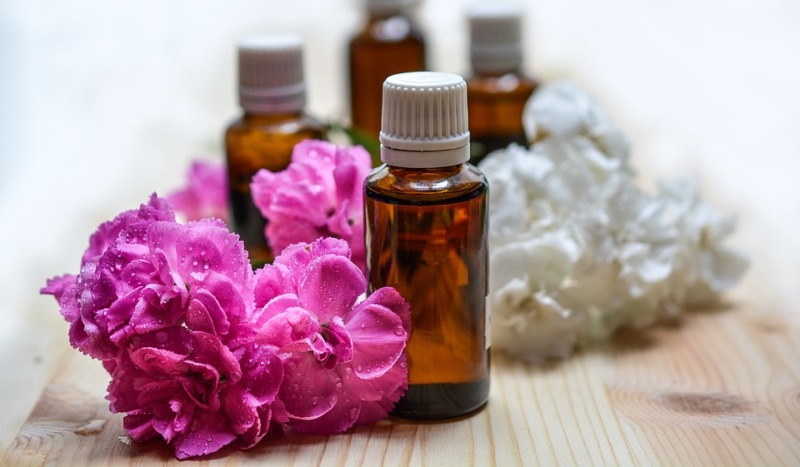 Image source: Google, copyright-free image, under Creative Commons License
A mixture of the right essential oils can help you treat the condition effectively at home, without any intrusive medical method. Essential oils, when massaged onto the affected area can increase blood flow and undo any knots or obstructions that might be causing your condition. It also gives you long-term relief from the symptoms of varicose veins.
For one of the most perfect home remedies for varicose veins, mix 3 drops of lavender oil, 3 drops of chamomile oil, 3 drops of carrot seeds oil and 1 teaspoon of St. John's wort in a cup of water. Soak a washcloth in this solution and use it as a compress on the affected area.
12. Cabbage poultice
Cabbage has a large amount of nutrients, which promote general good health. It contains potassium, sulphur, Vitamins B1, B2, iron, magnesium, and others, which prevents breakage in your blood vessels and clears any blockages that might have occurred.
Simply include more cabbage in your daily diet, either raw or in cooked form to imbibe the nutrition that this has to offer.
---
Suggested read: 10 Home Remedies That Will Help You Cure High Blood Pressure
---
13. Parsley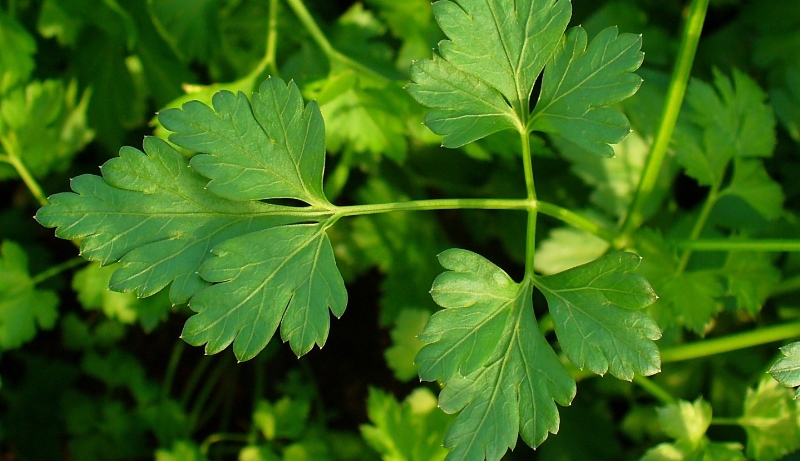 Image source: Google, copyright-free image, under Creative Commons License
Parsley is also an amazing home remedy for problems such as varicose veins because of the variety of benefits it has to offer. It is rich in antioxidants and Vitamin C, which prevent your cell walls from breaking and your blood vessels from getting damaged. It also facilitates repair and soothes the symptoms of varicose veins, including its symptoms.
You can either chew on a handful of raw parsley every day, which might be slightly unpleasant, which is why you can always include it in your salads and as a dressing. You can alternatively boil a handful of parsley in water and after the solution cools, mix it with a little essential oil and use a cloth to apply it to the area.
Once you are equipped with these super handy home remedies that have tried and tested extensively for varicose veins, you will have no trouble getting rid of the problem within a few weeks of regular, regimented use.
Featured image source: Google, copyright-free image, under Creative Commons License
Summary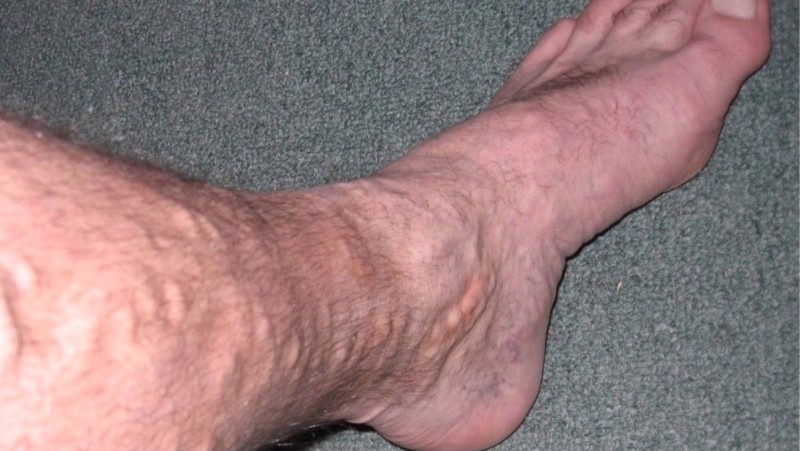 Article Name
13 Superb Home Remedies For Varicose Veins That Actually Work
Author
Description
Check out these completely natural and herbal home remedies for varicose veins, to solve your problem easily and get rid of the symptoms fast.