The market is literally flooded with numerous dating apps which are vying to capture people's attention through various means. There are newer and better dating apps that cater to people's expectations, and then some. One such new entrant into the app market is Cliick.
Putting Tinder and all its clones by the wayside, Cliick has come up with a rather different strategy to match two people up. The new dating app puts relevant content in its newsfeed, which the user can flip through. This is the commonality that will be used by the app to match two people on the app, i.e., people who share common interests.
Cliick's founder, Moe Rafiee, is all for growing connections organically between the dating app's users. According to Rafiee, this organic connection is a more meaningful than the swipe mechanism favored by so many different apps.
Explaining the concept of Cliick to TechCrunch, Rafiee said,
"We are aiming to bring the real-life experience of meeting new people organically to the virtual world in a meaningful and efficient way."
---
Suggested read: Cheek'd dating app hopes to bridge missed connections even in subways
---
Further,  he explained,
"Cliick adds context to the encounters as when a user finds another user interesting, he/she can start a conversation with the other user by replying to the comment the other user posted on a piece of content."

"In other words, the comments (and the corresponding content) act as an ice breaker and will allow a conversation to develop naturally giving users an opportunity to get to know each other a bit more and see if there is a good enough connection between them before investing time in meeting each other in person," he said.
According to Rafiee, this approach kills two birds with one stone – the shared interest will act as an ice breaker to start a conversation with the other user, while also helping the users to figure out whether or not they'd like to get to know the person on the other end of a comment. Another important distinction between Cliick and the rest of the dating apps that Rafiee likes to explain is that since the initial conversation takes place based on the shared interest/topic from the newsfeed, it eliminates the snap judgment process of selecting whom to interact with. It eliminates superficial connections that are based on photoshopped profile pictures and embellished profile details. Users don't have to waste their time dating someone who doesn't share any similar interests with them.
On the other hand, if, even after sharing the same interest, users don't want to take the date further, they'll have become part of a network of individuals who share the same interests. Users would've made friends, if not a date. The trending content which will be sourced from media sites like BuzzFeed, BoredPanda, Upworthy, and the like, will help users stay on top of trending news pieces, with a pinch of dating on the side.
Oh, one more thing. To have a 'well-balanced user community,' Cliick is currently invite-only, and is available on the iTunes App store.
If Cliick is something you'd like to try, go ahead and ask for an invite now. And share your experience with us in the comments below!
Summary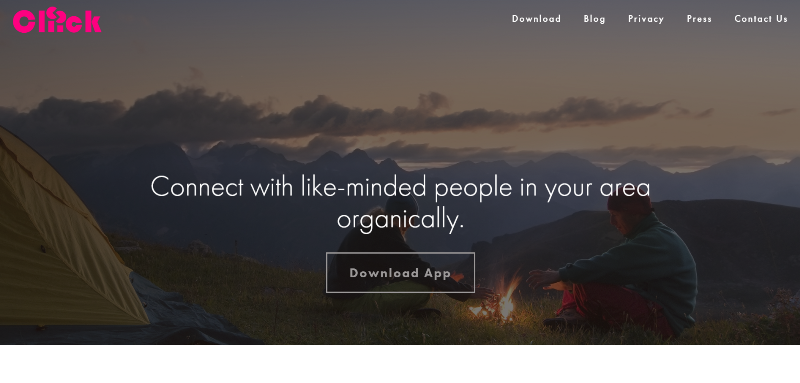 Article Name
Cliick Dating App Connects Users Based On Shared Current Events
Author
Description
Cliick is a new dating app that hopes to connect users based on the trending news that users read on their newsfeed. Interesting, eh?