Tinder might be the go-to dating app for all the singles out there, but following in its footsteps, many other niche dating sites have popped up, claiming to help you find your perfect match. One such niche sector is the Christian community, and Collide, a new dating app launched on April 18th, 2015, wants to cater to the community specifically.
Similar to most dating apps of the day, Collide Christian dating app needs you to sign up using your Facebook account. Once you're done with that, you're asked two questions – one, your gender, and two, your favorite Bible verse. You know, so that your potential matches might use it as a conversation starter. Next comes the part where you have to choose who you're interested in dating – males or females. And this right here, this inclusion of LGBT community is unlike what Christians would do, I'm guessing.
Anyway, after that is the part where you choose your denomination. These are the options that the Collide Christian dating app lists out for you:
Christian
Assemblies of God
Baptist
Catholic
Church of God
Church of the Nazarene
Congregational
Disciples of Christ
Episcopalian
Evangelical
Jehovah's Witness
Lutheran
Methodist
Mormon
Orthodox (Eastern)
Presbyterian
Pentecostal
Quaker
Seventh-Day Adventist
---
Suggested read: Score dating app is more an online dating game
---
Whew! Next is the process of filling up your profile details, which is done pretty quickly, unless you take a lot of time typing up a small paragraph about yourself, which acts as your bio. And like most current crop of dating apps, Collide Christian dating app is location-based, and coughs up matches based on that and age.
After you've set up your profile, it's fairly simple to navigate through the app, which is similar to Tinder. The app coughs up profiles based on location and age and your set preferences, and you get to either say 'yes' or 'no' to a match. If there's a mutual 'yes,' then you can start chatting and get to know each other.
Although Collide operates much like Tinder, it doesn't list out the common interests that you and your match have in common. Nor does it display any information as to who the common friends are, only the number of common friends you both have.
There are paid membership options as well:
# To know who the common friends are between the two of you or how far exactly is your match from you, you'll have to pay 99 cents per match
# To get a denominational filtering, you can pay a one-time fee and get a premium feature for $4.99
# To get unlimited access to both of the above mentioned features, you can get Collide Premium by shelling out a one-time fee of $19.99
The Collide Christian dating app was founded by Steven Gaan, Nelson Wang, and Steven Rueter. Talking about why they created Collide, Wang said,
"The reason we made the dating app is because we've always been focused on one goal – helping people make deep and meaningful relationships with others. And we felt the Christian community didn't have a good way to do this with mobile apps, so we wanted to solve that problem."
Since it's a very new app, not many people can be found on the app. But that might soon change if this niche Christian dating app takes off.
Good luck, you guys!
Summary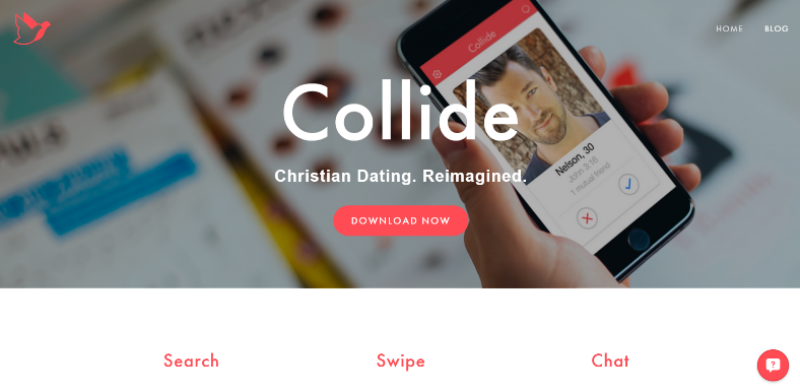 Article Name
Collide Christian Dating App: Tinder For Christians?
Author
Description
Collide Christian dating app, which was launched on April 18th, is being called the 'Tinder for Christians.' Check out how it works.