The new moon is in Sagittarius and it heralds the dawn of a new cycle. One may feel inclined to focus on constructive aspects of life- with goals that widen one's horizons and relationships that broaden one's understanding. With Sagittarius energy comes in an enormous amount of enthusiasm and optimism that can easily result in a tendency to overdo things. Watch out for that clash. With Venus squaring Uranus, your values and activities may clash- resulting in potential struggle, instability and tension. You may experience restlessness in relationships, some challenges at work and a potent tug of war between independence and intimacy.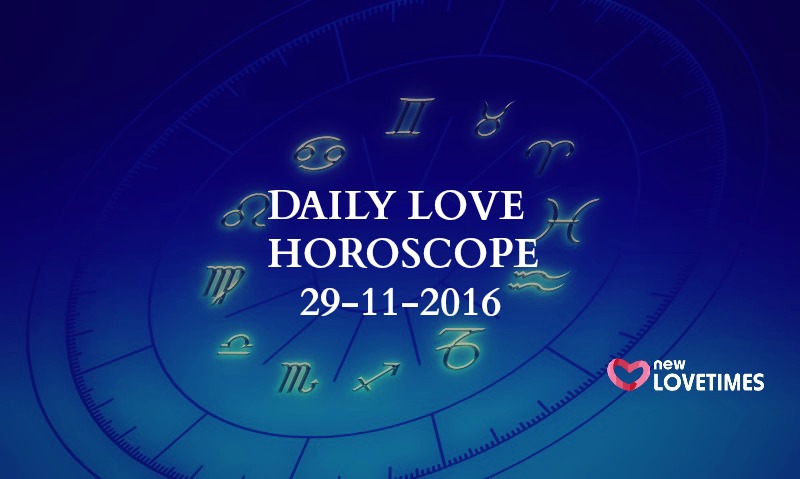 If you wish to transcend the challenges of the day and make the most of the stars aligning in your favor, read your daily love horoscope here:
---
Suggested read: Your monthly love horoscope for November
---
Aries horoscope
Love and relationships: You may want to take a break from the 'regular' and experience the magic. Don't hesitate to embark on a new adventure. You need to heed your desire for change but do not jump into something that you aren't prepared for.
Health: Try to avoid overdoing things- as it may result in considerable exhaustion.
Work: You may want to initiate new projects that go beyond the routine aspects of work and increase your skills and widen your experience. You are itching for a new direction and you can trust your intuition to take you where you want to be.
Money: Watch out for impulse buys at the moment.
Favorable color: Sea green
Taurus horoscope
Love and relationships: If you've been holding on too tight, you may want to confront the dependency. However, avoid the big decisions today.
Health: You need to take special care of your eyes- try to get ample sleep.
Work: With new moon in your sector of transformation, you may experience an enhanced awareness of yourself and all else, thereby finding new methods to empower yourself and make slow, yet steady progress.
Money: You may want to hold off financial decision-making at the moment as you may act on whim rather than reason.
Favorable color: Royal blue
Gemini horoscope
Love and relationships: The new moon invests you with ample energy to cement your relationship today. You shall balance out your needs and desires and solidify your bond by establishing a companionable communication channel.
Health: You may feel zapped of energy during the latter half of the day. Avoid overexerting yourself and ensure that you replenish your energy reservoirs at intermittent intervals.
Work: You may face potential challenges at work today. However, trying to be agreeable without compromising your integrity or allowing someone to walk all over you should be an important goal.
Money: It can be difficult to understand if the time is ripe to break a deposit in the bank. Wait it out and a solution shall pop up.
Favorable color: Black
Cancer horoscope
Love and relationships: You may be testing the waters in a relationship and feel a mixed vibe in the air. If someone is playing hot and cold, do not play into the energy, but simply wait it out.
Health: With the new moon working like a shot in the arm, this is an excellent week to take charge of your life and indulge in self-care. Amp up your routine by adding structure to your workout and build a healthy diet.
Work: You may be accomplishing much at work, albeit in an indirect, yet powerful manner. Reorganize your goals and focus on getting center stage.
Money: Try and find the motivation to build on your savings, instead of tapping into them, whenever the current funds run dry.
Favorable color: Brown
Leo horoscope
Love and relationships: You may experience a push-pull energy in your relationships that may cause you to act on impulse. Watch out.
Health: Try to tap into more creative and fun ways of keeping fit.
Work: You aren't particularly in the mood for chipping in desk-hours. You may want to take on projects that allow you to express your authentic self.
Money: You may want to check any impulses to make a major purchase today.
Favorable color: Vermilion
---
Suggested read: Why you shall fall in love with her, based on her Zodiac
---
Virgo horoscope
Love and relationships: The dynamic energy invested by the new moon is ideal for making changes in the personal and familial sector- whether it be in the home environment, relationships or even your bond with self.
Health: You may feel tensed about new changes, as some of them may be sudden and disruptive- but you could benefit by activating your inner energy at the roots with the help of meditation.
Work: Work takes a backseat as you are fixated on improving your personal sector- thereby, holding off important decisions at work may be a wise idea.
Money: It is important that you hold off any financial decisions until you are in the ideal state of mind to weigh the pros and cons.
Favorable color: White
Libra horoscope
Love and relationships: It is important that you figure out what you want from your relationship. Being indecisive isn't just a deadly spiral of self-sabotaging behavior but is hurting your partner as well.
Health: You may want to steer clear of heavy weightlifting- as you shall be prone to backaches and injuries.
Work: Your mind wanders off at work and it is likely that you may make an irredeemable mistake. Try to keep your wits about you and concentrate on the tasks at hand.
Money: Money isn't an area of concern today. However, you may want to spend judiciously.
Favorable color: Ruby red
Scorpio horoscope
Love and relationships: While being assertive can be a good idea in relationships, patience is important too. You may want to fine tune your approach to a more subtle one, just ensure that you do not dial it down so much as to make it seem too much of a cop-out.
Health: You may deprive yourself of water today- stay hydrated.
Work: Making an important decision might come tough today. Tossing some ideas back and forth and laying them down on the table for a comparative analysis may be a good idea.
Money: While making a financial decision, think about the worst possibility.
Favorable color: Indigo
Sagittarius horoscope
Love and relationships: Sometimes, it takes a lot more than love to make things work. This is one of those times. It may be a good idea to probe your partner's needs and find out what she wants.
Health: Do not overexert yourself today. You cannot afford to skip gym after work.
Work: It is time to drop those excuses, stop with the tall talk and prove your merit in action. Your peers want to see the 'you' that got you here, in the first place. Show them you've still got it!
Money: Do not invest in real estate.
Favorable color: Yellow
Capricorn horoscope
Love and relationships: You are likely to devote so much time to romance that your partner may end up feeling stifled. It may be a good idea to invest time in giving each other some space.
Health: It is recommended that you add a healthy dose of fruits and juices to your morning breakfast.
Work: You may be tempted to push the limits with an authority figure but rein in the impulse. It isn't a good idea to toy with boundaries at work and see just how much you can (or cannot) get away with.
Money: Spend only as much dough as shall keep some left in the bank, at the end of the month.
Favorable color: Pink
Aquarius horoscope
Love and relationships: It is a ripe time to deepen that connection you've felt has 'potential' for something more.
Health: You may want to keep away from caffeine, nicotine and other addictive substances.
Work: You are in no mood to abide by the rules. But do not overstep your boundaries today. If you so wish, take an off and amble along in the city.
Money: An unexpected source of income discloses itself.
Favorable color: Grey
---
Suggested read: Here's what your soul mate will be like, based on your Zodiac
---
Pisces horoscope   
Love and relationships: You are anything but predictable today. But do not make a habit of this or you may end up pushing your partner farther away.
Health: A power nap or two may help you get through a wonky work day.
Work: Improvements are the call of the day- you may wish to let go of negative energy and focus on work goals long relegated to a neglected realm.
Money: Since you are reveling in fresh, invigorating energy, it may be okay to loosen the purse strings and splurge. Don't go overboard, though.
Favorable color: Maroon
Sign up to our newsletter to receive your daily love horoscope in your inbox. It comes enveloped in loads of love!
Summary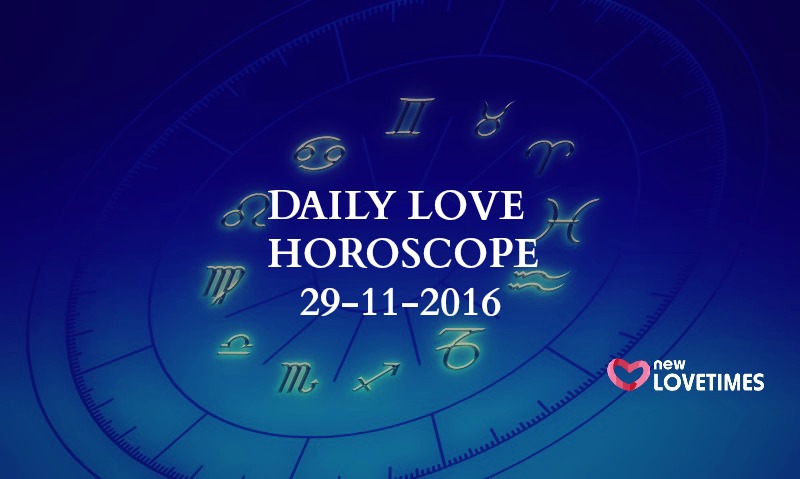 Article Name
Daily Love Horoscope For 29th November, 2016
Author
Description
Here's your daily love horoscope for today. Check it out to see what the stars, the planets & the universe have conspired for you!