If you're active in the dating pool, you have a plethora of options to choose a person to go out with – Tinder, Bumble, Happn, Hinge, Clover and what not. While it's true that the dating pool expands, so does the creep factor of people who just can't take no for an answer, or are perfect on a phone screen but all kinds of wrong in real life, or are plain creeps who scare the bejeesus out of you!
It's almost inevitable that you find yourself on a very bad date. So how do you get out of the bad date? Have your friend call you with a fake emergency? Come up with an elaborate plan to make them think that they're the one who's ditching you? Or just man/woman up and walk out by telling them it just isn't working out?

Image source: Tumblr
Apparently, you don't have to work so much to get out of a bad date anymore. There's a new dating app called Bod, which stands for bad online dates, that comes to your rescue. Bod is essentially a dating app that helps you ditch a dud of a date in favor of another date, possibly with another person who is in the same predicament as you.
Bod is a geo-location-based app, and is described as 'the mop-up crew for all the other dating sites and apps by giving the dater an OK to leave and find someone that's potentially a better match.' In essence, if you use Bod to get out of one bad date and end up with another date, then your odds are not so great, because you chose that person on Bod out of desperation. That is, you chose that other person as a back up plan, a plan B, if you will. But how good would that date be if you chose them in desperation?
Since you're already out and about on a date, Bod urges you to meet the new date almost immediately after ditching the dud. Quicker responses and immediate meets are one of the main features of Bod. Another plus is that if you found a date on Bod out of desperation, then you and the new person you're going on a date with have something in common to talk about – your respective dud dates. Instant ice breaker, eh?
---
Suggested read: New dating site, Awake Dating, wants to connect conspiracy theorists
---
However, this is not the only way you can meet someone on the new dating app. You can meet someone interesting from the comfort of your home too.
Jennifer Kelton, the founder and CEO of Bod, said,
"With modern technology's capabilities, the dating industry has a responsibility to help people make the best use of their time, money, and energy – things that all get wasted while on a bad date. This app gives control back to every dater."
Once you've downloaded the Bod dating app, you can enable the 'Date Mode,' which makes your profile visible to other local app users. It also allows you to set the radius you want to look for a date in the app settings.
Further talking about why the app makes a difference, Kelton said,
"Roughly 11 percent of Americans use online dating and apps – that means millions of people get stuck on some potentially very bad dates. The more time people spend on bad dates, the worse they feel about dating  and their prospects. The Bod app gives users an opportunity no other site or app can provide: a redesigned approach to dating, one that returns control of their bad date night to users by introducing new matches in real time, and without all the time sucking of texting and emailing."
The app has versions for both iPhone users and Android users ready to download.
So if you're one of those people who is pessimistic and always has a plan B in your arsenal, then Bod dating app is the just the thing for you. 😛
Featured image source: Bod
Summary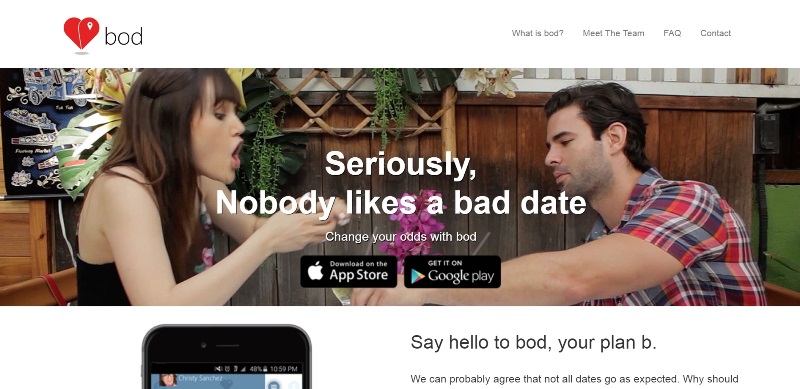 Article Name
Ditch A Bad Date With The New Bod Dating App!
Author
Description
If you're stuck in a bad date, no need to come up with a fake emergency. Use Bod dating app to go on another date!