With numerous dating apps available on the app store, an average user/dater is spoilt for choice. And it's not easy being under a rock when people come up with new and newer ways to connect daters with other daters. With the claim that the newly launched app will solve all of the problems of the existing dating apps, there are a plethora of choices to choose from.
Siren, a Seattle-based female-centric app – check.
Whim, which lets you go on a date at your convenience – check.
Bumble, from ex-Tinder employees – check.
Bristlr, for beard enthusiasts – check.
Courtem, hopes to bring back courting – check.
Dapper, hopes to bring back chivalry – check.
LUXY, for the rich and good-looking – check, check, and check.
Phew!
You really have a lot of options when it comes to dating apps. But ruling the roost is Tinder, with its characteristic 'swipe left, swipe right,' that is sort of addictive.
But a relatively new dating app, Hinge, dubbed a 'classier' version of Tinder, was launched last years in the US. In that period, the app has experienced an explosive growth, which raked in more than $16 million in funding. The app which was till now available in cities like New York, San Francisco, Dallas, Atlanta, Los Angeles, Washington DC, Boston, Philadelphia, and Chicago, launched in London in mid-February, and has launched in Toronto, Canada, recently.
Just like in Tinder, a user needs to sign up to Hinge using their Facebook account. This is the only similarity the latter shares with the former. While Tinder is all about going through numerous dating profiles, swiping left or right based on your choice, Hinge connects users with each other only if they have mutual friends or acquaintances. In other words, while Tinder and other such apps connect people who are 'physically' close to each other, Hinge is all about connecting people who are 'socially' close to each other – be it through friends, career, or similar interests.
Unlike in Tinder, Hinge provides its users a daily list of potential profiles of other users, who are loosely connected to them via mutual friends and/or acquaintances. And if the interest between two users is mutual, then they can start messaging each other, and possibly even take the interaction offline too.
The company is positive that by working with the potentially smaller and limited pool of "partners," it has successfully brought back an element of authenticity to the world of online dating.
Karen Fein, Director of Marketing for the company, said,
"Hinge is all about bringing (online) dating back to reality." Further, she added, "You shouldn't have to turn your love life into a science experiment or fill out incredibly long profiles that read like personal ads …  we believe that it should be easier to meet people naturally."
And since a user is most likely introduced to a friend of a friend or acquaintance (however many times multiplied!), the whole experience is akin to meeting a friend of a friend at a party.
"People are really craving a more natural way to meet someone … Everyone would really prefer to meet someone through friends," she said.
Speaking about connecting people who are socially close rather than physically close, Fein said,
"We believe that this is a better way to find someone with whom you share a lot in common."
Further, taking a not-so-subtle jibe at Tinder, Fein said,
"Instead of a swiping game where you're basically swiping in your PJs all night, we're focused on showing you up to 20 people per day who we think really relevant for you."
Hinge, which is available in the Google Play store as well on the iTunes store, hopes to grow similarly in the UK and Canada as well.
Summary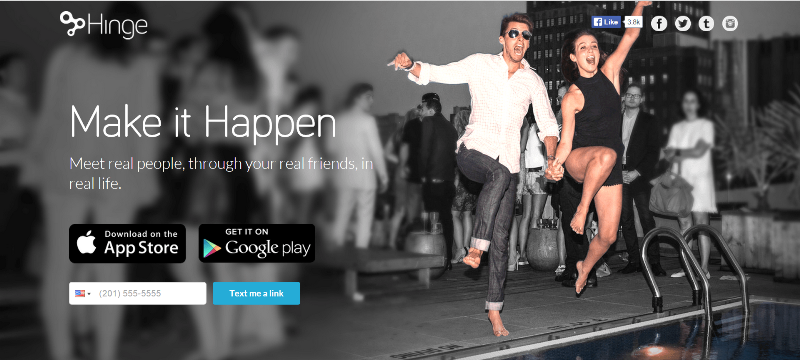 Article Name
Dating app, Hinge, is a 'classier' version of Tinder
Author
Description
A relatively new dating app, Hinge, is being dubbed a 'classier' version of Tinder. Here's a look at its features and how it works.