Geeks everywhere, it's time to rejoice! A new dating app specifically for geeks is launching Tuesday, in an attempt to bring like-minded geeks together and form long-lasting connections.
The DragonFruit app is the baby of Project DragonFruit, a New York-based company, which uses a unique matching algorithm to match two geeks based on their mutual geeky interests.
Image source: DragonFruit
DragonFruit was founded by lawyer and self-proclaimed geek Orie Enav, and is proud of the fact that the app didn't use any pre-existing code and is trying to create a platform to make the geek community feel welcome and to help them form long-term connections.
The app was created by people who know what it's like to date as a geek.
---
Suggested read: Boompi dating app lets your girlfriends eavesdrop on your messages
---
DragonFruit asks its users to choose what kinds of 'nerdy' things they are into or are fans of. The options include Star Wars, Game of Thrones, Dr Who, Lego, Superman, Avengers, Harry Potter, Lord of the Rings, World of Warcraft, Halo, etc., According to the app, the larger the number of fandoms you're a part of, the higher your level of 'geek.'
Users can fill out their 'origin story,' which is geek-speak for the 'about me' section. Then, the app matches users with fellow geeks using its 'Geekdex matching system,' which is based on their interests, their levels of 'geekdom,' and any other factors that pop up in their origin stories, aka profiles.
Image source: DragonFruit
Speaking about DragonFruit, Enav said,
"With the proliferation of online dating apps and services, we've found that many geeks feel the need to put on a secret identity just to impress their matches. We believe you should not have to disguise yourself as Clark Kent just to find a date. Instead, we want folks to feel comfortable in their own skin and be themselves on DragonFruit. Be Superman."
Talking about how DragonFruit has its own place in the dating industry, Enav said,
"Part of what sets DragonFruit apart from the other dating apps out there is knowing that when you create an account, you know you're starting within a developed geek community. The DragonFruit environment is one where users can let their geek flag fly and be proud of their geekdoms."
Further, he went on to say that,
"Users can feel confident that their matches on the DragonFruit app will be from a like-minded community that shares their interests and passions."
The app is free to download from both the iTunes store and the Google Play store.
Are you a geek? Excited about DragonFruit and what it can do for your love life? Share your thoughts in the comments below.
Featured image source: DragonFruit
Summary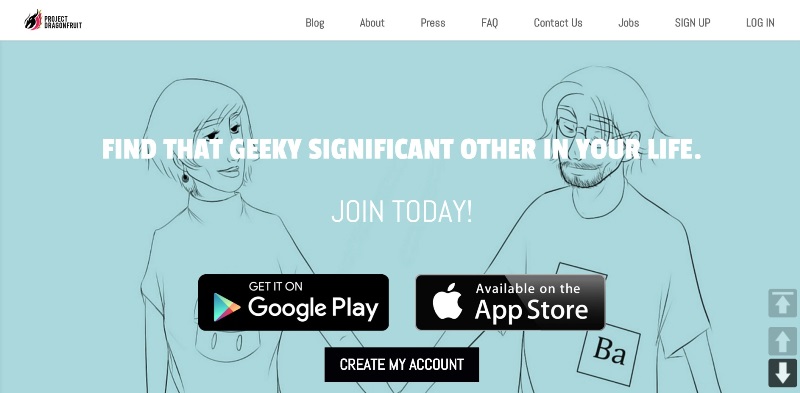 Article Name
DragonFruit Dating App Wants To Help Geeks Find Love
Author
Description
A new dating app, DragonFruit, wants to help you be Superman and find love, instead of wearing the disguise of Clark Kent.