The world of dating apps decidedly leans towards catering to the Western world, with a handful of them even trying to cater to the rest of the world, especially the Middle East. The Middle East is known for its conservative outlook and stress on traditional values even now, or (should I say, especially now?). You can't even imagine using some of the niche dating apps like Grindr or Scruff or Hornet by homosexuals, or even Tinder, for that matter, because of rigid constraints on what women are allowed to do and what they aren't (with heavy emphasis on the latter.)
So, three Beirut-based co-founders, Caline Nahhas, Andy Tarabay, and Jad Arida, came up with a new dating app, Matchmallows, which has been specifically designed to cater to the non-Western dating culture. That means, posting of photos is optional, which, most of the Western dating apps do not allow.
Talking to Daily Dot, Tarabay said,
"Here in the Middle East, it's not like in the States. Especially women, they're not really comfortable putting up a lot of photos of themselves."
Calling itself as the digital convergence of 'the math and intelligence of Match.com, and the fun of Tinder,' Matchmallows is decidedly for non-Western users. Nahhas told Daily Dot,
"The main purpose of launching Matchmallows was the trending apps today are all related to appearance, it's all about pictures. On the other hand, people here in the MENA (Middle East and North Africa) are afraid to publish their real names and their pictures."
Basically, Matchmallows wants to bill itself the anti-appearance-based app, if its features are anything to go by. As mentioned earlier, photos are optional, but Matchmallows focuses on users' personality traits rather than their appearance. While this feature is mostly useful for women, most men's profiles do have pictures.
---
Suggested read: CrewMe is the new Tinder-style dating app for pilots and cabin crew
---
Unlike most other dating apps where a user's profile is populated with data pulled from their Facebook profiles, Matchmallows asks its users to complete a personality questionnaire, comprised of 27 questions that determine their leading characteristics. What's more, these questions are image-based, and not multiple-choice questions. A user is asked to pick one among four images for a question, that best depict their answer.
Most dating apps insist that users use their real names, at least real first names on their profiles, which is not the case with Matchmallows. Plus, a user is not compelled to answer any questions related to their profession, height, income, astrological sign, or any other information that is readily available in most other dating apps. All that a user can see is how compatible they, a score that is calculated based on the answers to the image-based personality questions.
Matchmallows is currently available in both iOS and Android versions, in about 25 languages. A photo- and video-sharing feature is in works for the app. This is a feature that allows users to discreetly share their photos and/or videos, without displaying it to the entire user base.
We wish Matchmallows all the success in its endeavor. Good luck, you guys!
Summary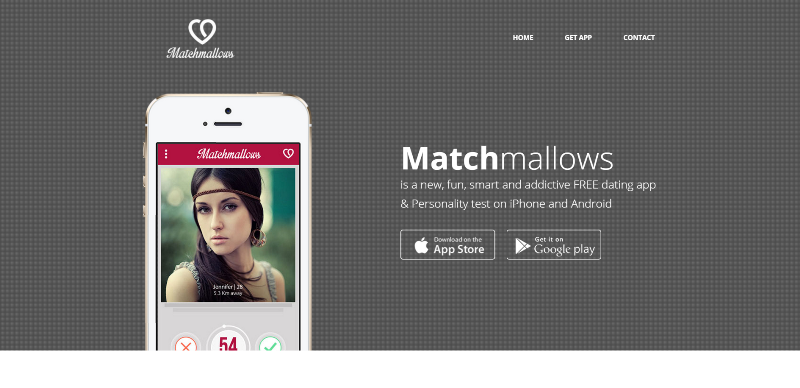 Article Name
Matchmallows Dating App - The Middle-Eastern Tinder
Author
Description
Matchmallows is a new dating app, dubbed the Middle-Eastern Tinder, that caters to the non-Western regions. Check it out.