It's about time that we acknowledge that there aren't just two genders – male and female, who are either heterosexual or homosexual. There are many gender identities and sexual orientations, and to cater to all these, a new dating app called OneGoodCrush has entered the stifling world of dating apps. However, with the numerous options available to identify oneself, OneGoodCrush sure has made a splash in the online dating world.
Frank Mastronuzzi, co-founder of OneGoodCrush dating app, said that his product was for people looking for real, serious relationships, and not for casual hookups.
With the inclusion of all the gender expressions and sexual orientations under one umbrella, the dating pool sure has gotten a lot bigger and wider. But will the fishing be easy in such a large pool? It will be, said Mastronuzzi.
"We wanted to be inclusive of everyone – even heterosexual people can use our app," he said. "Letters on LGBTQ keep adding over time, but wherever you fall on this spectrum, you have a place on this app."
---
Suggested read: Netfling dating app aims to help Netflixers find love
---
Talking to USA Today about the new dating app's inclusion of transgender men and women, Trish McDermott, strategic adviser for OneGoodCrush, said,
"We as a society have really evolved around transgender rights and accepting everything. Even sports and the military have begun accepting different definitions of gender and online dating is one of the last bastions separating people."
OneGoodCrush dating app works like any of the other dating apps currently available, in that it is a location-based app which asks the user to register via their Facebook and Instagram accounts, and voila – their profile is populated with information from there. A user can claim their own gender identity from the 5 options offered – man, woman, transgender man, transgender woman, and queer. They can also choose the gender(s) that they are looking for too.
Next is the page that offers matches based on the user's location, which you can either 'crush' for a yay, and 'no' for a nay, done via a right swipe for the former and a left swipe for the latter. If two users 'crush' on each other, then they can start chatting privately through the messaging feature of the app.
Since its soft launch three months ago, OneGoodCrush dating app has garnered around 100,000 users, of whom 57 percent identify as gay, 37 percent identify as lesbian, four percent as transgender, one percent as queer, and less than one percent as straight.
This refreshing new app sure gives a larger pool to find someone you like, but on the other hand, it also makes it a bit harder to pick that 'someone' from such a diverse group of individuals.
We hope more such inclusive dating apps crop up. Good luck, OneGoodCrush!
Summary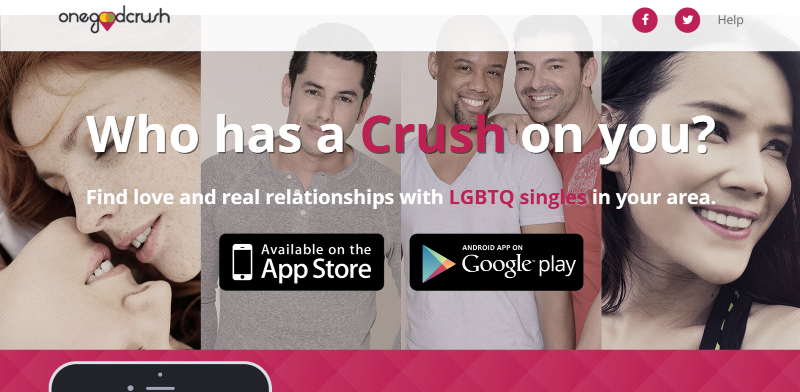 Article Name
OneGoodCrush Dating App Is Inclusive Of All Gender Expressions And Sexual Orientations
Author
Description
OneGoodCrush dating app is a groundbreaking new app that is inclusive of all gender expressions and sexual orientations. Check it out.