Sure, Grindr is the big dinosaur of the gay app business. But new entrants like Scruff and Hornet on the gay-scape of online dating are sure whisking away sizeable chunks of the dino's meal. Reason – Grindr has put its nose to the grindstone in all the wrong ways! Now, before you dismiss this as another of my ranting diatribes (coz I somehow, seem to give that impression when I am reviewing dating apps), give me a chance. Hear me out, folks.
I am not contesting the fact that Grindr is sure chewing on quite some sizeable wads of green, and rightly so. I mean, if these gay dating apps out gross the major smart apps on the store (the biggies like Okcupid, eHarmony, and even Whatsapp), they must be doing it right – and that too by banking on merely 2.5% of the populace for its survival. All I am saying is that the household name, the reigning king of the gay-scene in online dating has a new and WORTHY competitor.
---
Suggested read: TatChat is Tinder for the tattooed!
---
Hornet app, launched in 2012, not only raked in $500K in funding, packed in over 150,000 users in less than six months of its launch but has, true to its name, stirred things up on the gay dating scene. And here's why it has managed to kick the nest and challenge the king and his kingdom:
Unlike Grindr, Hornet app allows you to save and store certain users to continue chatting later as against the one-off connection that most dating apps on the app-scape resort to. Another clearly distinctive and highly relieving feature that puts Hornet on a higher pedestal than the biggest player in the game, Grindr, is its feature to permit search in different areas, rather than a default search of one's location that many Grindr users find creepy, restrictive or plain seedy! But most of all, Hornet's claim to fame is its integration of impeccable security features vis-à-vis it allows its users control over the broadcast of their profiles, thus reducing their vulnerability in an entirely open map-based display. Hornet takes safety a notch higher with the integration of KYS (Know Your Status) through which users are reminded to get tested for HIV and tested users are given a special marker so users know they are in a safe environ.
Available on an iOS device, Hornet app is a fun gay dating app that uses the same old swipe technique – with the left-right use reserved for profiles and the up-down swipe for browsing with a GPS system acting as a gay radar to filter the queer pool for you. As already mentioned, the explore feature allows you to explore other geographical locations for more profiles. The Cruise and Chat feature allows you to chat with, meet dates, and show them around the city. Furthermore, the global cruising, selective filtering, public/private photo ensemble and even the interface are all in attack-mode!
And while such things sure float Hornet's boat on a high tide than Grindr, you'd have to possibly download it and see if it fits your bill!  As for me, Hornet seems to be blaring all the right horns to give Grindr a fair warning!
Summary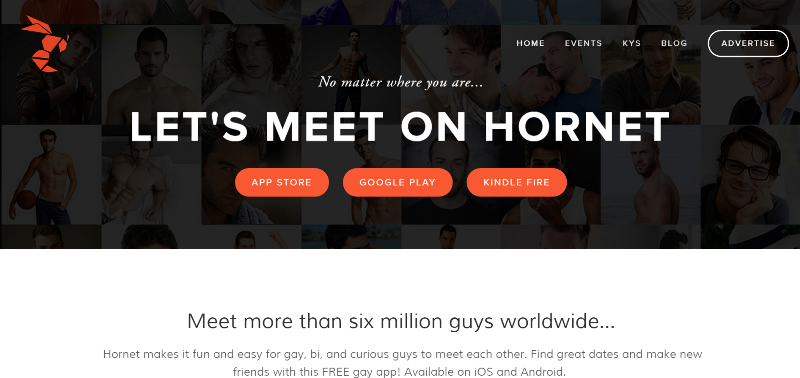 Article Name
Hornet App Is All Set To Give Grindr A Run For Its Money
Author
Description
Hornet app is a hat trick old gay dating app that sure is giving the gay app-scape giant Grindr some stiff competition. Check it out.