The eldest son of a family of six – parents, two younger brothers and a younger sister – is exposed to the teachings of the great RSS from a very impressionable age. His father worked as a secretary of a whole region in Maharashtra for the RSS. Imagine the 'teachings' that he might have come across in his youth to make him the egotistical, chauvinistic, misogynistic man he is now. I shudder to even think.
Meet Mohan Bhagwat.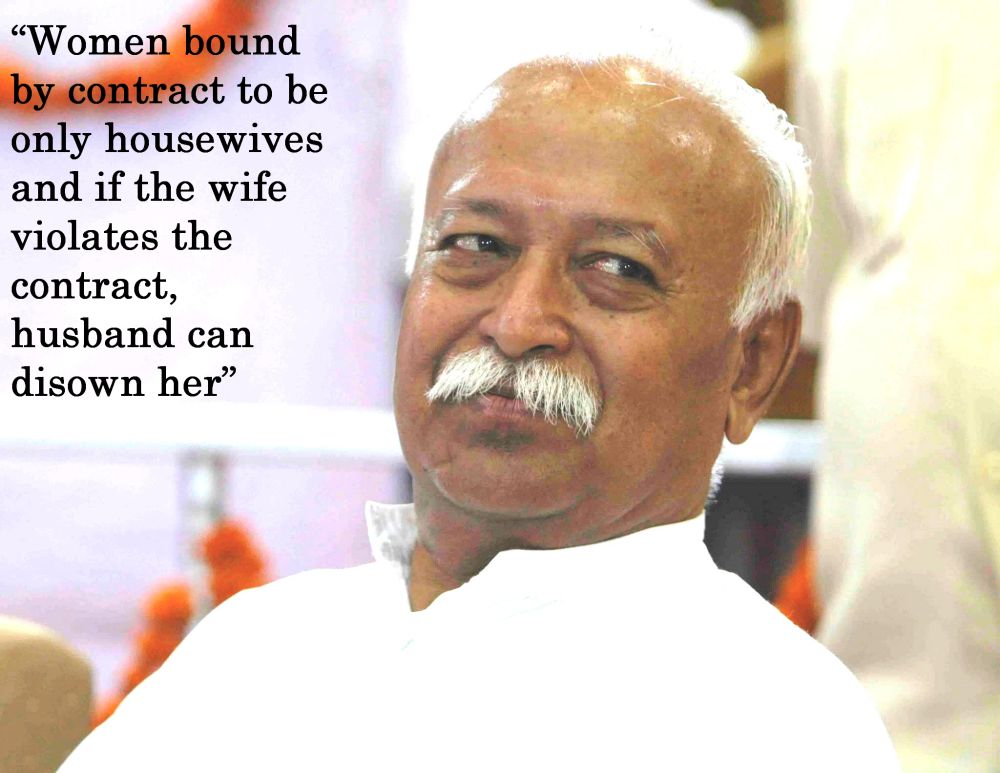 One interesting tidbit from his youth is that he was enrolled in the Veterinary Sciences & Animal Husbandry course for his undergraduate degree. I wonder what an amazing place India would've been had he continued on that path and kept himself surrounded by noble creatures such as cows, buffaloes, dogs, cats, et al. Hmmm. Wishful thinking will get us nowhere!
Did you know that he was linked with the Samjhauta Express, Mecca Masjid and Ajmer Sharif blasts, but was let off the hook due to his powerful connections and lack of witnesses? I don't know why the cops couldn't nab this Hindu terrorist, when they're keeping innocent young Muslims in decrepit cells for "interrogation" on suspicion of "terrorism." I don't think he was even arrested, let alone held for questioning. So much for equality and justice!
Anyway, a few days ago, he succumbed to the huge epidemic ailing our politicians – the foot in mouth disease. And that too in a subject that wasn't even his area of interest, so to speak. Apparently, speaking at a public function, the inimitable Mohan Bhagwat said that highly-educated couples were more likely to file for a divorce than their less-educated peers. How cools is that? According to him, education, which empowers one and all; education, which is so important, that it was made a right of every citizen in the country; education, which gives even a common person dignity, an equal opportunity, and wisdom, is to be blamed for the increasing divorce rate in the country.
Amazing how this dude's brain works, isn't it?
I don't know whether to laugh or cry at this latest eruption of the dreaded foot in mouth disease from Mohan Bhagwat.
So, in short, what he's implying is that less-educated people persevere to be in abusive or incompatible relationships, but highly-educated people take back their power from such dead-end relationships and choose to move on with their lives. Does that even make sense in his head? I can only hope so!