"There are no limits. There are only plateaus, and you must not stay there, you must go beyond them."- Bruce Lee ("When I was four, I saw Bruce Lee and he became my hero!"– Tiger Shroff)
The boy with Mongolian features, noteworthy cheekbones, and woolly hair who danced his way into our lives with his debut film Heropanti has gained widespread attention for the jaw-dropping body that he carries around with such confidence. He may be a cub in Bollywood but the young man is training like one hell of a beast! Tiger Shroff's workout routine is strenuous and is thus, has everyone talking! NLT today has decided to reveal the star's training and diet plan to help all of you out there get that hot body as well!
Image source: Google, copyright-free image under Creative Commons License
Tiger, who junior trained Aamir Khan for his role in Dhoom 3, is not only equipped with a six-pack, but is also an avid soccer player. He once hoped to play soccer for a living.
"I realized that you cannot live on sports in India," says he, adding, "Unless its cricket, and that's too slow for me."
---
Suggested read: Flipping through the pages of John Abraham's fitness diary
---
Tiger is also a trained martial artist and has been an ardent dancer since his childhood.  His passion for martial arts had him surrender to it at the tender age of four. For the last six years, Tiger Shroff has been religiously training as a gymnast with his trainer Ziley Mawai. However, Tiger says that his hunger for a fit body through regular workout and proper dieting is not to look lean and trim in movies, though he finds it pretty gratifying that his hard work adds to his awesome looks!
The Inception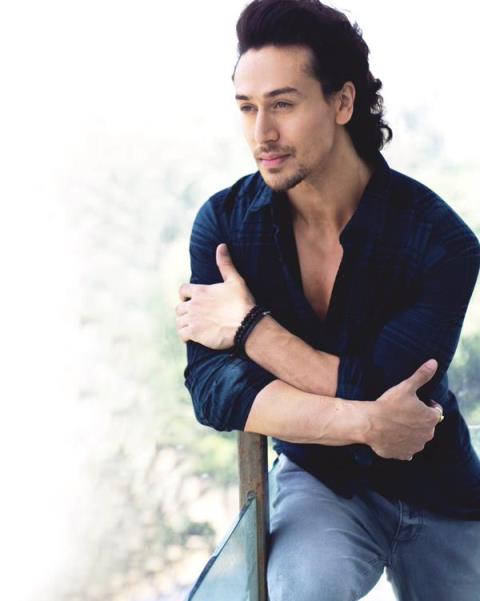 Image source: Twitter
Tiger shares that when he was fifteen years old he was a skinny kid of 5ft 3 inches. This fact humiliated him like crazy! Extremely concerned of his vital stats, the young boy started consuming tips from any and every men's health mag that he laid his eyes on! It is from these weeklies that he learnt about strength training. After finding a way to go about the whole thing, Tiger got into contact with a fitness center and started training himself through weight lifting workouts that were appropriate for him at that age. And from that moment on, there was no looking back!
The Mantra
All those who have watched Tiger Shroff onscreen are awestruck with his well-sculpted body. They have been wondering what the actor's fitness mantra must be. The good news is the incredible hot bod does not shy away from making his mantra public because he wants to be of the greatest help to all the fitness enthusiasts out there looking for guidance!
Tiger neither believes in nor advertises supplements. According to him, maintaining a balanced diet and working out with pure devotion is the only key. He is a sheer naturalist. Steroids are an absolute NO. The actor of 25 starts his day with the sun to practice with his teammates. He trains for about 5 hours, without missing a single day.  Splendid, isn't it?!
The Diet Plan
"I eat mostly home food and no carbs after 5 pm. You are what you eat and Sunday used to be my cheat day, when I could eat chocolate; but there are no cheats to a good body. Now, I don't give in."
Tiger, who is said to have been a health freak from the age of 15, eats very judiciously. Now that he has cultivated a taste for 'everything healthy', it is quite natural that he wouldn't be enticed by unwholesome items on a diet chart! No matter what day of the week, Tiger refrains from all foods containing carbs as much as possible.
However, to sculpt his body, Tiger knew he needed to put in more effort. He started following a limited but nutrient dense diet for all the days in the week. While realizing the harsh effects of foods high in sodium content, he chooses low sodium homemade nourishment. In addition to steering absolutely clear from all sorts of addictions—cigarettes, alcohol, and even supplements—Tiger also drinks several gallons of water in a day to keep his body hydrated at all times.
According to Tiger's trainer Rajendra Dhole,
"He doesn't veer from the diet. He eats boiled vegetables and meat. He has cheat weeks when he can have red meats (he loves beef), fried foods, cheese and ice cream."
---
Suggested read: Here's how you can get Hrithik Roshan's enviable physique
---
Here's a sneak peek into Tiger's daily food intake:
For breakfast: 8 egg whites and oatmeal
As snacks: Dry fruits and whey shake
For lunch: Brown rice with chicken or fish and boiled vegetables
Prior to his workout: Protein shake
For dinner: Fish; green beans or broccoli
Tiger Shroff workout regime
"Fitness should be a combination of muscular strength, body composition, flexibility, muscular endurance and cardio vascular endurance."
Tiger has been training with his trainers Zile Mawai and Rajendar Dhole for over five years now and he doesn't stop surprising the coaches with his dedication every single day that he hits the gym. Jay Chauhan gives him fitness lessons on Juhu beach on filmy fighting training.  In Jay's words,
"We work out for one and a half to two hours every day. We begin with stretching, pushups and running and practice leaps, jumps, high kicks, splits and punches." He goes on to say that he teaches kids also on the beach, the company of whom Tiger finds extremely comforting. "There are things they can do and things I can, so it's fun to play together and compete with each other."
Here's a glimpse of Tiger working out with his trainer Zile Mawai for his debut movie performance.
Tiger banks on heavy cardio for racing up his alertness and endurance. He practices rigorous strength training exercises to boost his muscle mass. He also practices martial arts, which is something he has been devoted to for years to enhance flexibility.
Tiger's trainer Dhole spilled the beans saying,
"We focus on strength training and keep the body fat percentage low. Tiger's body fat is 8 to 12 per cent. Everyone has a weakness, and Tiger's are his calves. They are strong, but need more attention to make the muscle development evident."
Here is how Tiger Shroff workout chart looks like:
Monday – Back and Pectorals
12 sets of pull-ups of 4-8 reps
4 sets of lateral machine pull-downs (80-85kg) 10-12 reps
12 sets of low and one-arm dumbbell rolls of 100 kg of 4-8 reps
Tuesday – Chest
12 sets of flat bench of 4-8 reps
12 sets of incline bench of 4-8 reps
12 sets of dumbbell press of 4-8 reps
12 sets of chest flye of 4-8 reps
Wednesday – Legs
4 sets of squats with 190kg weight on shoulders of 4-8 reps
4 sets of hamstrings curls with 90kg weights of 4-8 reps
4 sets of step-ups with 90kg weight of 4-8 reps
4 sets of barbells of 4-8 reps
4 sets of free squats of 4-8 reps
Thursday – Arms
12 sets of Olympic barbell curls with 60 kg weight of 4-8 reps
12 sets of dumbbell curls with 32 kg weights of 4-8 reps
12 sets of reverse curls with 30kg weight of 4-8 reps
12 sets of close grip barbell presses of 4-8 reps
12 sets of press downs of 4-8 reps
12 sets of skull crushers with 68kg weight of 4-8 reps
Friday – Shoulders
12 sets of knee and shoulder press with 90 kg weights of 4-8 reps
12 sets of military press of 4-8 reps
6 sets of lateral raises using dumbbells of 4-8 reps
6 sets of lateral raises using machine of 4-8 reps
12 sets of rear flyes with 40kg weight of 4-8 reps
Saturday – Joints
12 sets of dead lifts with 250 kg weight of 4-8 reps
12 sets of squats with 100 kg weight of 4-8 reps
12 sets of kneel and press with 50 kg weight of 4-8 reps
12 sets of plyometric push-ups of 4-8 reps
Sunday – Abs and Calves
12 sets of crunches of 12 reps
12 sets of hanging reverse crunches of 10-12 reps
12 sets of 10 kg weight loaded reverse crunches of 10-12 reps
12 sets of standing and seated calf presses of 10-12 reps
To bend it like Bruce Lee, Tiger also practices Tae Kwon Do and Wushu. "Wushu is a Chinese martial art from where Tai Chi is derived," he says.
Tiger continuously encourages his fans and fitness devotees with various workout tips. Some of these include:
Cleanse your current diet plan of all unhealthy items and add nutritious foods instead.
Give up on all sorts of addictions like smoking and drinking.
ALWAYS train under proper guidance of a professional trainer.
Get proper sleep to maintain a well-toned physique.
A fitness rapid fire with Tiger Shroff:
Books on the bedside table: All health and fitness related books
Massage or workout as a de-stressing ritual: Definitely workout
Favorite spirit: I don't drink
Favorite champagne: 'Nariyal pani'
Sleeping ritual: Early to bed, early to rise!
A weekday breakfast: Steamed or grilled basa, veggies, a handful of almonds and green tea
---
Suggested read: Flipping through the pages of Arjun Rampal's fitness diary
---
Hope the Tiger Shroff workout regimen and diet plan will come in handy and boost up your spirits to enhance your physique. Remember, "Yours is the earth and everything that's in it." (A quote by Rudyard Kipling that Tiger's Mom frequently reads out to him.)!
Happy exercising!
Featured image source: Google, copyright-free image under Creative Commons License
Summary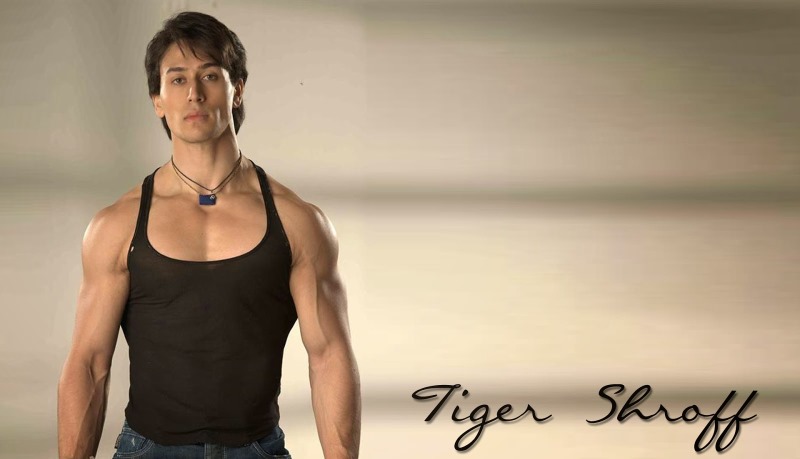 Article Name
Tiger Shroff Workout Routine And Diet Plan To Get Fit
Author
Description
Tiger Shroff is the latest star to be adored for his enviable and ripped body. Check out Tiger Shroff workout routine and diet plan to get fit.