I do not know of any words that might be able to capture the heat that scorches the screen when this hot hunk with a rugged, ripped body to-die-for scorches the screen. Yes, I am talking of Bollywood's Ra.One, Arjun Rampal. Ever since his college days, the model, actor, producer has been working out to attain that chiselled look that far too many men are envious of and even more women are in love with!! If one asks the actor what he does to look so incredibly hot, pat comes the reply, 'work out!'
Image source: Google, copyright-free image under Creative Commons License
The actor who has starred in many hit films like Raajneeti, Om Shanti Om, Ra.One, and Rock On maintains that there are no shortcuts to fitness, and that a right combination of pumping iron in the gym and eating right can get anyone the body he/she desires. Well, we are only nodding in agreement and why wouldn't we, given that he looks so criminally hot alongside the hot and sexy Jacqueline in the upcoming movie Roy – so much so that you do not know who to look at! 😉
So what exactly creates this balance for Arjun?
Here's what Arjun had to say about his own fitness regimen:
"Eat healthy. It's the most important part. Everything begins with what you let inside your body. Metabolism makes all the difference."
Being a foodie who loves trying out various delicacies, he does not stick to a strict diet but maintains a balance in his nutrition intake. He eats five meals a day and includes walnuts and cashews in his dietary intake along with ample amount of water and fruits. He also indulges in a cup or two of black coffee with a little sugar. The three basic meals of his day look like this:
Breakfast: 2 whole wheat toasts, a dozen egg whites and a protein shake
Lunch: 2 rotis with dal, tandoori chicken, and whole wheat bread sandwiches
Dinner: Salads and soup. He avoids carbs after 9 pm
Image source: Google, copyright-free image under Creative Commons License
Arjun sees fitness as a style of life and asserts that spending an hour in the gym every day keeps one disciplined and helps to keep one consistent despite working wonky hours. Arjun works out for five days a week, which includes forty minutes of cardio, ten minutes of warm-up on the treadmill followed with a specific body part. He focuses on two body parts a day, the combinations varying from chest-back to back-triceps to chest-biceps. His mantra for fitness is to help build stamina, which he regards an inspired solution to stay in shape. His fitness trainer Zarine Watson has introduced him to the tenets of core training that help him build stamina and develop immense physical strength. He does not gauge strength on the basis of the weights one can lift. To that end, he advises one and all to respect their bodies and not engage in excessive exercising without any proper guidance or supervision as that may result in harming one's body.
His workout regimen includes (but is not limited to) running, stretching, lower back exercises, exercises for specific body parts for 20-30 seconds each with 10 seconds rest, 2500 sit-ups, 8 sets of Tabata (a high intensity training exercise which works in sets of eight, without break for about 4-5 minutes), 40 pound dumbbells whilst hanging from a pull-up bar and twenty minutes on the treadmill followed by a ten minute calming down phase.
Image source: Google, copyright-free image under Creative Commons License
Arjun makes sure to include repetitions and cardio in his daily fitness regimen and likes to vary the exercises to keep himself from burning out and getting bored. He lends the same advice to his fans and fitness enthusiasts,
"Don't do the same exercises again and again. It's always good to keep changing your routine and trying out new regimes. Plus, don't burn yourself out."
Image source: Google, copyright-free image under Creative Commons License
When asked for some pearls of wisdom for people who do not/cannot hit the gym, the star says,
"Involve yourself in other activities like cycling, swimming or walking. It's also good to play a sport for a change. The competition aspect also helps."
Arjun also likes to run, swim, and play tennis and football. He also practices karate. Whilst Arjun laid off carbs and underwent rigorous workout schedules for achieving his physique for Ra.One, his co-star Kareena Kapoor introduced him to yoga and the benefits thereof. Inspired such, he included yoga as an integral element of his fitness routine. The results, of course, were up for all to see!! 😉
Image source: Google, copyright-free image under Creative Commons License
Arjun does not believe in bulging muscles. He says,
"I personally don't go and lift heavy weights. Not because I can't but because I don't. I prefer light weights as I don't wish to exert too much. To me, fitness is not about having bulging muscles."
Well, with a physique that not only belies his actual age but also has countless women swooning, we can only concur!!
Happy workout sessions, folks!! Remember, there isn't any shortcut! J
Featured image source: Google, copyright-free image under Creative Commons License
Summary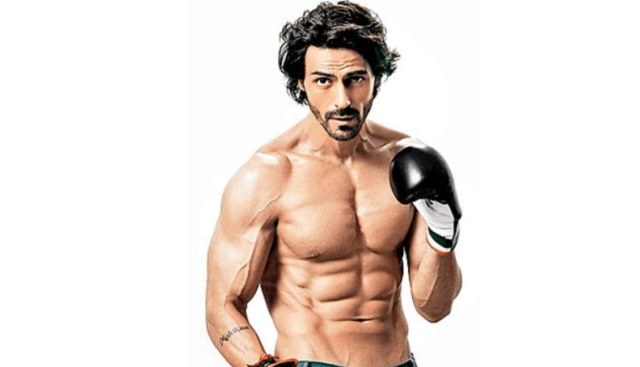 Article Name
Arjun Rampal workout routine for a fitter physique
Author
Description
Arjun Rampal is one of those rare actors in Bollywood who does not lose out by sticking to work out. Here's a look at Arjun Rampal's workout routine.