The transformation of Arjun Kapoor from an obese star kid who weighed 140 kilos to the sexy heartthrob of the nation might seem nothing less than a miracle on the outside. But it was sheer hard work and dedication to achieve the goal of shedding those extra kilos to become the 'next big thing' in Bollywood.
Image source: Google, copyright-free image under Creative Commons License
Number of kilos shed: 50
Time frame: 4 years
The start
When Salman Khan saw a potential promise of a 'big star' underneath all the flab that masked our 'ishaqzaada' during his obese days, he exhorted him to lose all the extra weight and cover the ground between 'fat and flab-ulous' and 'fit and fabulous.' But Arjun Kapoor wasn't quite ready to hop on to the Bollywood bandwagon. Embarking on the journey of a rigid and inflexible diet and workout schedule was a near-impossible feat for the foodie in him, who'd be constantly allured by the treacherous and tempting booby traps of food all around him.
Image source: Google, copyright-free image under Creative Commons License
He knew that acting was something he'd love to do but he also knew he was 'fat' and wasn't the person who could fit into an airline seat, much less a frame with some petite and pretty Bollywood lass. However, Sallu bhai did not give up on the kid and asked him to not squander his acting talent by being 'helpless' about a situation he could most definitely help, through sheer grit and determination. And that is how the much-needed drive to propel Arjun on the path to stardom started. In Arjun's own words,
"Salmanbhai inspired me. He is the one who told me that I had acting talent in me, that I should not squander it just because I am this big lard of fat. He doesn't miss going to the gym regardless of what his timings are. He works out early in the morning without fail. Initially, I used to work out a lot with him, cycle from his house to film city. When you live with a person who is so aware of his body, you get inspired."
The warm-blooded Punjabi lad never fails to express his gratitude to the big-hearted Salman for the success he has come to taste:
"That man knows no pain. He psyched me into becoming a machine that didn't do anything but lose weight. His dedication, discipline in life rubbed on me, and whatever I am today, I am like this only because of him."
The decision
Image source: Google, copyright-free image under Creative Commons License
After drawing inspiration from the one-and-only Salman Khan, Arjun decided that it was time he set out to lose those fifty kilos that stood between him and his acting career. He had known whilst assisting director Nikhil Advani on the sets of Kal Ho Na Ho and Salaam-E-Ishq that he would love to be in front of the camera. However, he'd never acted upon his secret wish. But he finally found it within himself to shed the flab for the love of acting. Here's what he has to say about the final acceptance and his conscious decision:
"I suppose the decision to lose weight happened when I decided to make acting a profession. Ultimately, 50 kilos is just a number. If I lost 40 and I looked as lean, then I'd be happy with it. I still want to lose five more."
The initial days
Image source: Google, copyright-free image under Creative Commons License
Just like any weight-loss mission, the initial period was a rough ride for Arjun. Not only did the process need a lot of patience and will power to keep at the rigorous and almost-ripping process without any visible tokens of 'result,' but it also takes immense mental and physical strength to keep pace with the changes that you bring about in your lifestyle. Arjun describes acting as a 'thankless profession' in the sense since the pressure never ebbs and you always have to be on your toes to look spectacular. Of the hard days of the initial phase during the whole weight-loss mission, Arjun says,
"Most people think, aaj diet shuru kiya, kal patla bana. You can lose 10 kilos in 30 days if you don't eat, but you are losing muscle. You can put that weight back on with five days of overeating. I realized early on that it's not about a short term goal. I had to lose 50 kilos. So I had to make peace with the fact that it's not going to happen overnight.

"When you are so overweight, your body responds to any kind of physical activity. First, your body drops the water. And you drop the weight like this (snaps his fingers). In the first month I lost about 10 to 11 kilos. It was kind of shocking initially.

"But then I was so happy that I had lost so much weight that I put on all of that by eating more. I didn't lose weight consistently. I used to lose five then put on three, then lose some more and eat again. I was always working against myself."
The amendment
This self-defeating result led Arjun to make changes to his diet plan and workout regimen. He decided to give up on junk food and took up a strict customized workout regimen, designed with the help of Sallu bhai. This is what he had to say about attaining a fine balance between nutrition intake and working out:
"Losing weight isn't only about hitting the gym every day, or keeping a check on your diet. It is a combination of the two. I recognized that I have to make adjustments to my diet and if I ever overeat, I need to work it off in the gym."
Here's what his workout regimen and diet plan look like:
Weight training and cardio exercises
Circuit training
CrossFit training
Bench press
Deadlifts
Pull-ups
Breakfast: Toast, four to six egg whites with an egg yolk
Lunch: Bajra roti or atta roti, dal, sabzi, and chicken
Dinner: Fish or chicken, and rice
Supplement: Protein shake after workout is a must
Arjun substitutes rice with quinoa, a South American grain and a protein powerhouse. He avoids sugar at all costs and keeps away from carbs. He also drinks black coffee to avoid binging on sweets.
The aftereffect
Image source: Google, copyright-free image under Creative Commons License
After the miraculous metamorphosis, Arjun looks delicious and his chiseled physique makes far too many girls swoon. Arjun, however, maintains that he feels vulnerable and is still overweight in his mind. This is what he has to say about the amazing journey of losing 50 kgs in four years' time:
"Now that I've lost weight I am more conscious of my weight than before. If I look at pictures when I was fat, I just smile. But when I see the posters of my film, I think 'S**t, I have put on weight, I was so thin back then.' I don't look at myself in the most positive light. That's why I hate posing in front of the camera even now."
Image source: Google, copyright-free image under Creative Commons License
So if you thought that only the gorgeous girls of Bollywood have to work their way around the fitness ambushes to look drop dead gorgeous all the time, you could not be more wrong. Our 'heroes' face the constant pressure of scorching the big screen too, and the pressure never ever ebbs. Those chiseled looks, abs, and well-toned muscles aren't being handed out at Film city for free, and therefore, every time you are finding yourself whistling when the 'shirtless hero' fights the villain, remember, it takes them a rigid diet and workout plan to get those washboard abs.
And here's what the 'Ishaqzaada' has to say about the process,
"NEVER GIVE UP! Patience is the key. You have to live through each day, one day at a time. Fight the bad days just like you revel in the good ones. And never set any target date."
I guess that is the best advice we can end this fitness diary note with!!
Happy working out, folks!! J
Featured image source: Google, copyright-free image under Creative Commons License
Summary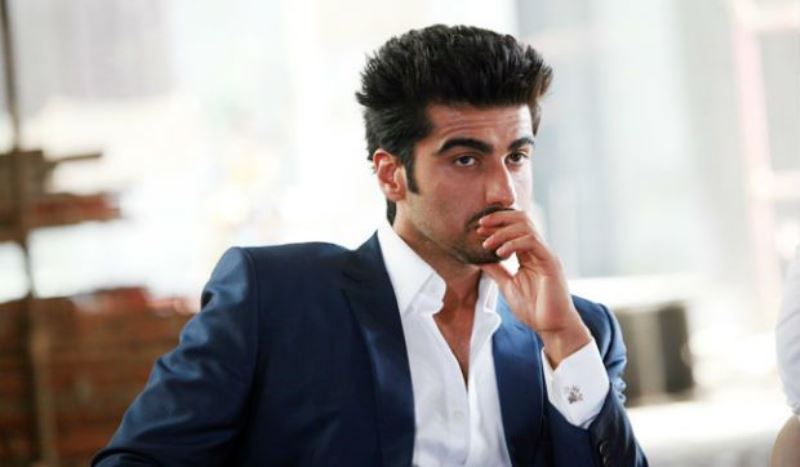 Article Name
Arjun Kapoor weight loss journey - fat to fit!
Author
Description
Arjun Kapoor had a harrowing journey from being 140kgs to his present 90kgs. Here's a look at his inspiring weight loss journey.