Edward Estlin Cummings was an American poet, active in the twentieth century, who is, even today, one of the most revered personalities of poetry in the English language. He wrote mostly on the subjects of love and nature, but his erotic poems were undoubtedly, his most popular contribution to readers.
By using punctuation and phrasings that are not conventional, he brought in some radical changes in the way poetry was written back then. He mostly used lowercase to write his poems, but sometimes he also capitalized some words when he felt the need of it. While his critics consider his use of compound words and his choice of structure arbitrary, many would argue how it was done for a reason and gave him his unique style.
In today's post, I will be sharing with you 8 of my favorite love poems by E E Cummings. Hope you will enjoy them as much as I do.
---
Suggested read: "Poetry Can Wreck Your Heart Into The Tiniest Of Pieces, And Still Hold You Together In The Strangest Of Ways"
---
Nature and Love Poems By E E Cummings
1. i carry your heart with me
"i carry your heart with me(i carry it in
my heart)i am never without it(anywhere
i go you go,my dear;and whatever is done
by only me is your doing,my darling)
                                                      i fear
no fate(for you are my fate,my sweet)i want
no world(for beautiful you are my world,my true)
and it's you are whatever a moon has always meant
and whatever a sun will always sing is you
here is the deepest secret nobody knows
(here is the root of the root and the bud of the bud
and the sky of the sky of a tree called life;which grows
higher than soul can hope or mind can hide)
and this is the wonder that's keeping the stars apart
i carry your heart(i carry it in my heart)
This poem is very close to my being. It comforted me greatly when I lost my grandmother, and so, it had to top this list of my favorites by Cummings. This piece of absolute beauty was published in the year 1952, and made the poet one of the most adored love poets ever. Many have compared this poem with a sonnet because of the way it is structured. But Cummings has indeed added his own touch of modernity in the verse.
Fun fact: The first line (also the last line) of the poem is often tattooed by people who love all things love.
2. Since Feeling is First
since feeling is first
who pays any attention
to the syntax of things
will never wholly kiss you;
wholly to be a fool
while Spring is in the world
my blood approves
and kisses are a better fate
than wisdom
lady i swear by all flowers. Don't cry
—the best gesture of my brain is less than
your eyelids' flutter which says
we are for each other: then
laugh, leaning back in my arms
for life's not a paragraph
and death i think is no parenthesis
Since Feeling is First was published in 1926. As I just told you a couple of paragraphs before, nature and love were Cummings' themes. The poems where he explored these subjects were the most loved poems of him. For example, in this poem, the speaker is telling his lover about the nature of love. According to him, love is more in sync with passion and emotions than wisdom or knowledge ever will be
3. Buffalo Bill's
Buffalo Bill's
defunct
        who used to
        ride a watersmooth-silver
                                  stallion
and break onetwothreefourfive pigeonsjustlikethat
                                                  Jesus
he was a handsome man
                      and what i want to know is
how do you like your blueeyed boy
Mister Death
Published in 1920, this poem is Cummings take on William Frederick "Buffalo Bill" Cody, one of the most vibrant personalities.  On the first read, you will feel that Cummings is describing and admiring Cody for his handsomeness and joviality. But on the second read, you will observe that Buffalo Bill's is, in fact, a satirical poem on conventional idea of valor and bravery. In the poem, Cummings also talks about how irrelevant and inconsequential we all are in the end.
4. next to of course god america I
"next to of course god america i
love you land of the pilgrims' and so forth oh
say can you see by the dawn's early my
country 'tis of centuries come and go
and are no more. what of it we should worry
in every language even deafanddumb
thy sons acclaim your glorious name by gorry
by jingo by gee by gosh by gum
why talk of beauty what could be more beaut-
iful than these heroic happy dead
who rushed like lions to the roaring slaughter
they did not stop to think they died instead
then shall the voice of liberty be mute?"
He spoke. And drank rapidly a glass of water
Published in 1926, this is a satire on conventional idea of patriotism. The structure resembles a broken sonnet. It does not have an octave or a sestet like sonnets do, but contains 13 lines spoken by the narrator, who is a politician, in all probability. In the end, we have a separated last line that emphasizes importance of patriotism. The last line shows that the speaker is anxious because he understands that his speech is only a maneuver to misguide the spectators.
---
Suggested read: 14 Steamy Erotic Poetry Excerpts That Will Make You Want To Hop Into A Cold Shower Right Away
---
5. l(a
l(a
le
af
fa
ll
s)
one
l
iness
By now you must have figured that Cummings poems are unusual not only in thought, but also in presentation. This is one of the best examples to illustrate the point I just made. In this poem, we find the word "a leaf falls" inserted between the word "loneliness". So to make it simpler, the text reads: "l(a leaf falls)oneliness." The letter "l" in the beginning, when taken in isolation, can mean the number 1. Cumming also writes other "l" in loneliness in another line. Also, falling leaf is often considered a metaphor for loneliness. According to Richard S. Kennedy, Cummings' biographer, the poem is "the most delicately beautiful literary construct that Cummings ever created".
6. may i feel said he
(may i touch said he
how much said she
a lot said he)
why not said she
(let's go said he
not too far said she
what's too far said he
where you are said she)
may i stay said he
(which way said she
like this said he
if you kiss said she
may i move said he
it is love said she)
if you're willing said he
(but you're killing said she
but it's life said he
but your wife said she
now said he)
ow said she
(tiptop said he
don't stop said she
oh nn said he)
go slow said she
(cccome?said he
ummm said she
you're divine!said he
(you are Mine said she)
There cannot be another erotic poem as beautiful, rhythmic, and gorgeous as this one. According to experts, this poem was written along with a bunch of other erotic verses sometime in the 1930s when the poet was having an affair with a friend of his from Harvard. This poem is humorous and playful, and the sexual tension is very obvious throughout. This is a sensuous tribute to something as physical as s*x.
7. somewhere i have never travelled gladly beyond
somewhere i have never travelled,gladly beyond
any experience,your eyes have their silence:
in your most frail gesture are things which enclose me,
or which i cannot touch because they are too near
your slightest look easily will unclose me
though i have closed myself as fingers,
you open always petal by petal myself as Spring opens
(touching skilfully,mysteriously)her first rose
or if your wish be to close me,i and
my life will shut very beautifully,suddenly,
as when the heart of this flower imagines
the snow carefully everywhere descending;
nothing which we are to perceive in this world equals
the power of your intense fragility:whose texture
compels me with the color of its countries,
rendering death and forever with each breathing
(i do not know what it is about you that closes
and opens;only something in me understands
the voice of your eyes is deeper than all roses)
nobody,not even the rain,has such small hands
This poem, published in 1931, is considered one of Cummings' best love poems. It talks about the intense emotions the narrator feels toward his beloved. He compares his feeling to that of a traveler on a delightful journey to the unknown. If you have watched Woody Allen's Academy Award-winning movie, "Hannah and Her Sisters", then you will have noticed the last line of this poem used in it.
8. in Just-
in Just-
spring          when the world is mud-
luscious the little
lame balloonman
whistles          far          and wee
and eddieandbill come
running from marbles and
piracies and it's
spring
when the world is puddle-wonderful
the queer
old balloonman whistles
far          and             wee
and bettyandisbel come dancing
from hop-scotch and jump-rope and
it's
spring
and
         the
                  goat-footed
balloonMan          whistles
far
and
wee
This poem is Cummings' most popular nature poem. It is a child's narrative at the onset of spring. The structure of the poem resembles a nursery rhyme, and the use of compound words also suggest that the poem is a poem by a child. However, over the years, many experts have found out that balloonMan, in fact, represents a lot of things.
---
Suggested read: A Conqueror Of All Things Misogynistic, Here's Why Blythe Baird's Poetry Matters
---
That is all we have on today's post on Today's Book on #50BooksInAYear: Collected Love Poems By E E Cummings. Did you like what you just read? Let us know in the comment section below.
Keep your eyes on this space if you love books and tales they carry in them. If you want to contribute an article, then please feel free to do so.
See you again next time.
Summary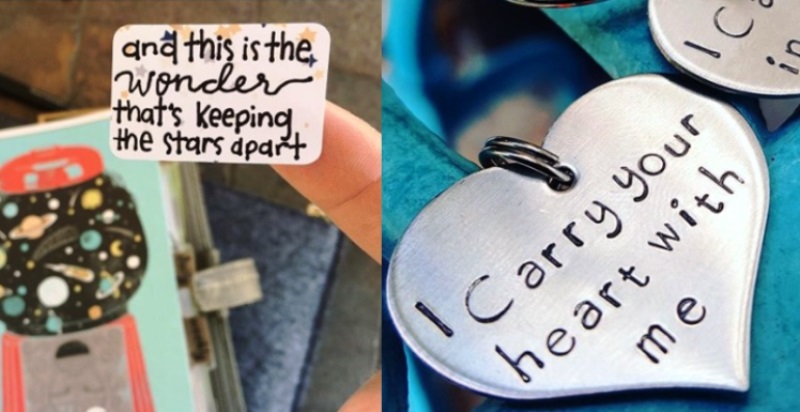 Article Name
Today's Book on #50BooksInAYear: Collected Love Poems By E. E. Cummings
Author
Description
In today's post, I will be sharing with you 8 of my favorite Love poems by E E Cummings. Hope you will enjoy them as much as I do.