In 1955 America, while visiting relatives in the small town of Money in Mississippi, a 14-year old black boy by the name of Emmett Till was lynched, murdered, and his body mutilated because he whistled at a white woman.
Racism has been a source of constant debate and contention in the great land of America, and its most representative industry, Hollywood. In light of recent events, where one of the most powerful people in the media, Harvey Weinstein, was accused of multiple rape and sexual assault charges, it makes one think of where we stand as a community, as part of humanity, nearly 70 years after the murder of 14-year-old Till.
---
Suggested read: Yana Mazurkevich Creates Powerful Sexual Assault Photo Series After Brock Turner's Jail Release
---
Harvey Weinstein isn't the first person to be accused of sexually assaulting women in the industry. The list of powerful people who have paid courts, police, women, and media houses to keep their goings-on private is scarily endless.
Meryl Streep, who worked with Weinstein on the films August: Osage County and The Iron Lady, told The Huffington Post,
"The disgraceful news about Weinstein has appalled those of us whose work he championed, and those whose good and worthy causes he supported. The intrepid women who raised their voices to expose this abuse are our heroes."
The actress who had called Weinstein "God" once, went on to say,
"One thing can be clarified. Not everybody knew. Harvey supported the work fiercely, was exasperating but respectful with me in our working relationship, and with many others with whom he worked professionally. I didn't know about these other offenses: I did not know about his financial settlements with actresses and colleagues; I did not know about his having meetings in his hotel room, his bathroom, or other inappropriate, coercive acts. And if everybody knew, I don't believe that all the investigative reporters in the entertainment and the hard news media would have neglected for decades to write about it."

The abuse of power by Weinstein though appalling and unforgivable, is extremely familiar.
For instance, billionaire Hugh Hefner, the founder of Playboy magazine and the man credited for turning pornography into one of the most lucrative businesses in the world, said once, and I quote,
 "The notion that Playboy turns women into sex objects is ridiculous…Women are sex objects… It's the attraction between the sexes that makes the world go 'round. That's why women wear lipstick and short skirts."
I am sure you know that Hefner died recently at the age of 91. What struck me was how he was called a sexual liberalist, a crusader for human rights, and a pioneer, after he spent his life making money off of women's bodies, and exploiting them. Hefner falls into the tradition of a horde of men, using their white privilege as a clean chit to get away with something as serious an offense as rape, and the molestation and the sexual exploitation of women.
While Weinstein, Hefner, Woody Allen, Roman Polanski, and the current President of the United States, Donald Trump (to name a few), have managed to stay and thrive in public life, while continuing to enjoy professional successes, the case for sex offenders in the black community is quite different.
Now, please do not misunderstand me. I am not suggesting that sexual assault/harassment of any kind is a small offence, but the way the public, peers of these bigwigs, and Hollywood seem to react is kind of selective, if not a little biased.
For example, let's look at the most recent case of Casey Affleck winning the Best Actor Oscar, despite rampant sexual harassment allegations from multiple women flying around. Some people argued that an artist's personal life and professional worth shouldn't be mixed up. But he was accused of harassing these women while on set.
---
Suggested read: Sexual Consent 101: A Guide That Will Burst All Myths Around Sexual Consent
---
Then again, we have the case of Nate Parker, the director of Birth Of A Nation, who was blacklisted and his movie didn't get the attention it deserved because of a past rape allegation that emerged during the promotion of the movie.  Do you see the biased treatment?
Herein lies the ingrained racial problem in America. One is reminded of the recent trials of Bill Cosby, one of the most iconic figures in popular culture, who was accused of sexually assaulting more than 50 women. Even though the black community and his family discounted the allegation as "social lynching", it was one of the most shocking revelations that the nation has had to deal with. However, in trying to figure out the claims against Cosby were actually true or not, what came into play was his race. While everyone in America was aware of the harsher treatment of black people for the same crimes as opposed to white people, many thought that Cosby played his race card to get sympathy votes from the jury and the public. According to Shannon Lee from The Lily,
"In this volatile racial climate, many black Americans are more concerned with Cosby's right to receive a fair trial, than his victims' right to receive justice."
However, it is undeniably true that Cosby's goal to become a media mogul was effectively terminated. But Hollywood remains as stoic and unaffected as ever when white men roam scot-free, blame-free, and free of any consequence for similar transgressions. The power and privilege of these people allow them to encourage a culture where young women are taken advantage of and victimized in exchange of advancement in their careers. The fact that Hugh Hefner made money off of Marilyn Monroe, glorified her as a sex symbol, and used her in every possible way without any form of consent from her is the example which the greatest industry in the world, Hollywood, seems to have adopted as its own.
Women are compelled to keep silent and threatened that they will be "ruined" if they don't give in.
However, it would be wrong to not acknowledge that even black celebrities have the privilege to weasel their way out of such grave situations, using their own racial disadvantages to argue their case. What seems to be the problem in America is that the point of attention shifts to the person's race, after which he is judged, no matter the seriousness of his crimes.
"And when you're a star, they let you do it."
How do powerful people get away with sexual assault when everyone is supposed to be equal in the eyes of law? Weinstein, for instance, has been trailed by rumors of sexual assault and harassment for more than twenty years. How did he get away with victimizing countess women until now?
Well, to begin with, he is filthily rich, extremely powerful, and his feelers are spread throughout the Hollywood industry and the media at large. He has made the careers of countless actors, actresses, and directors, and by doing so, had bought their silence. According to reports, many of these personalities have now admitted that they were aware of the rumors or the alleged victims of the harassment. Some are even coming out to state that they themselves were victims of Weinstein's alleged sexual rapacity. According to a report in New York Times,
"When Gwyneth Paltrow was 22 years old, she got a role that would take her from actress to star: The film producer Harvey Weinstein hired her for the lead in the Jane Austen adaptation "Emma." Before shooting began, he summoned her to his suite at the Peninsula Beverly Hills hotel for a work meeting that began uneventfully.

It ended with Mr. Weinstein placing his hands on her and suggesting they head to the bedroom for massages, she said.

"I was a kid, I was signed up, I was petrified," she said in an interview, publicly disclosing that she was sexually harassed by the man who ignited her career and later helped her win an Academy Award.

She refused his advances, she said, and confided in Brad Pitt, her boyfriend at the time. Mr. Pitt confronted Mr. Weinstein, and soon after, the producer warned her not to tell anyone else about his come-on. "I thought he was going to fire me," she said."
The biggest factor that results in powerful people getting away with crimes is the deaf ears of the legal system. The system gets played in the hands of these wealthy people who shell it out in numerous out-of-court settlements with the victims, as is true in the case of Weinstein. According to these settlements, the silence of the victims is bought, as in they are bound to never speak about the abuse in public. And as a result, if and when these allegations do become public, an immediate response, or we should say, retort, comes from people who ask why these "victims" kept quiet so long? That is when the idea of "attempts to ruin reputations" or "cheap endeavors to gain cheap publicity" start circulating, making the cases weak. Some people go ahead and even say that this is a way to "extract money" from the celebrity involved.
According to a report on the Chicago Tribune,
"Cosby and his apologists — before, during and after his sexual assault trial in Pennsylvania last June — used this ploy to trash his female accusers. This is a straw man argument if ever there was one. There is an obvious answer why, aside from fear, uncertainty and trauma, that many abuse victims say nothing."
You might be thinking right now, "But how do I change this? I am not powerful enough to change the way the legal system works." Yes, I know that. While we can only hope for reforms in the legal system, the media, and the Hollywood industry, there is one thing each one of us can do, and that is: Not raise sons like Weinstein.
Mayim Bialik made a video and shared it on GrokNation, her online community, about why, and what parents can do to raise their kids differently, too. In it, she talks about the importance of teaching boys about consent and telling them,
"You do not have the right to touch someone if they don't want to be touched. That goes for friends, girlfriends, neighbors, even family. And if you don't want to be touched, even by your own mother, you have a right to not be touched. Absolutely, with no exceptions."
She goes on to emphasize the importance of teaching boys to be responsible for where they are. She says,
"If you are in a place where there are bad things going on, leave and report it."
---
Suggested read: Are Startups Saying NO To Sexual Harassment Loud Enough?
---
Yes, we cannot end patriarchy on our own. We cannot end rape culture on our own. But we can, through our efforts to parent our kids well, take a step in the right direction to help contribute to the demise of the discriminatory practice. I would like to end with what Bialik has said in her interview, and I quote,
"It is not your responsibility to complete the work, but neither is it for you to ignore it."
Featured image source: Instagram
Summary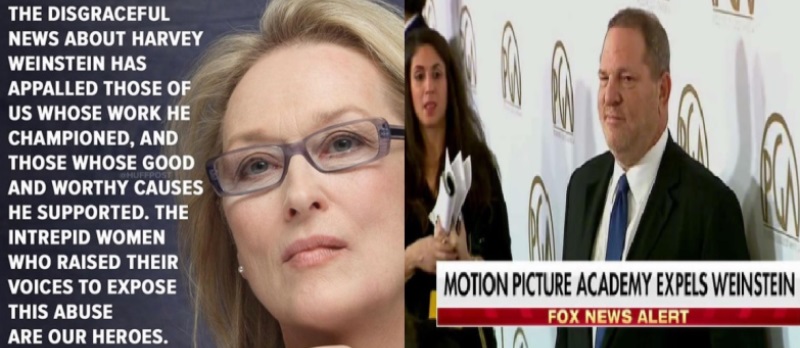 Article Name
The Harvey Weinstein Debate, And What It Means For Hollywood
Author
Description
Everything you need to know about the Harvey Weinstein Scandal. Also, let us look at why people as powerful as Weintein get away with such shameful actions.