In today's world, a person's looks are given more importance than who they actually are and what makes them who they are. Especially the media, which is obsessed with size zero, beautiful women, who become role models (of a slightly distorted kind!) to young girls and women at large. And these looks are given especial importance when it comes to dating.
I used to think that people, men or women, giving importance to what a person is, aside from their looks would remain a utopian dream. That people are almost obsessed with how they look, rather than what they are. That people go to any lengths to look beautiful, regardless of their intelligence, which might be of a simpleton's, as long as they're pretty.
Well. Looks like my utopian dream has finally been turned into reality!
Behold Willow!
Willow is the newest entrant on the dating app market. Wait! Don't groan because it's another dating app. This one actually seems promising.
Willow dating app, which was launched in mid-February, is all about connecting with someone based on who they are as a person, rather than going by their looks. As is common with most dating apps, a user logs in using their Facebook account. But, once a user is logged in, instead of a newsfeed inundated with selfies/pictures of potential matches, they can respond to questions that they find intriguing or alluring. And these questions are posted by other users of the app. A user can either answer a question or skip, based on their preference. All the questions posed by users are more or less conversation starters.
Another refreshing feature of the app is that users get to decide when and if they wish to reveal their pictures with others. A user can choose their intention on the app from among these three options – casual conversation, friendship, romance. So, in other words, Willow is not strictly a dating app, but is a sort of social discovery app.
The app's founder, Michael Bruch, reiterated that point when he said,
"It's become more about social discovery than strictly dating. If you just want to get on and have a casual conversation about video games you can, and you can also use it to spark up a romantic conversation with someone that's less than 30 miles away."
The rationale behind revealing the photos of users only after they answer a bunch of questions first is that it's hard to start a conversation with a stranger online. But in Willow, users connect by starting a conversation, getting it out of the way right from the start. There's no dilly dallying by sending 'winks' or other such tripe.
The 'Discover' feature of the app lets a user search through the trending tags and various categories, so as to find questions that they'd be interested in answering.
Speaking about giving preference to a person rather than how they look, Bruch said,
"You can match with a bunch of people that you think are good looking but you don't really know much about them until you start talking to them. If I'm going to spend time with someone I want to know that we have something to talk about – that's what's important to me."
Hoping that this personality aspect is important to a whole lot of young people too, who make up the largest demographic who spend time on dating apps. So far, signs have been promising. Since the beta version was launched back in August 2014, over 100,000 users have downloaded the app, with an average of three messages sent a day.
Unlike the rest of the myriad apps that are doing the rounds on smartphones, Willow sure is refreshing. Since users can choose if and when to reveal their pictures, women are somewhat protected against harassment by creeps and perverts who send out unsolicited and unwarranted messages. Some of these creeps are downright nasty, cruel, and abusive. Just one look at the abusive messages received by women on dating apps posted on the Instagram account Bye Felipe lets you know how unsavory and uncouth these perverts can get.
---
Suggested read: Met a creep online? Say 'Bye Felipe'!
---
Bruch wants to change the whole focus of 'liking' someone for their looks rather than their interests. He said,
"If your picture is not being blasted out there, the amount of harassment and messages you're going to get off the break is going to be lower."
Boy, does this app look promising! But only time will tell if enough people find value in it. Good luck, Willow; we're rooting for you!
Summary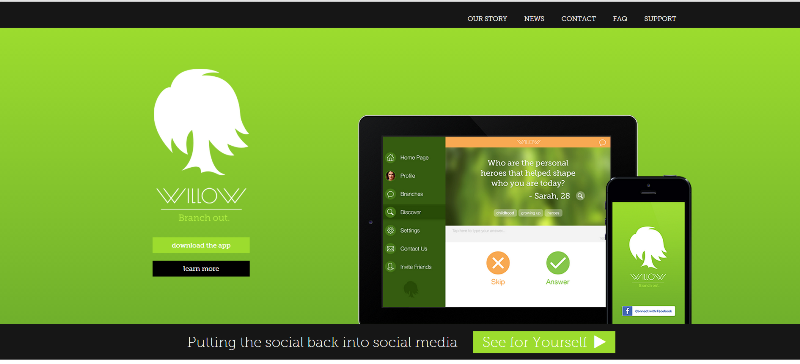 Article Name
Willow dating app focuses on a person rather than their looks
Author
Description
Willow dating app, with its refreshing approach of giving importance to a person rather than looks, seems very promising indeed!