Online dating sites have become ubiquitous. Ask anyone who passes you by in the street, likely as not, he/she will have tried their luck on an online dating/matrimonial site. But online dating sites particularly seem like a siren call to all the creeps out there, to try and harass a woman. And sometimes, these creeps cross the line and send out absurd, insulting, and abusive comments when they feel rejected/slighted in any way. Every woman who has ever been on an online dating site can vouch for this – that she has received at least one abusive/insulting/weird message.
What to do when you're at the receiving end of such comments?
You can send them to Bye Felipe!
Bye Felipe is an Instagram account started by Alexandra Tweten, 27, an operations coordinator in Los Angeles earlier this month. She started it after realizing how many women – including herself – receive aggressive or threatening messages from guys they aren't interested in, or don't want to chat with.
Recalls Alexandra, "It all started when a woman on Facebook posted a screenshot of some messages she got on OKCupid. It was a man saying he wanted to start a conversation, and she didn't respond – twelve hours later, he just replied 'Asshole'." She continued, "I thought it was really funny – I had recently gotten a message too, this guy had sent the same message to me three times in a month and when I finally just said no he came back with 'Why the fuck not?'"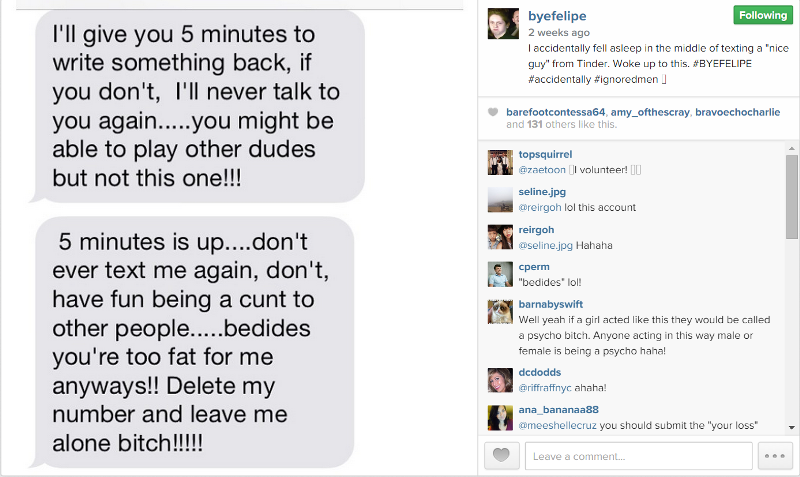 "I realized these hostile messages were a trend that women see online," said Alexandra. "That started a conversation about creating an Instagram to keep all of these insane messages so we could discuss them. All women get some degree of creepy or weird messages when they sign up for online dating sites."
Users can submit screenshots of these bizarre conversations to a gmail account that Alexandra has set up, which she then screens and shares them on the Instagram account.
"It's a standard reaction that I've now seen over and over again with the submissions," Alexandra said. "Guy hits on girl, girl doesn't respond, guy lashes out with insulting message. It really shows the entitlement these guys feel, and I think it shows our cultural misogyny problem."
Alexandra has noticed a lot of submissions that focused on the women's appearances. "In our society, women are told that our best asset is our look and I find it interesting that the thing that these guys go after is appearances. They'll say 'You're ugly,' so I think making fun of it is taking away that power," she says.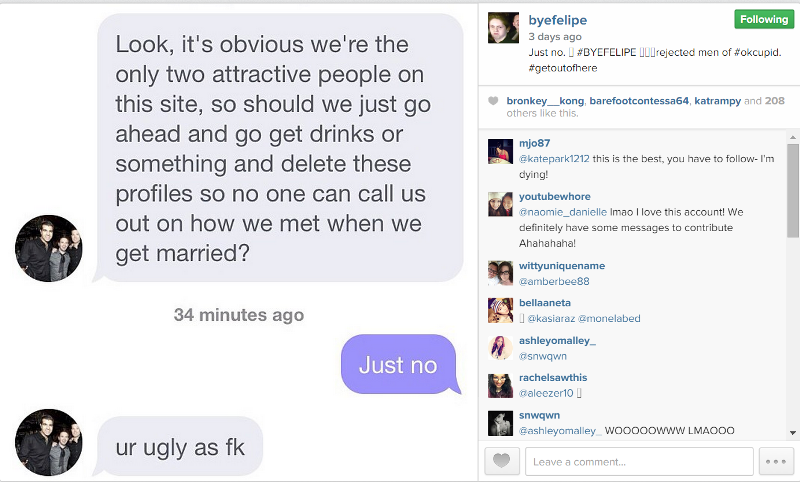 By setting up the Instagram account, Alexandra wanted to show other women that they're not alone in dealing with these kinds of abusive and misogynistic comments, and hopefully teach men that this kind of behavior is not at all acceptable.
"I also wanted to show men what it's like existing as a woman online, because I don't think they realize or know what it's like," she said. "Maybe a guy will see it and put a second thought into sending a woman a mean message."
Although she's holding a mirror to these misogynistic and abusive morons' behavior, she thinks that change isn't coming anytime soon. "I think this reflects a trend in society in general and is just a symptom of a larger problem. Women will continue to get disgusting messages like this until society changes. Also, the guys who are sending these messages probably aren't looking at Bye Felipe."
As long as the male mindset doesn't change, and treat women as their equals, with respect and the dignity they are owed just because, there is no end to misogyny. I guess, till then, we can tell them 'Bye Felipe'!
Some of the more … colorful conversations are here below, and you can check out the Instagram account here: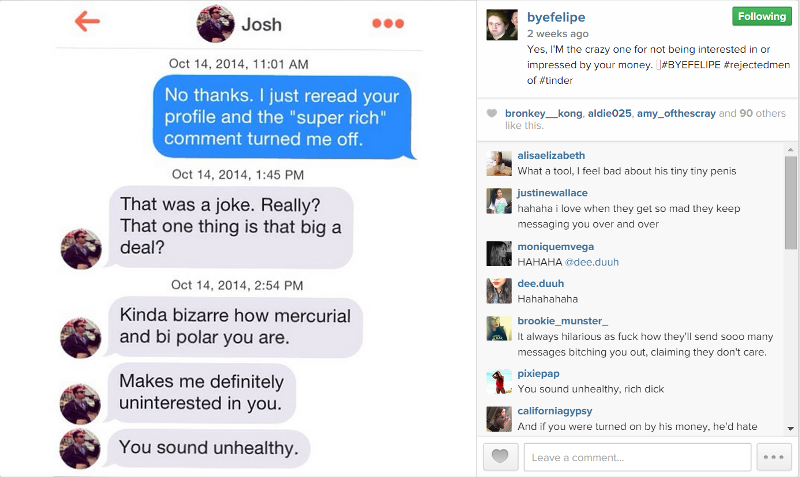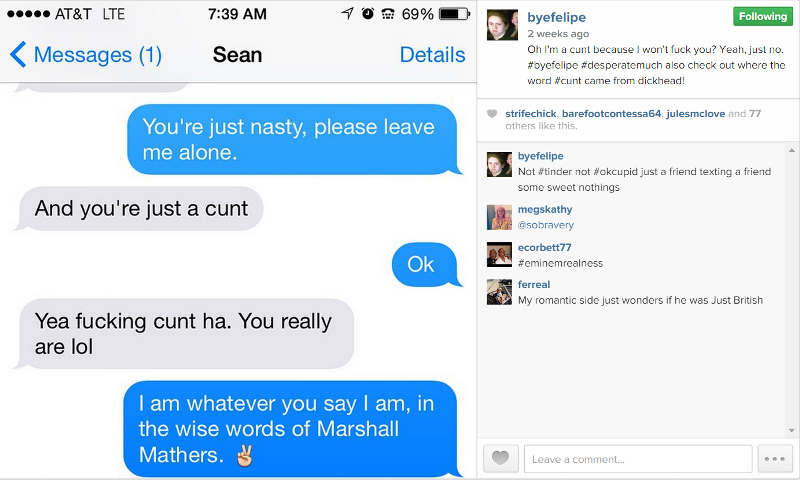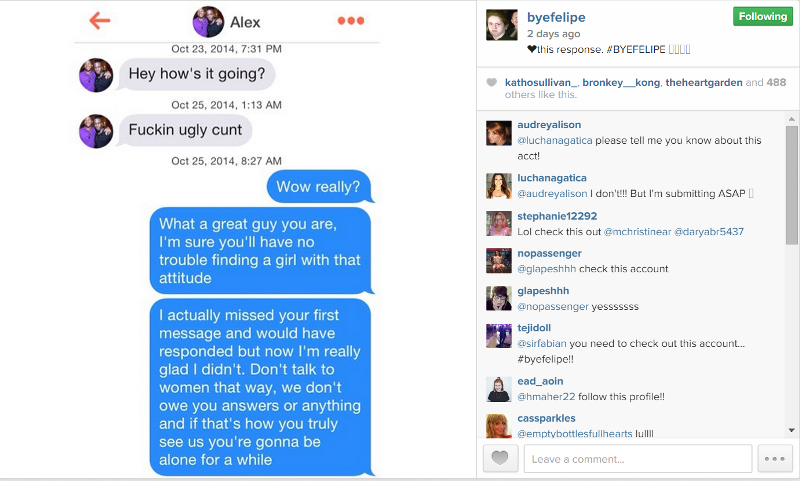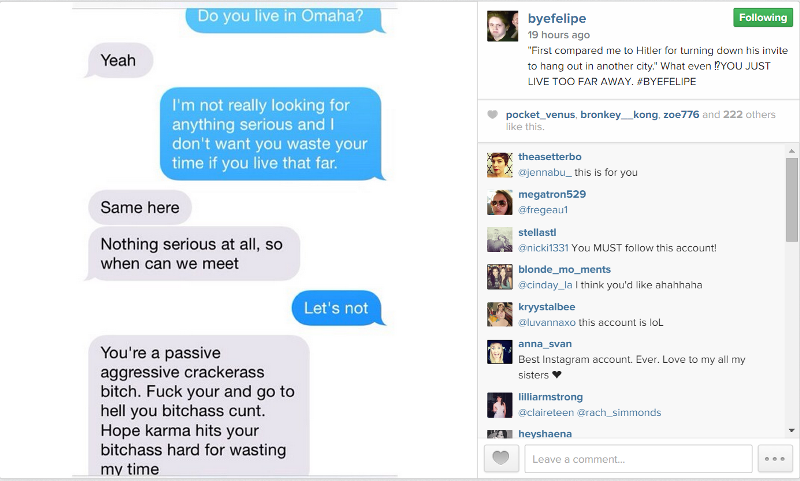 Summary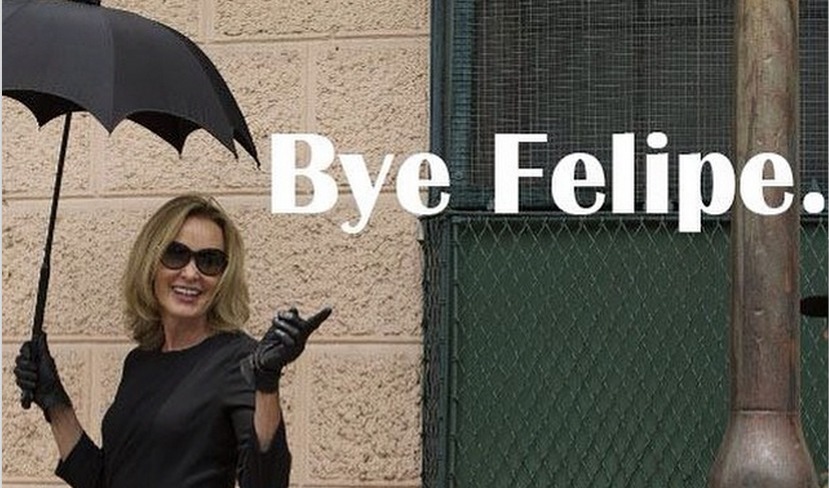 Article Name
Met a creep on an online dating site? Say 'Bye Felipe'!
Author
Description
Ever come across a mean guy who sent you inappropriate or mean message on an online dating site? Just dump his ass and say 'Bye Felipe'!