Have you been despairing that the whole gamut of mobile dating apps isn't addressing your concerns? Have you registered on multiple apps that promise to match you with 'the ONE'? Have you found yourself disappointed time and again?
Well, can't say I blame you. There is only so much an app can do. But there is no one single app that addresses all the issues raised by everyday members like you and me. However, a new app that was launched during the Valentine's week shows promise.
---
Suggested read: Dating app, Willow, focuses on personality rather than looks
---
The newest entrant into the murky sea of mobile dating apps is SparkStarter. SparkStarter promises to match singles up, but with a little help from their friends. That is, the app uses good old matchmaking to set people up.
A user signs up using their Facebook account, from which the app pulls relevant information on their friends and friends of friends, so as to create a pool of possible matches after asking the user to decide on criteria like age and location. Another point to be noted here is that both singles and non-single people can sign up for the dating app – for very different reasons though.
If you're a single person looking for your potential partner, you go through the same steps as in any other app like Tinder. You register, sift through numerous possible matches that the app coughs up, and then swiping/tapping 'yes' or 'no,' to indicate your interest in taking the interaction forward.
However, if you're not currently single, you can play Cupid using the matchmaking feature on SparkStarter. You can select the single friend you want to set up, and connect them with the friends they're connected to on Facebook, that you think would be a good match.
---
Suggested read: Tinder updates features with new ageist policy
---
A user can move through the list of potential matches by choosing 'Vote Up' or 'Vote Down.' This process is aided by the presence of a 'compatibility score,' which is calculated using an expert algorithm which looks at things like their age, how many mutual friends they share, and their interests, which is pulled from their Facebook profile's 'About' section, as well as those pages that they've 'liked.'
If two users choose 'Vote Up' for each other, then both are notified that a Spark has been made. It is up to the users to chat or take the interaction forward as they see fit.
---
Suggested read: Hinge, a new dating app, termed 'classier' version of Tinder
---
The idea to start SparkStarter came to CEO Tony Kramer in 2009, when he and a friend were talking about dating, in a bar. Kramer, who was single at the time, had a hard time finding the right girl to date. His friend mentioned that he had 'tons of Facebook friends,' and said that there had to be at least one he would be interested in. The friend was right, of course, for that is how Kramer met his wife, whom he married three years after the friend introduced them.
"The idea of SparkStarter was conceptualized when I met my wife through a mutual friend after looking through his Facebook friends," said Tony Kramer. "I truly believe in the age-old act of matchmaking, and want other people to have the same simple but digital opportunity with SparkStarter."
SparkStarter is a Minneapolis-based company, which has till date raised about $450,000 from the founder and other unnamed investors from Minneapolis and San Francisco.
Before its launch in February, SparkStarter was previewed at a private event in December, where 40 matches happened. Today, SparkStarter has more than 145,000 profiles, with more than 8,000 to 10,000 matches made every day. According to Kramer, matchmaker profiles seeking prospects for their single friends are the most active users during beta tests.
SparkStarter is now available for free on iOS and Google Play store.
Summary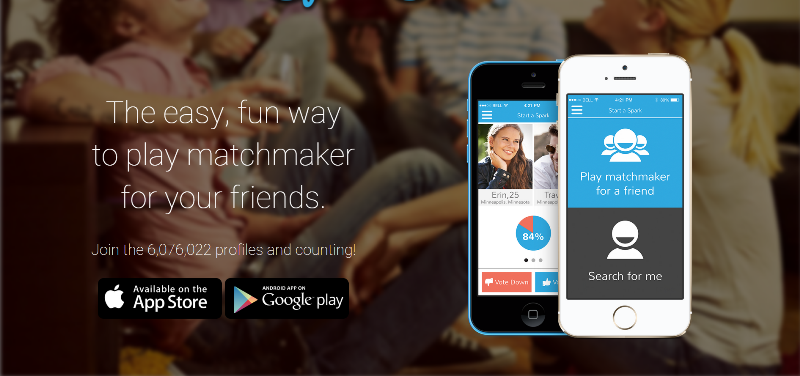 Article Name
Dating app, SparkStarter, has a new matchmaking feature
Author
Description
Dating app, SparkStarter, offers a new twist to online dating, by introducing the matchmaking feature. Read on to know more about the new app.