So the festive season is upon us and the holidays are following soon after. This time of the year is the time for eating out- with friends, family, spouse and then, the whole bunch again! But eating out (at this time of the year or any other time for that matter) does not mean ingesting guilt with every mouthful you thought you'd relish! Throw guilt away from your platter by learning the right way for eating out and still not carrying on any guilty baggage home that's pile on as some tangible weight, shown by the mirror or scale later!
If that sounds like an impossible feat, well, read on. NLT makes eating out healthy and guilt-free while keeping it as enjoyable as ever. Here are leading experts on how you can attain that 'fine' balance:
---
Suggested read: BEWARE, the 6 startling dieting mistakes you are making
---
1. Appetizers aren't compulsory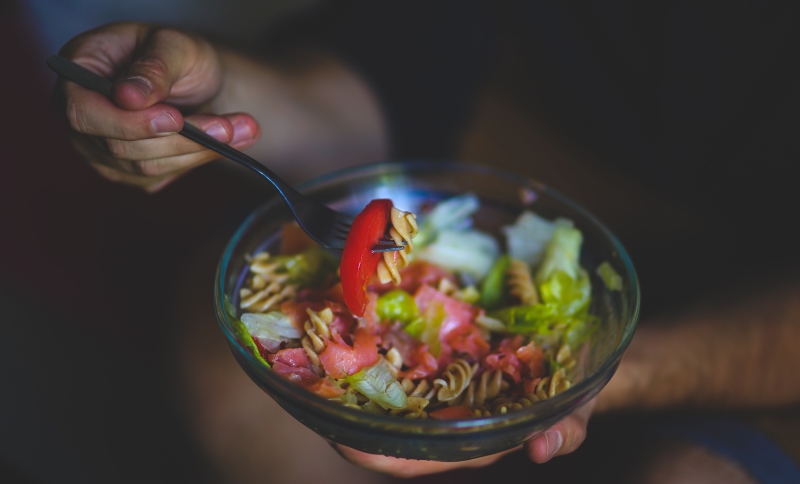 Image source: Google, copyright-free image under Creative Commons License
Dana Kofsky, a certified nutritionist and founder of Nutrition Styles says,
"I tell my clients to get comfortable with the uncomfortable. It's not your problem if someone else finds it off-putting if you don't order something to start."
Appetizers, more often than not, are pre-meals that fill you even before you have started to enjoy the actual meal you came out for. It will make you overeat and simply, fill you up on calories that could have easily been skipped.  If something is truly enticing, order just one portion and make sure you share. Sometimes, choosing a healthy option is also a good idea. Think a vinegar-based salad that stacks cancer-combating phytonutrients and bolster your immunity. To avoid racking up on calories, choose healthy oil and seasoning.
2. Ditto for bread and butter
If you have given the appetizer a flick, you can ditch bread and butter too. We know you love your share of the carbs but feeling bloated is never the 'healthy' outcome you want to derive out of a 'happy' dining experience. So, ditch that bread basket and savor your meal. Eating slowly, enjoying every bite and taking in the aroma and flavor is one way of digesting your meal well. Also, the salad chosen helps in slashing your lunch/dinner calories by twelve per cent! Teresa Cutter, nutritionist, French-trained chef and CEO of The Healthy Chef says,
"The fiber in the salad fills you up and the acetic acid in the vinegar [dressing] helps to suppress the appetite and slows the speed at which our stomachs empty."
Who knew being satisfied could come alongside of a salad? 😉
3. You can go beyond the menu
Image source: Google, copyright-free image under Creative Commons License
"Don't feel limited to order what's on the menu," says Stacy Goldberg, nutritionist for the Cleveland Cavaliers and founder of Savorfull. If you wish to replace tomatoes with avocados or do away with the cheese, just ask for it. Open that mouth for more than eating what's on the menu and ask to customize the menu options. You can always reinvent classics by adding more nutritious elements and skipping unhealthy ones. This way, you will still be on track with your #HealthyEatingGoals while eating out and enjoy the meal as well.
4. Salads don't mean you are counting the calories
Despite the flak they receive, salads, when chosen and done right, are an amazing choice. There are a myriad of healthy options available and all you gotta do is know where to begin. For instance, ditching the croutons and cheese is the right start. Vinaigrette dressings the cherry on top. Search through the options, maybe even peruse the menu before your appointment and pick out the platter that pleases your palate as well as health! "Start with greens as the base, add a protein like beans or fish, add a grain or starchy vegetable like wild rice or sweet potato and fill in with lots of vegetables like tomato, asparagus, onion and artichokes," says Angela Onsgard, RD from Miraval Resort & Spa.
5. Portion sizes are important
Image source: Google, copyright-free image under Creative Commons License
Your entrée can simply be appetizer-sized or you can split it in half with whoever you are eating with. These will help keep the calories in check while allowing you to savor several options.
6. As are your choice of veggies
It is no revelation that not all vegetables are created equal. When you order a meal, the vegetables that go into its making are as important as how they are cooked. Steamed options are way healthier (and even tastier- believe that if you can) than sauted options that not only load the calories of oil into the dish but flush out most antioxidants and nutrients that could make the meal 'healthy' in addition to 'happy!'
7. Request for healthy oil options
Ask the restaurant personnel to see if your dish can be prepared in olive oil or steamed. Cutting out butter is the best way to steer clear of fats.
8. Reinvent your favorites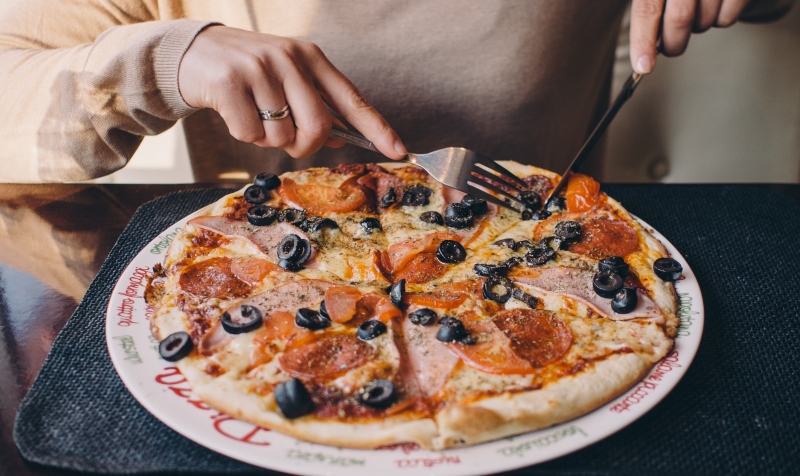 Image source: Google, copyright-free image under Creative Commons License
So, you like pizza? It isn't that pizza cannot be healthy! Go for wood fried, thin crust, whole grain or healthy topping varieties. Similarly, if you like Mexican, opt for lettuce wraps or veggies with salsa. You'd never be more glad about choosing your dressings and sauces or skipping the sour cream or cheese. Reinventing your favorite dishes will bring a whole new flavorful dimension to your fresh and novel eating out style- and you may grow an appetite for such experimentation even more.
9. Tip off the tipple, it can take a walk
Any healthy dish you ordered might just go down the drain, if you aren't counting the glasses you down. Cut out the alcohol intake. It not only harms your body but cuts down on the absorption of vitamins, minerals and other nutrients, by interfering with the digestion process.
---
Suggested read: Seasonal eating is on-point
---
10. The sweet tooth is a temptress, don't give in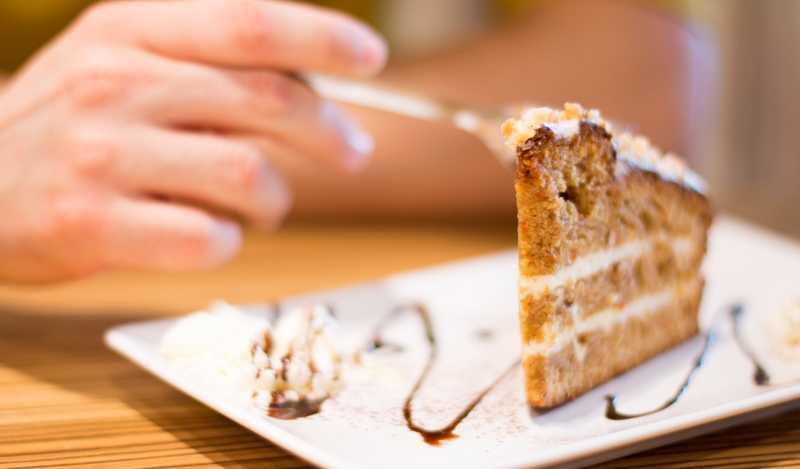 Image source: Google, copyright-free image under Creative Commons License
Quoting Kofsky again would be relevant here- because "If hunger is not the problem, food is not the solution," she says, in relation to dessert. And much to the protest of my sweet tooth, I agree. If you are still craving some sweet, opt for a homemade one or have a fruit salad. My personal favorite is to round off dinner with a sweet kiss! Never disappoints! 😉
And you thought eating out couldn't be deliciously healthy? It's okay- you don't have to, we know the answer by your smile! Enjoy the food!
Featured image source: Google, copyright-free image under Creative Commons License
Summary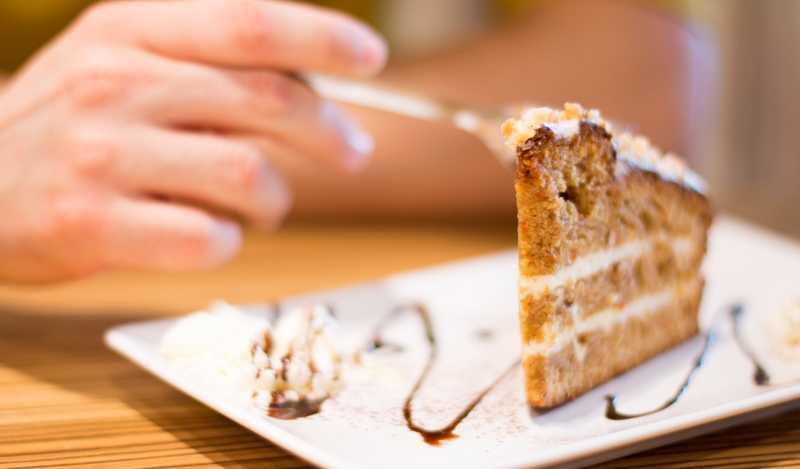 Article Name
10 Tips To Make Eating Out A Happy And Healthy Time
Author
Description
Eating out doesn't have to be a GUILTY pleasure anymore!