Namaste.
The first thing that people notice about you is your face. No matter what shape your body is in, the face is what attracts all the attention. It's also the part of the body, apart from your hands, where age is first reflected on. The fine lines and wrinkles are not just because your face wants to be a pug. When you're growing old, that's how you'll know. People world over know this, because if they didn't, they wouldn't have indulged in things like Botox or even various cosmetic surgeries, now would they?
---
Suggested read: 10 best anti-aging exercises for a younger looking you
---
Everyone from celebrities to your annoying neighbor seems to be going on about it. Anything for a younger looking skin, huh? Of course, why would people not want young, supple skin, especially when they're growing old, right? But, to mess around with it surgically might not be the best long-term solution for it. If you really want younger looking skin, why not try out some facial yoga? Yes, you read that right. Facial yoga is the newbie on the block, and it's actually good for you on a long-term basis. It is a non-invasive alternative and works on all levels of your skin.
Here is what your face needs.
1. The V
Image source: MarieClaire
This will be a good facial exercise to get rid of all those unseemly bags under your eys, droopy eyelids, and puffiness. Here is what you have to do – press both middle fingers together at the inner corner of your eyebrows and at the same time, press the outer corners with both your index fingers. Then look towards the ceiling, raise the lower lids upwards, and squint as much as you can before relaxing. Repeat at least 6 times and squeeze eyes tightly shut for at least 10 seconds at the end.
2. Keep that smile
Image source: MarieClaire
Instead of getting those lower face lifts and fillers, try this facial yoga pose to keep away from cheek lines and sagging skin. Make an 'O' shape with the mouth to hide your teeth with the lips. Smile as widely as you can with the teeth still being hidden and do this 6-7 times. Now, with the smile in place, place your index finger on your chin and push it upwards till your head tilts back. Relax and repeat twice. For best results, do this at least twice a week.
3. Help the forehead
Image source: Pinterest
To be more specific, this exercise will help you smooth out those horizontal forehead lines that you don't like very much. Place both your hands on your forehead with the fingers facing inwards. Spread them out between the eyebrows and your hairline and then with little pressure, sweep them outwards across the forehead. Relax and repeat this ten times and watch them lines vanish.
4. Work the brows
Image source: MarieClaire
This facial yoga pose will work mainly on the deep eye hollows and drooping eyebrows. All you have to do is place an index finger under each eye (pointing towards your nose). Then hide your teeth and separate your upper lip from the lower while the teeth are still hidden. Now, flutter your eyelids while you gaze at the ceiling for 30 seconds. The ceiling might find you very creepy, but your eyebrows are going to love this.
---
Suggested read: 5 yoga poses to boost your libido
---
5. The neck lift
Image source: Pinterest
Say no to neck lifts and jowl lifts, and try this pose instead for those neck lines and loose skin. What you need to do is look straight ahead and place your fingertips at the bottom of your neck. Then tilt your head back and stroke the skin downwards. Bring the head forward again and repeat the same twice. Now jut your lower lip out as far down as possible and place your fingertips on your collar bone with the chin pointed upwards. Hold this for four deep breaths, and repeat.
6. Get cheeky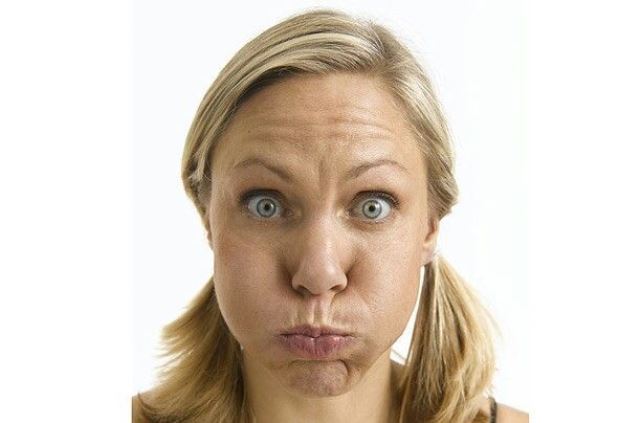 Image source: Pinterest
Strengthen your cheek muscles and make them appear firmer by doing this very simple facial workout. Just breathe in from your mouth and puff up your cheeks. Release the air and repeat the same at least 8-10 times. The best part about this is that you can do it anywhere. So the next time you're bored, you know what to do.
7. Kiss away
Image source: Pinterest
That's right. If you want to work the muscles around your lips and cheeks, then this is your best shot. With your teeth covered, smile as widely as you can and stretch as much as possible. Then get back to your normal face and press your lips tightly together before you make a kissing face. Work this at least 20 times. You might even end up getting kissed, for all you know! Win-win, eh? 😉
8. Surprise!
Image source: Pinterest
This workout is for the muscles around your eyes and forehead. Widen your eyes as much as you can so the whites of your eyes are exposed. Then squeeze your eyes shut as tightly as you can. Then open them and repeat the same again and again, till your eyes start watering. Once that happens, shut your eyes normally and just relax. Do this exercise for at least for 3-4 minutes. It has been known to smoothen out lines and also effectively help improve eyesight.
---
Suggested read: 8 ways in which you can get flat abs with yoga
---
Yoga is known to be one of the oldest forms of practices that help in developing the mind and body effectively. It has a lot of health benefits and there is no way that it won't help you. If you're doing it right, that is. The best part about facial yoga is that it can be done at any given time and anywhere. So, the next time when you're stuck in traffic, you could probably try these out. Regular practice of these exercises will keep you fresh throughout the day.
Also, these workouts are very effective, so you won't have to worry about getting a Botox done. So, it's cost effective too! If you have a big presentation or something important, just do a few workouts before you head out and face the world. Your face will definitely reflect a calmness that is a feel-good in any situation. So, go ahead and do some yoga before you try and take on the world. It's the survival of the fittest, remember? Have a happy yoga time!
Summary
Article Name
8 Facial Yoga Poses For Younger Looking Skin
Author
Description
If you're looking for a way to get youthful looking skin, you've come to the right place. Check out these facial yoga poses that will make your skin supple!